JSU Breaks Ground on Three New Building Projects
04/18/2023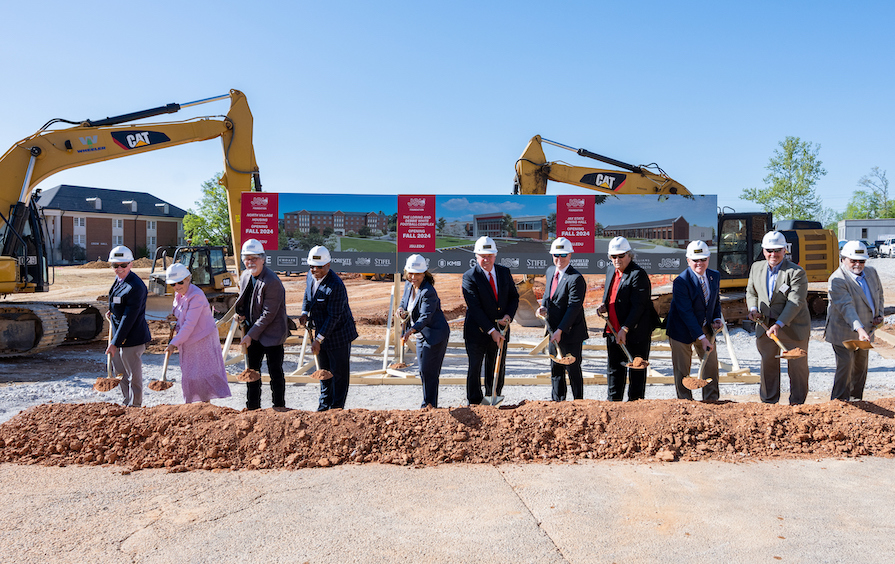 President Killingsworth and the JSU Board of Trustees broke ground on the future North Village Residence Hall on April 17, 2023. Photo by Austin Tillison.
by Buffy Lockette
Jacksonville State officially broke ground on Monday on three new building projects aimed at bringing the 140-year-old university into a new era.  
Alumni and members of the community gathered on the site of the future North Village Residence Hall to see the Board of Trustees, President Don C. Killingsworth, Jr., the President's Cabinet, members of the JSU Foundation Board and other dignitaries kick off construction during a "Campus Transformation Celebration."
"Jacksonville State is experiencing unprecedented growth," Dr. Killingsworth told the crowd. "With this growth comes the need to invest in the future of the university. Our students need places to live, enjoy their meals and take part in campus life." 
Approximately 70 percent of these projects is directly related to improving where students live, eat and study. Through the support of the JSU Foundation, the university is realizing its strategic plan while modernizing its campus infrastructure. 
Jewelishia Johnson, SGA president, thanked the administration for creating facilities that put "students at the forefront" and "meet all the needs of students." She said, "The university is creating space for us as we grow and on the behalf of the students." 
The new projects include: 
North Village Residence Hall: Located adjacent to Crow, Patterson and Sparkman Halls, it will be the first new residence hall built on campus since Meehan Hall opened in 2010. It will add 513 much-needed beds to university housing in shared suites consisting of two double occupancy bedrooms with two bathrooms in each unit. The general contractor for the project is Choate Construction, the architect is Niles Bolton & Associates and the developer is RISE: A Real Estate Company. 
Jax State Dining Hall: Located next to Curtiss Hall, the new facility will replace the 62-year-old Jack Hopper Dining Hall as the main cafeteria on campus. Operated by Sodexo, the building will feature a traditional food line with several concept stations and a modern seating environment. The general contractor for the project is Brasfield & Gorrie, the architect is Williams Blackstock Architects and the program manager is Kemp Management Services. 
The Loring and Debbie White Football Complex: Replacing the existing field house at JSU Stadium, the new building will provide state-of-the-art training facilities for student-athletes, coaches offices and meeting rooms, a Football Hall of Fame celebrating the history and accomplishments of the football program, and new suites and other spaces to enhance the game day experience for fans. The general contractor for the project is Brasfield & Gorrie, the architect is Goodwyn Mills Cawood and the program manager is Kemp Management Services.
Construction is now underway and expected to be completed by Fall 2024.