Faculty Recognized for Outstanding Service
04/07/2023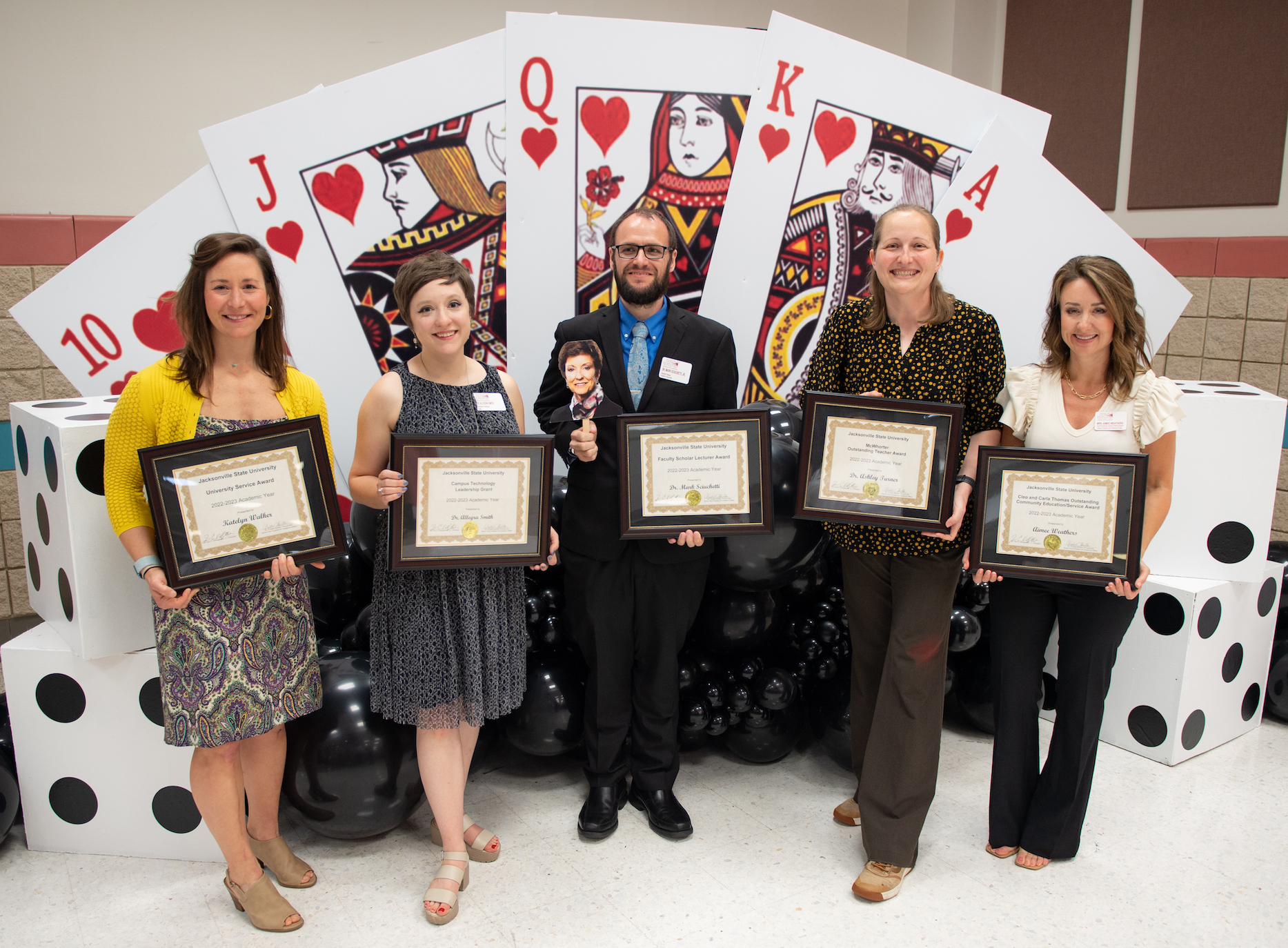 The 2023 Distinguished Faculty Award winners include, from left: Katelyn Walker, Dr. Allegra Smith, Dr. Mark Sciuchetti holding a photo of Dr. Cynthia McCarty, Dr. Ashley Turner and Aimee Weathers. Not pictured: Diane Chong. Photo by Austin Tillison.
by Buffy Lockette
Leone Cole Auditorium was transformed into a glitzy Vegas casino, with faculty raking in the chips, at the annual Faculty Awards Ceremony on April 6. 
Organized by JSU Faculty Commons, the themed event featured card games, an Elvis impersonator, refreshments and prizes. President Don Killingsworth even got in on the action, serving as a black jack dealer.
The following faculty were recognized for their outstanding contributions during the ceremony.
DISTINGUISHED AWARDS
University Service Award: Katelyn Walker, English
Campus Technology Leadership Grant: Dr. Allegra Smith, English
Faculty Scholar Lecturer Award: Dr. Mark Sciuchetti, Chemistry and Geosciences
Adjunct Faculty Excellence in Teaching Award: Diane Chong, Music
Cleo and Carla Thomas Outstanding Community Education and Service Award: Aimee Weathers, Curriculum and Instruction
Earlon and Betty McWhorter Outstanding Teacher Award: Dr. Ashley Turner, Biology
Dr. William A. Meehan Legacy Award: Dr. Cynthia McCarty, Finance, Economics and Accounting
PROMOTED and/or TENURED FACULTY
Tenure
Dr. Sean Chenoweth, Geography
Associate Professor with Tenure
Dr. Ahmad Alhammouri, Secondary Education
Dr. Christie Calhoun, Curriculum & Instruction
Dr. Christopher Douglas, English
Dr. Allen Gilbert, Kinesiology
Ed Goodwin, Respiratory Therapy
Dr. Benjamin Gross, Sociology & Political Science
Dr. Lance Ingwersen, History & Foreign Languages
Karlie Johnson, Library/Public Services
Dr. Helen Kaibara, History & Foreign Languages
Dr. Majid Koozehchian, Kinesiology
Dr. Jody Long, Social Work
Dr. Lori McGrath, Nursing
Dr. Christopher Murtagh, Criminal Justice & Forensic Invest.
Dr. Andrew Newton, Kinesiology
Dr. Mark Sciuchetti, Chemistry & Geosciences
Dr. Douglas Stephens, Nursing
Dr. Falynn Turley, Finance, Economics, Accounting
Dr. Chongming Wang, Emergency Management and PA
Professor
Chad Anderson, Art and Design
Dr. Dana Ingalsbe, Applied Engineering
Dr. Christopher McCollough, Communication
Sarah Miles, Art and Design
Dr. Lori Tolley-Jordan, Biology
Dr. Eliezer Yanson, Music
Doctoral Degree Recipients
Dr. Sean Creech, Disability Resources/Social Work
Dr. Rob Landry, Finance, Economics and Accounting
Fulbright Scholar
Dr. David Thornton, MCIS, who will be conducting data science research in Austria in the fall
SERVICE PINS
Ten Years
Dr. Makenzie Bayles, Psychology
Dr. Michael Boynton, Theatre and Film
Jennifer Crosson, Kinesiology
Heather McDivitt, MCIS
Sarah Miles, Art & Design
Dr. Reginald Overton, Kinesiology
Dr. Donna Perygin, Chemistry & Geosciences
Dr. Christopher Probst, Music
Dr. Jeremy Ross, Sociology and Political Science
Jamie Runnells, Art & Design
Richard Watkins, Biology
Fifteen Years
Susan Dean, English
Dr. Douglas Gordon, Music
Dr. Gordon Harvey, History & Foreign Languages
Dr. Paul Hathaway, Public Administration
Allison McElroy, Art & Design
Dr. J. Patrick McGrail, Communication
Dr. Laura Walker, Nursing
Twenty Years
Dr. Timothy Barnett, Political Science
Dr. Wendy Freeland, Music
Dr. Brent Helms, Chemistry & Geosciences
Bethany Latham, Library Services
Dr. Nathan Wight, Music
Twenty-five Years
Dr. Shawn Carter, Finance, Economics, Accounting
Dr. Jess Godbey, Applied Engineering
Dr. Jerry Kiser, Counseling & Instructional Support
Dr. Tom Leathrum, MCIS
Dr. Keith Lowe, Finance, Economics, Accounting
Dr. James Rayburn, Biology
Kimberly Stevens, Library Services
Dr. Shelia Webb, Counseling & Instructional Support
Kim Whorton, Social Work
Thirty Years
Dr. Russ Lemmons, History & Foreign Languages
Thirty-Five Years
Freddy Clements, Theatre & Film
RETIRING FACULTY
Lisa Williams, Academic Affairs
Freddy Clements, Theatre & Film
Dr. Windon Edge, Respiratory Therapy
Dr. Douglas Gordon, Music
Antoinette Hudson, History & Foreign Languages
Dr. Bill Lester, Emergency Management & Public Administration
Dr. Tony Logsdon, Music
Stan Newton, Management & Marketing