University Expands Partnerships with Area Chambers
12/08/2022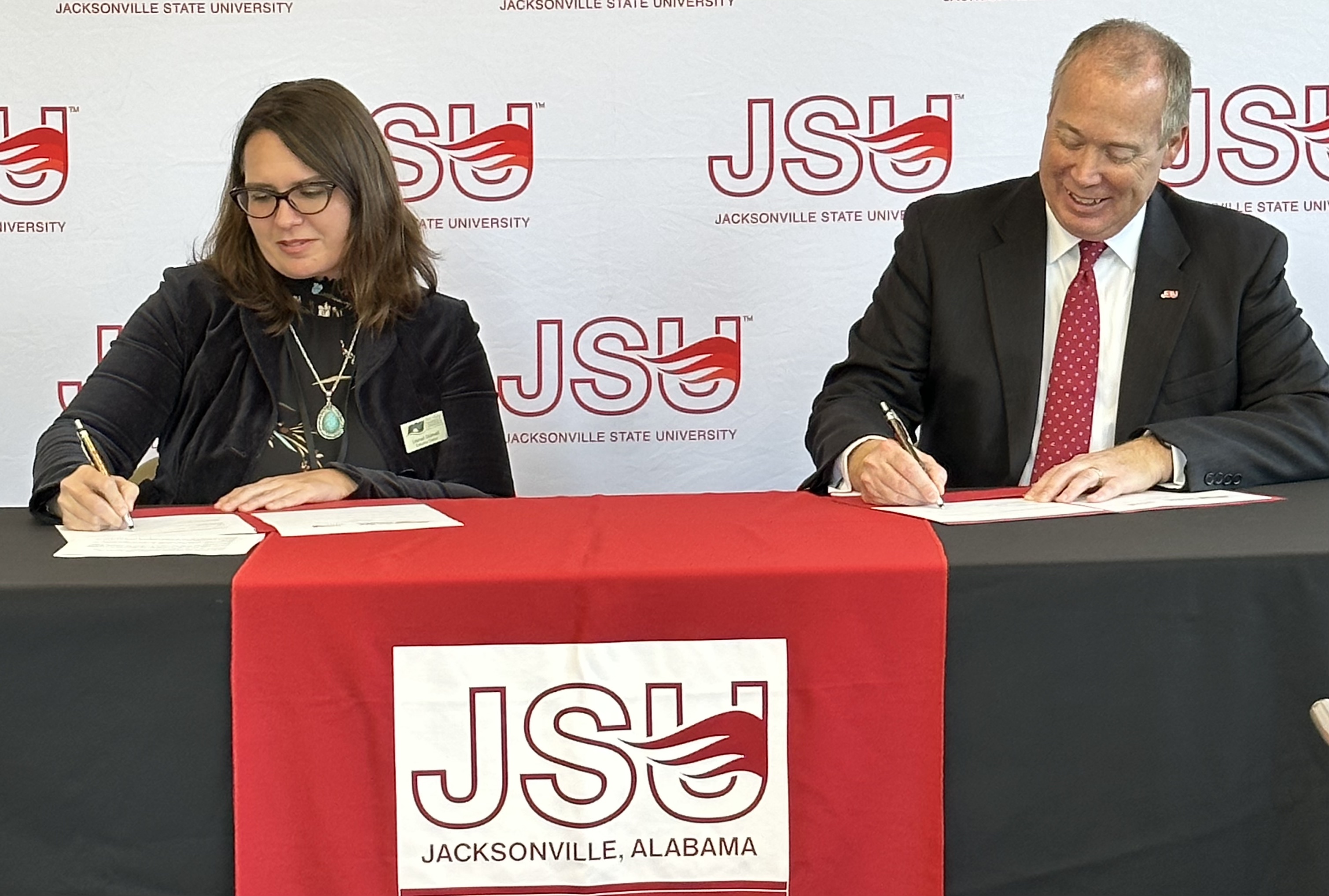 Urainah Glidewell, Executive Director of the Pell City Chamber, and JSU President Don Killingsworth sign an agreement supporting the education of chamber members in November.
by Buffy Lockette
As the year draws to a close, one of Jacksonville State's many accomplishments in 2022 has been the exponential growth of its corporate partnership program, particularly with Chambers of Commerce throughout Northeast Alabama. 
After signing its first agreements in spring of 2021 with the Calhoun County Area Chamber and Visitors Center and the Gadsden/Etowah County Chamber, the university more than tripled its chamber partnerships in 2022 – adding seven new chambers. Current partnerships include: 
Albertville Chamber of Commerce
Arab Chamber of Commerce 
Calhoun County Area Chamber and Visitors Center
The Chamber of Gadsden and Etowah County 
Cherokee County Chamber of Commerce
Greater Talladega/Lincoln Area Chamber of Commerce
Lake Guntersville Chamber of Commerce
Leeds Area Chamber of Commerce
Pell City Chamber of Commerce
Eligible full-time and part-time employees who work for organizations that are members of these chambers are offered a 20 percent corporate tuition scholarship per semester to JSU to further their education. To date, 104 students have participated in the program, totaling more than $115,000 in aid. 
"Whether a member wants to gain an additional credential or go to college for the first time, we want to help them attain their goals," President Don C. Killingsworth, Jr. said during a recent signing event. 
JSU also offers numerous resources to area business owners and government agencies, including a Center for Manufacturing Support, Small Business Development Center, Center for Economic Development and Business Research, Center for Applied Forensics, and Center for Best Practices in Law Enforcement. 
In addition to chamber partnerships, the university also provides corporate scholarships to select business partners, such as Honda Manufacturing of Alabama, and has just added a new program for First Responders. Corporations and organizations interested in partnering with the university should contact Kelly Martin, Director of Enrollment Initiatives, at 256-782-5039 or knmartin@jsu.edu. 
Prospective students are encouraged to ask their employer if their company is a member of a JSU chamber partner. Visit www.jsu.edu/partnerships, call 256-782-5039, or email enroll@jsu.edu for full scholarship terms or to learn more about these programs.