The Shakespeare Project Reimagines "Romeo and Juliet"
08/11/2022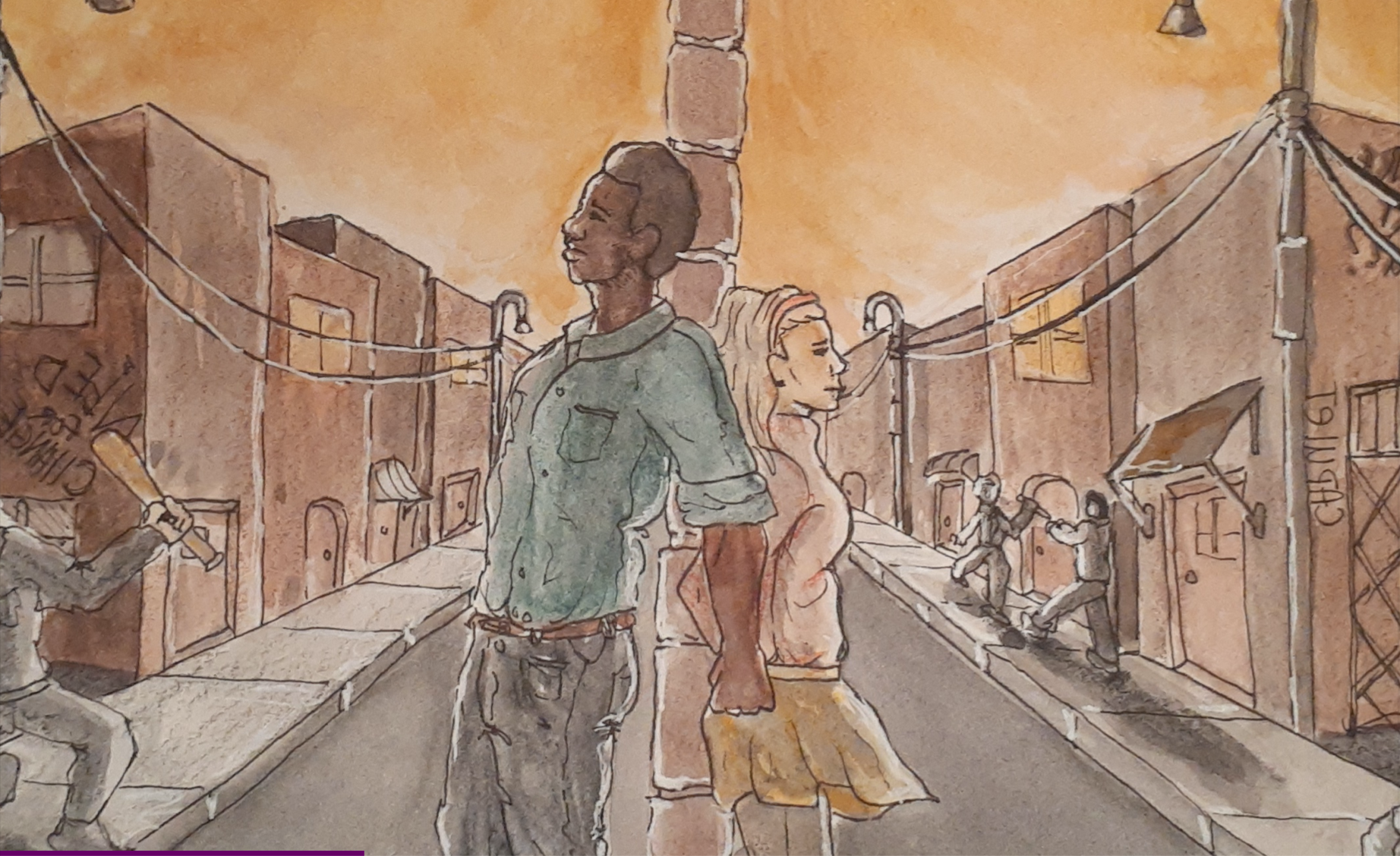 Artwork from the cover of the playbill, designed by McKenna Padgett.
by Buffy Lockette
Shakespeare's "Romeo and Juliet" is coming to a stage near you, courtesy of The Shakespeare Project in JSU's College of Arts and Humanities. 
The famous tale of star-crossed lovers has been abridged, with a run time of 60 to 90 minutes, and simplified to a "trunk tour," without stage lighting and with only a few actors playing multiple parts. This format not only allows the production to travel to multiple venues with ease, but is similar to how The Lord Chamberlain's Men originally staged the plays of William Shakespeare. 
The plot and setting of the classic play have also been reworked. The parents of today's high school and college students likely remember the 1996 blockbuster "Romeo + Juliet," featuring a young Leonardo DiCaprio and Claire Danes in a modernized retelling directed by Baz Luhrmann. Along the same vein, this  new production – adapted by New York theater professional Karl Hawkins and retired JSU English Professor Carmine DiBiase – is set in 1960s Anniston, Ala., in the midst of the Civil Rights Movement, and features an interracial Romeo and Juliet fighting to be together in the face of prejudice and suppression. 
"'Romeo and Juliet' is required reading for high schoolers in Alabama, so the intent of these performances is to enhance existing studies and make elevated art easy to comprehend," said the show's executive director, Emily Duncan.
Hawkins said, "Merging the history of the American South with Shakespeare's beautiful language will help us see this story that we know and love in a fresh, new way."
JSU faculty, staff, students and the news media are invited to the show's dress rehearsal on campus Aug. 13, 2 p.m., at Stone Center. Local schools and organizations can schedule a free performance Aug. 15-27, or attend the following community showings:  
Aug. 18, 7 p.m., Pell City's Center for Education and Performing Arts 
Aug. 20, 6 p.m., Elwell Park in Weaver 
Aug. 22, 6 p.m., Oxford Civic Center 
Aug. 25, 6 p.m., Piedmont High School
Aug. 26, 6 p.m., The Bridge at First United Methodist Church of Anniston
Aug. 27, 10 a.m., JSU's Stone Center
All performances are free, thanks to the generous support of the Alabama State Council on the Arts, Alabama Humanities Alliance, Knox Concert Series, Josephine E. and H. Brandt Ayers Foundation, Hillcrest Foundation, America's First Federal Credit Union and the JSU College of Arts and Humanities. 
To schedule a performance for your school or organization, contact Emily Duncan at 256-454-2961 or elduncan@jsu.edu. For additional information, including new community performance dates as they are added and behind-the-scenes photos, follow @TheShakespeareProjectAL on Facebook or Instagram.
Founded in 2017, The Shakespeare Project's mission is to provide free, accessible professional programs and performances of literature, under the belief that art is a human right. This program is a part of the JSU College of Arts and Humanities, which strives for academic excellence by providing a learning-centered environment where students cultivate critical thought, intellectual curiosity and an expansive worldview, and the JSU Foundation, which aids the university's mission of excellence in education, research and service.
Cast and Crew:
Juliet: Kenli Doss, JSU alumnus 
Romeo: Nardge Francois 
Benvolio: Christian Watts, JSU student
Tybalt/Lady Capulet: Cheslee Duke
Paris: Cheyenne Oliver, JSU alumnus 
Mercutio/Friar Laurence: Darryl Jones
Prince/Nurse: Bridgett Rayburn, JSU student 
Director: Karl Hawkins 
Production Stage Manager: Cheyenne Oliver, JSU alumnus
Assistant Stage Manager: Laurellei Veasey, JSU student 
Costume Designer: Kelby King, JSU alumnus 
Scenic Designer and Charge: Jessica Gallahar 
Dramaturg: Carmine DiBiase, retired JSU English professor 
Artistic Director and Fight Choreographer: Carrie Colton, former JSU drama professor
Managing Director: Michael Boynton, JSU drama professor 
Executive Director: Emily Duncan, JSU alumnus and staff member