Lake Guntersville Chamber Partners with JSU to Support Member Education
08/25/2022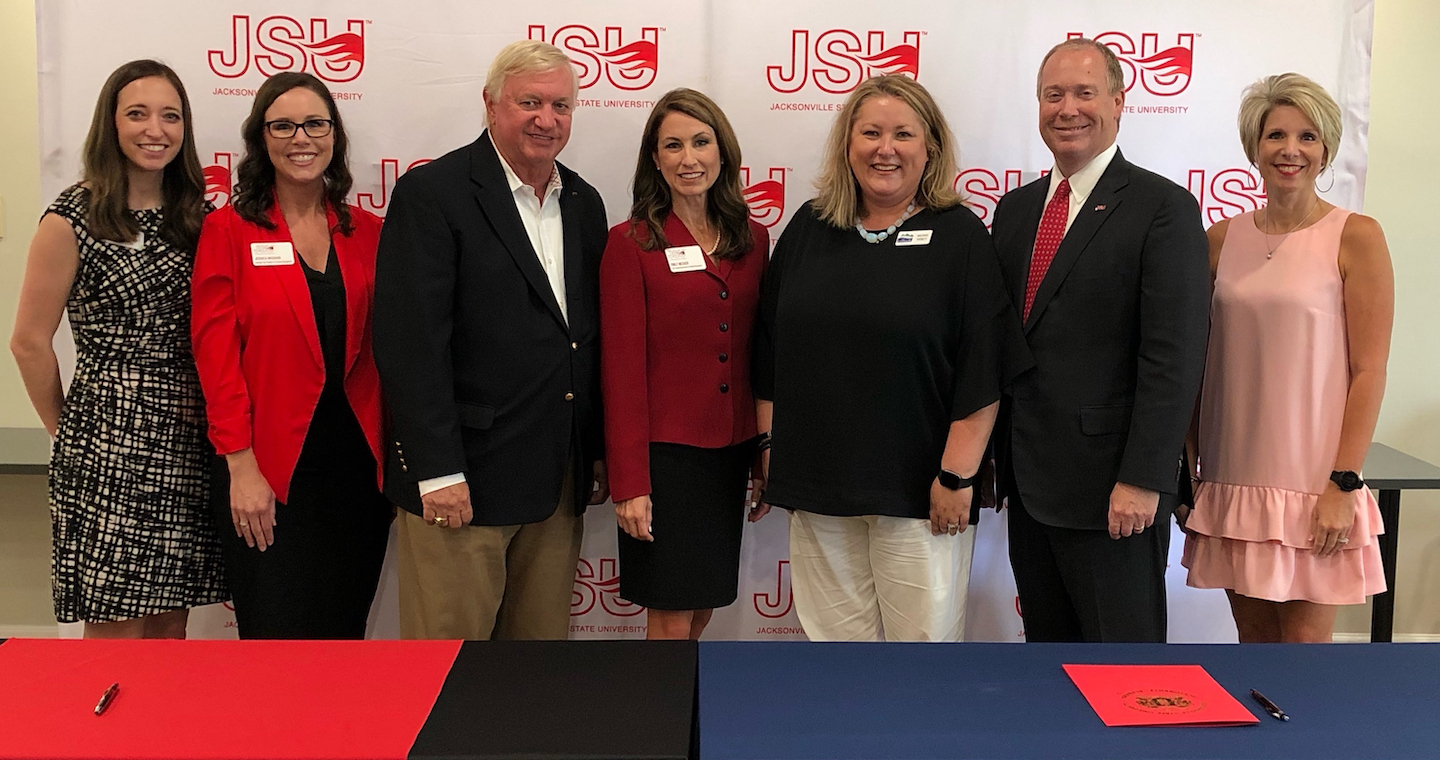 The university signed an agreement with the chamber on Aug. 16, with attendees including (from left): Kelly Martin, JSU director of enrollment initiatives and transfer pathways; Jessica Wiggins, JSU associate vice president of enrollment management; Randy Jones, JSU board chairman; Dr. Emily Messer, JSU vice president for advancement and enrollment management; Morri Yancy, president of the Lake Guntersville Chamber; Dr. Don C. Killingsworth Jr., JSU president; and Leigh Dollar, Guntersville mayor.
by Buffy Lockette
The Lake Guntersville Chamber of Commerce is partnering with Jacksonville State University to provide educational opportunities to its members.  
Beginning this fall, the university is offering a 20 percent corporate tuition scholarship per semester to full-time and part-time workers employed by member organizations of the Lake Guntersville Chamber. Admission application fees will also be waived, providing an additional $35 in savings.
"This partnership will provide significant financial benefits to chamber members and their employees," said Chamber President Morri Yancy. "Currently, there are over 3,000 JSU alumni living in the Guntersville area and we are thrilled to play a small role in creating financial incentives to area businesses and citizens to increase that number."
Located approximately 60 miles southeast of Guntersville, Jacksonville State was established in 1883 as a state teacher's college and has grown into a public, comprehensive university that offers undergraduate and graduate degrees – from bachelor's to doctorates – in more than 110 areas of study, including more than 50 online degrees and certificates. 
"Guntersville is in our backyard," JSU President Don C. Killingsworth, Jr. said during a recent signing ceremony at the chamber. "We service 11 counties as the four-year regional institution for this area and want to help the chamber and area businesses accomplish their goals. There are so many great things going on in Guntersville and Jacksonville State is proud to be part of it."
In addition to the university's educational opportunities, Dr. Killingsworth encouraged chamber members to take advantage of the services of JSU's Center for Manufacturing Support, Small Business Development Center and Center for Economic Development and Business Research. 
The Fall 2022 semester began at JSU on Aug. 24 and registration is open until Aug. 30 Students who want to be considered for the chamber scholarship must verify employment by Aug. 30. Applications for admission are now open for Spring 2022. 
Potential students interested in seeing what a college class is like are invited to enroll in the university's Try It Free course, INS 205: Making Sense of a Complex World. The self-paced online course is completely free. 
For more information about the chamber scholarship and eligibility criteria, please visit the chamber partnership website, call 256-782-5039 or email enroll@jsu.edu. Learn more about joining the Lake Guntersville Chamber at www.lakeguntersville.org.