JSU Police Roll Into Fall Semester
08/19/2022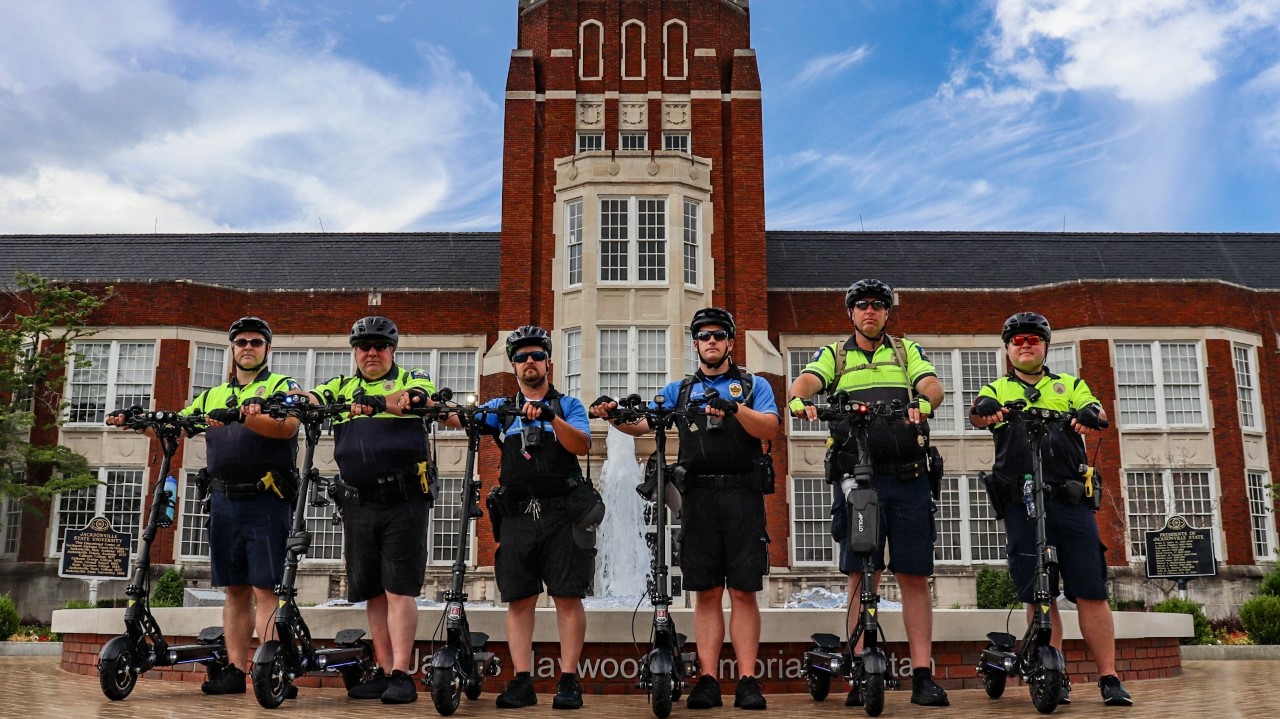 University and Oxford police participated in scooter training this summer on campus. They are among the first departments in the nation to add scooters to their patrol options. Photo by JSU Digital Media Services.
by Brett Buckner
JSU police are rolling into the fall semester with a new resource to keep campus safe – scooters. 
As part of its ever-expanding effort toward community policing, the JSU Police Department has added a pair of electric scooters to its existing fleet of specialized vehicles that includes bikes, a small electric car and a T3 Patroller electric standup vehicle (ESV). 
The scooters allow for easier accessibility between the officers and those whom they are sworn to protect, explained Adam Green, campus relations coordinator for UPD.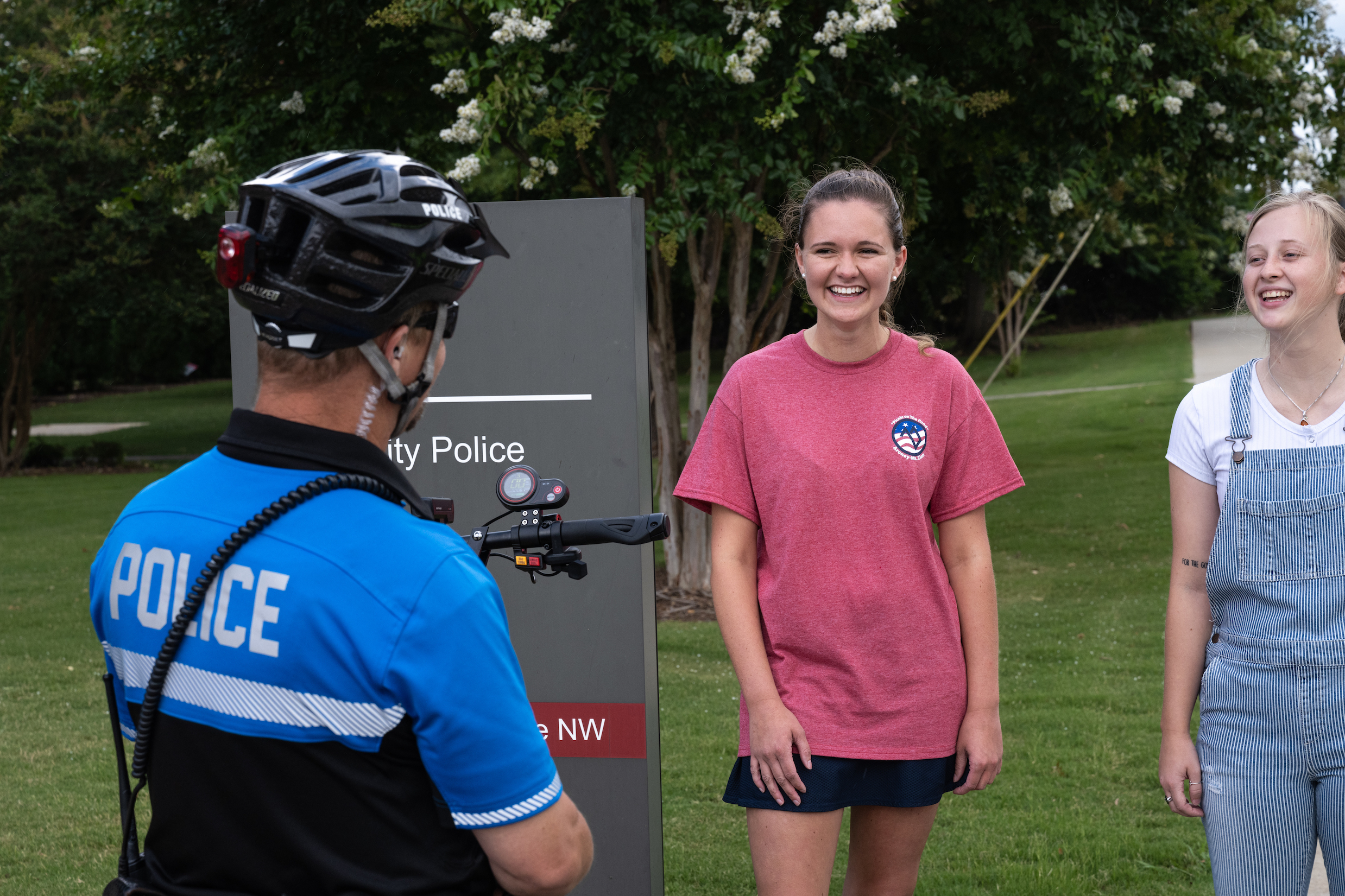 "Normally, when they're in a regular patrol vehicle, officers on the roads or city streets may be able to wave and be seen, but there's no chance for interactions," Green said. "Scooters and bikes make it so much easier for students to approach the officers because they're out among them. They can speak and answer questions. They're more up close and personal and that helps to build relationships."
And being more approachable is the intended purpose, according to UPD Chief Michael Barton. "We want the students to see that our police officers are people, too," he said. "Our job is to protect and serve and by being more visible, by being more a part of the community, I think it ultimately helps make our campus safer."
The scooters are also more practical in emergency situations.
"It's a smaller, more compact vehicle that can go in almost any space versus say, the T3, which is heavy, wide and isn't as agile as the scooter or bicycle," Barton said. "The bicycle gives access to those difficult spaces while maneuvering through large crowds, but it's self-powered. When out on patrol, officers can't cover as much ground as quickly. If responding to an emergency while on patrol, when they get there, the officers are already fatigued. But on the scooter, they don't have that issue."
The electric scooters have a max operating speed of 20 miles per hour and can go off-road. Officers must become certified to use them, passing a rigorous, 40-hour training program.
"Officers have to be intimately familiar with the bike or the scooter," Chief Barton said. "The bike, and now the scooter, is really an extension of their bodies. A law enforcement officer hauls around 25 pounds of additional equipment – so how the scooter reacts to that additional weight is much different than just riding around in plain clothes."
Officers are also required to be familiar with the maintenance, safety considerations, emergency operations and how to use their other equipment from a vehicle that's moving at upwards of 20 mph – while navigating the typical road hazards of other cars, pedestrians and weather conditions. 
"As with everything, it's something we expect our officers to perform at a high level," Barton said. "This isn't just a class that they can just check off, it's pass/fail. It's a certification our officers have earned because they've done the work."
Priced at $1,800, the scooters are actually less expensive than police bikes, which cost $2,500 each. "It's fairly new technology, and we're lucky to be on the cutting edge of this," Barton said. 
In fact, the JSU Police Department is the first in the state – and among the first in the country – to use scooters and recently partnered with the Oxford Police Department to host joint training. The two departments used the scooters to help patrol during the World Games, which were held in the Birmingham area in July. They were assigned to patrol Oak Mountain State Park, where all the water sports took place.
But working such a large event was really nothing new for JSU's officers.
"Of course, as university police, we're used to working large events, athletic events, concerts, band competitions – with thousands of people in a relatively small area," Barton said. "We went into the World Games with that same experience, so for us, it wasn't all that new."