J Week to Welcome Students Back to Campus
08/16/2022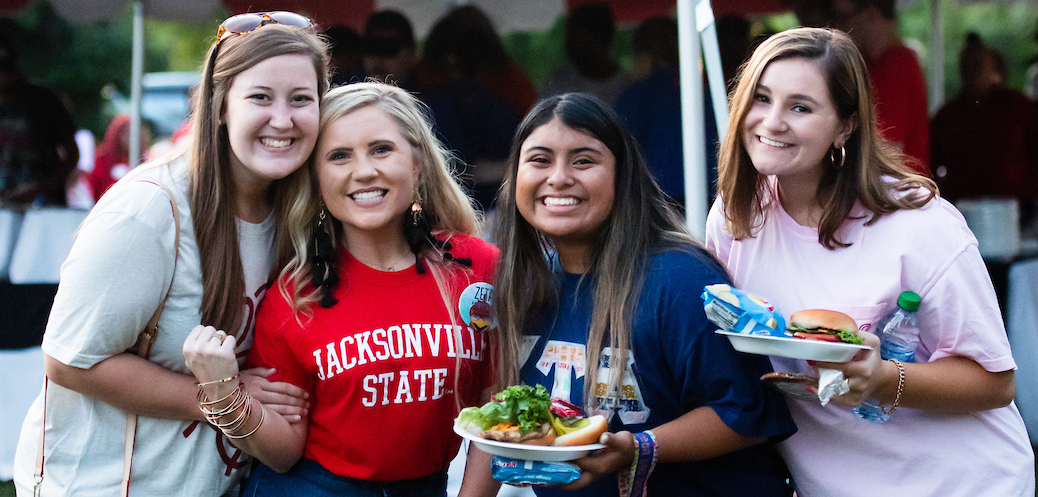 Students enjoy dinner at the Cocky Cookout, hosted by the President and First Lady, in Fall 2021. Photo by Katie Alexander.
by Abigail Harrison, JSU English Major 
The start of the Fall 2022 semester is almost here, and JSU Student Affairs has planned a fun week packed with free events for all students to celebrate being back on campus. Whether you're a new member of the Friendliest Campus in the South or a returning Gamecock, J Week is an excellent opportunity to meet new friends, join new organizations and make memories that will last forever. 
Tierra Thatch, SGA Vice President of Student Activities, wants to encourage students, especially freshmen, to attend the J Week events. During her freshman year, she said she chose to make the most out of her college experience by going outside and meeting new people. 
"Being able to get out and network with upperclassmen, your freshmen class, administration, and just building those bonds and those connections will take you far while at college," Thatch said. 
Thatch is most excited for Spirit on Mountain Street, a community-wide event that includes delicious food from local restaurants and a free concert from a rising country artist. The event is a student favorite, according to Thatch, and is also a fun way to give back to the community, as all the proceeds benefit the Jacksonville Christian Outreach Center. 
If you're still on the fence about attending a J Week event, Thatch said there is one important perk - free food! "You might as well grab a plate, take it back to your dorm, and eat it with some friends," she said.
Check out the following J Week events schedule to find opportunities to get involved or try something new this semester.
J-WEEK CALENDAR:
Wednesday, August 17 
Housing Move-In Begins  
Panhellenic Sorority Recruitment Begins 
Saturday, August 20 
Bookstore BASH, 12-4 p.m., TMB Bookstore
Monday, August 22 
Interfraternity Council Recruitment Begins   
Meet the SGA, 4-6 p.m., UREC
Dive-In Movie Night, 7 p.m., UREC Indoor Pool
Tuesday, August 23 
Get on Board Day, 11 a.m. to 2 p.m., Leone Cole Auditorium
Freshman Convocation, 6-7:30 p.m., JSU Stadium 
Cocky Cookout, 7:30-9:30 p.m., President's House
Wednesday, August 24 
First Day of Class 
Rec Fest, 4-7 p.m., UREC
Thursday, August 25 
Friday, August 26 
SGA Splash Bash, 5-7 p.m., UREC Outdoor Pool
Unless otherwise noted, J Week events are free and open to all students.