Ribbon Cuttings Scheduled for July 18-19
07/15/2022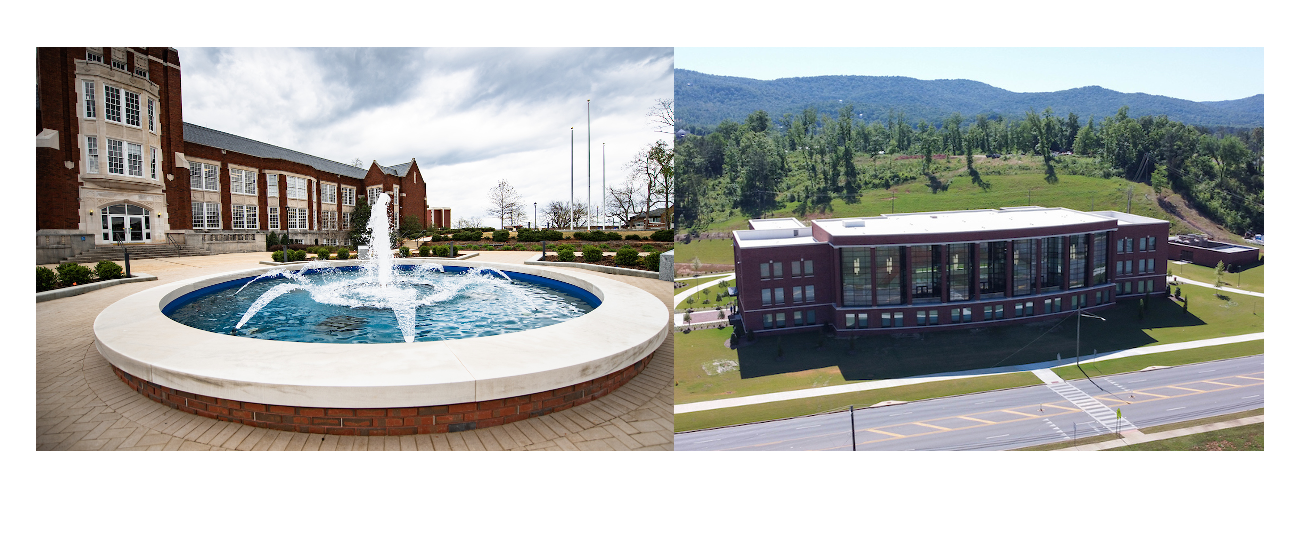 The Haywood Fountain (left) and Merrill Hall (right) to be dedicated.
by Buffy Lockette
Jacksonville State University will dedicate two new structures while the Board of Trustees is on campus July 18-19: Hugh D. Merrill Hall and the Miriam and James Haywood Fountain. 
On Monday, July 18, at 4 p.m., the new Merrill Hall will be dedicated during a ceremony on the back side of the new building. Speakers will include Alabama Secretary of State John Merrill, a cousin of the former state representative and JSU trustee who the building was originally named for in 1970: Hugh D. Merrill. Other speakers will include Dr. Don C. Killingsworth, Jr., university president; Randy Jones, chairman of the Board of Trustees; Dr. Emily Messer, vice president for advancement and enrollment management; Dr. Brent Cunningham, interim dean of the College of Business and Industry; Jewel Johnson, SGA president; and business alumnus Ken Howell. 
On Tuesday, July 19, at 11:30 a.m., the Haywood Fountain will be dedicated in the front courtyard of Angle Hall. Speakers will include President Killingsworth, Chairman Jones, Dr. Messer, President Johnson, and a representative of the Haywood family: Ward Pell. 
In the event of inclement weather, the Merrill ribbon cutting will take place in the building's atrium and the fountain dedication in the lobby of Angle Hall. Tours of Merrill Hall will be available after the ceremony. Both events are open to the public.