JSU to Host MMA Fighting Championship
04/23/2022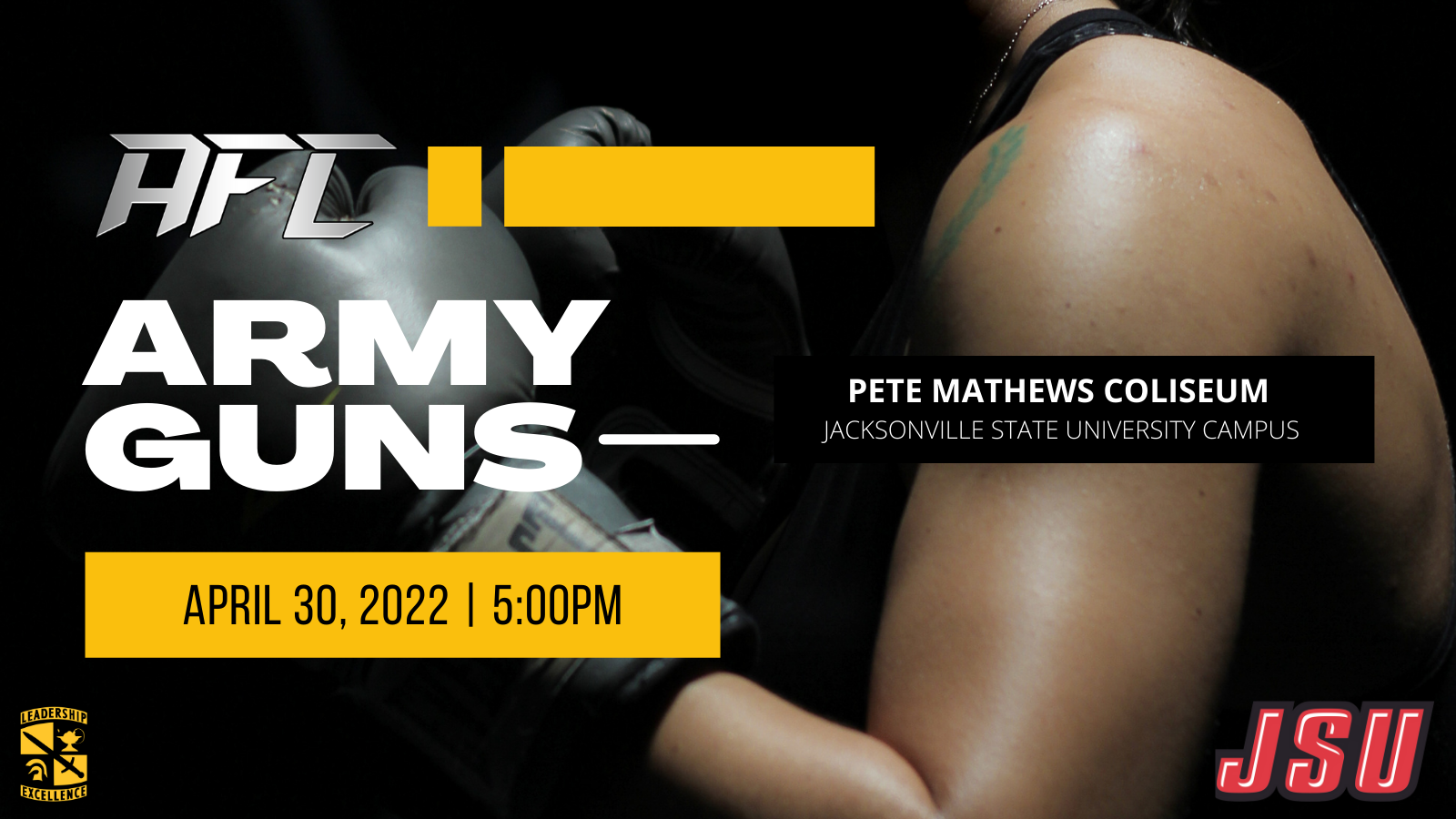 by Buffy Lockette
As JSU students cope with the stress of Finals Week, they can blow off steam by watching 13 sets of fighters face off in hand-to-hand combat. The JSU Army ROTC and Gamecock Athletics have partnered to host the Alabama Fighting Championship X: Army Guns, a live Mixed Martial Arts event, on April 30, 5 p.m., in Pete Mathews Coliseum. 
The Alabama Fighting Championship is a Mixed Martial Arts sports league that features events throughout the state. According to Brittanica, Mixed Martial Arts is a hybrid combat sport that incorporates techniques from boxing, wrestling, judo, jujitsu, karate, Thai boxing and other disciplines. 
The Army Guns event will feature 13 MMA fights. The main event will feature a historic fight between Diamond Long and Amanda Macioce - marking the first MMA main event fight between two women in Alabama. 
Tickets, which cost $20 for JSU students and $25 for the general public, are on sale at the Jacksonville Bookstore on Mountain Street and in the JSU ROTC office in Rowe Hall. For more information, visit Facebook.com/AlabamaFighting or email ROTC@JSU.edu. 
JSU ROTC will also host an Army career exploration event in front of Pete Mathews Coliseum on April 29-30, featuring an Army adventure semi truck complete with simulators and displays - including an Apache Helicopter virtual reality activity. 
AFC X Army Guns Fight List
125 Pound- Stephen Owens vs. Brandon Sagraves
125 Pound- Shawn Winlad vs. Damien Holmes
125 Pound- Ben Rainwater vs Al Watkins Jr
135 Pound- Cole Wells vs. Shain Owens
145 Pound- Jonathan Dunaway vs Caleb Perea
155 Pound- Christopher Huggins vs. Trent Martinez 
170 Pound - Brandon Williamson vs Justice Bumpus
170 Pound - Will Bolt vs Christian Abbot
205 Pound - Will Sparks vs Joe Garcia
Heavy Weight Match- Cody Phillips vs Chales Philpot
Heavy Weight- Jacob Pointer vs Eric Lamons
Super Heavy Weight- Greg Harvey vs George Pointer 
Main Event – Diamond Long vs Amanda Macioce