JSU Forms Partnership with Trenholm State Community College 
04/15/2022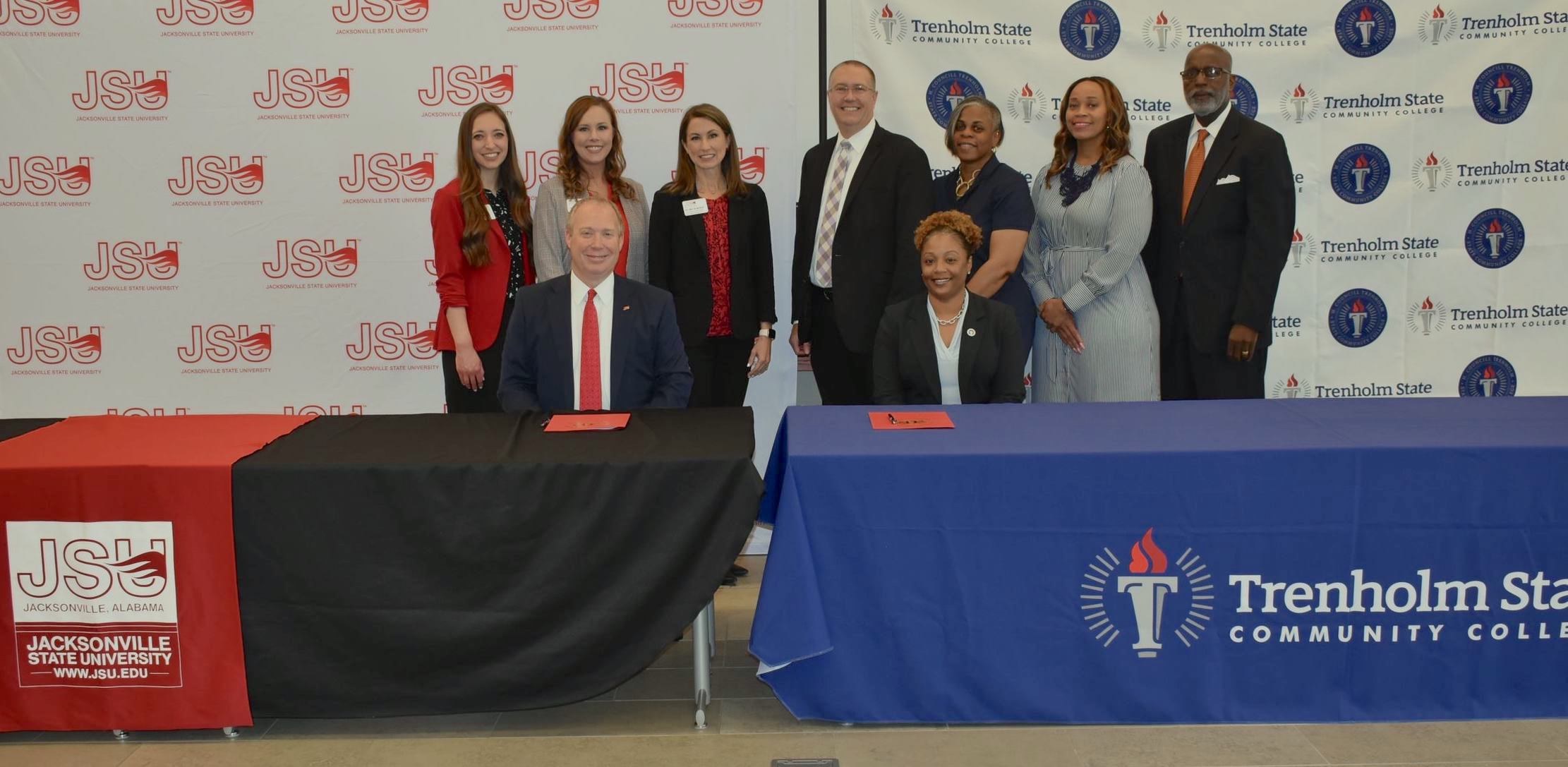 Representatives from JSU visited Trenholm's campus in Montgomery on April 13 to sign documents. Seated are JSU's president, Dr. Don C. Killingsworth, Jr., and Trenholm's president, Dr. Kemba Chambers. Photo by Tapeka Fennell.
by Buffy Lockette
JSU has signed a Memorandum of Understanding with Montgomery's only community college, Trenholm State, formalizing a partnership aimed at better supporting students interested in transferring to the university to earn a four-year degree. 
The presidents of both institutions – Trenholm's Dr. Kemba Chambers and JSU's Dr. Don C. Killingsworth, Jr. – participated in a signing ceremony on Trenholm's campus in Montgomery on April 13. 
With the MOU in place, Trenholm State students who plan to transfer to JSU can receive ongoing academic advisement to ensure they are on track and earning credits that will transfer to the university. The agreement also enables former Trenholm students to "reverse transfer" credits back to the college and receive associate's degrees if they transferred to JSU before earning their two-year degree. JSU will also offer generous scholarship packages to qualifying Trenholm transfers. 
"Today's partnership signals to our students that we clearly understand and are committed to removing barriers as they continue to pursue their educational journey," said Dr. Chambers. 
Dr. Killingsworth said, "As a product of Central Alabama Community College, I understand the importance of the two-year system and I think it's vitally important to all Alabamians that we have this articulation agreement in place." 
Located in Montgomery, Ala., H. Councill Trenholm State Community College is a comprehensive two-year community college accredited by the Southern Association of Colleges and Schools Commission on Colleges to provide technical certificates and associate degree programs. As part of the Alabama Community College System, it operates two campuses that provide educational services for Montgomery and the surrounding area. 
For more information on transferring to JSU, visit www.jsu.edu/transfer.