Gamecocks Receive Donation For Naming Rights To New Locker Room
04/22/2022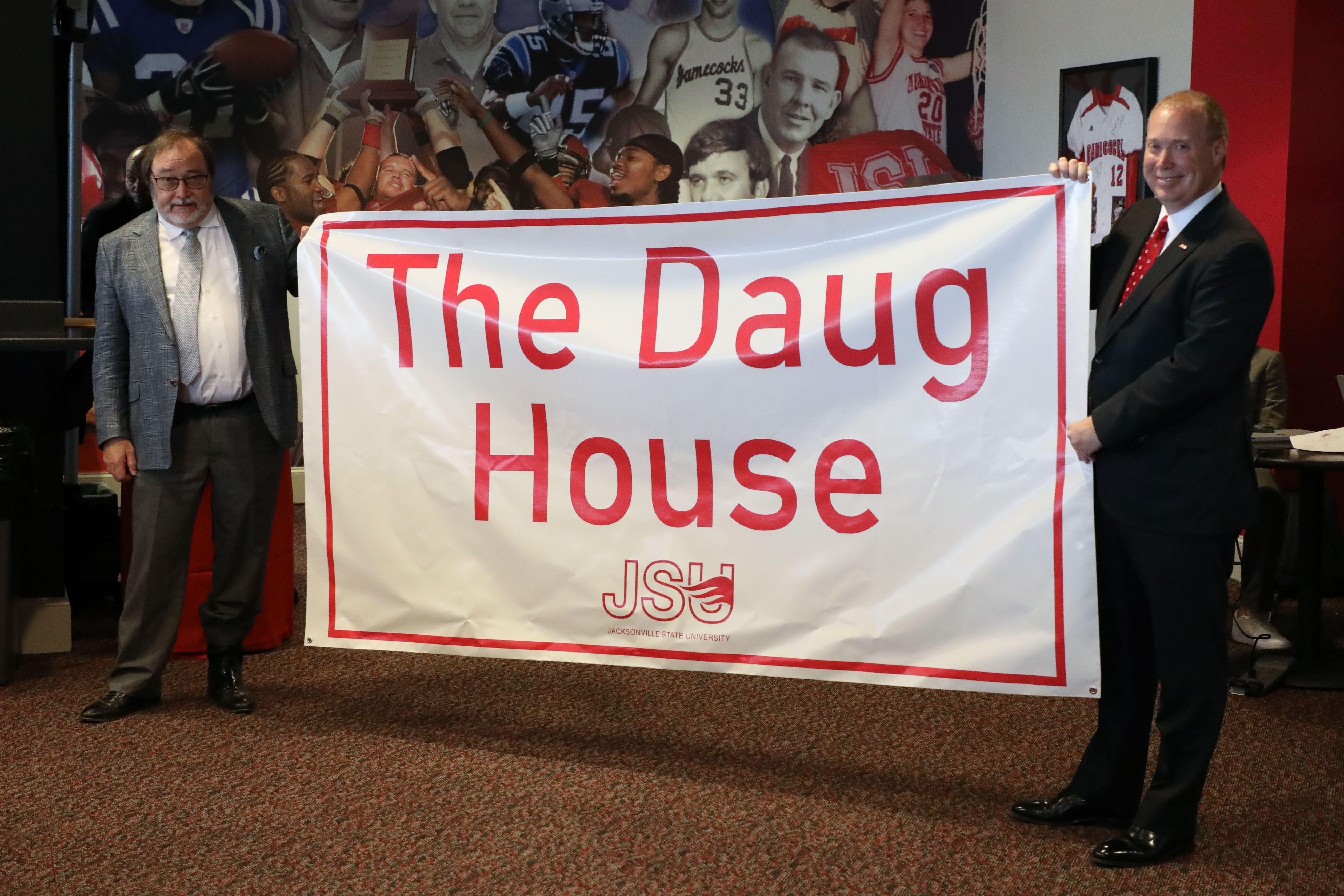 Clarence W. Daugette III and President Don C. Killingsworth celebrate the naming of "The Daug House" during the April meeting of the Board of Trustees. Photo by Sebastian Mendez.
by Josh Underwood, JSU Athletics
Renovations to Burgess-Snow Field got a large boost at Jacksonville State's quarterly Board of Trustees meeting on April 19.
 
The board approved the request of member Clarence W. Daugette III for the naming rights for the Gamecocks' locker room for the sum of $500,000 at the meeting held in the Stadium Club. The new locker room will be named the Clarence W. Daugette III Locker Room but will affectionately be known as "The Daug House."
 
The locker room will be part of the stadium renovations that are underway and will include new student housing and a new dining hall to go along with the new day-to-day headquarters for the Gamecocks football program.
 
The football facility will include the new locker room, as well as a player's lounge, training room, hydro-therapy recovery, meeting rooms, coaches' offices, equipment and laundry area, theatre-style team meeting space and a game day recruiting area. 
 
"Thanks, obviously to Mr. Daugette, but to the entire board for their support since we've been here," head coach Rich Rodriguez said at Tuesday's board meeting. "We have this beautiful facility and what better than to have our own Daug House- and it's a dog house that you want to be in. Mr. Daugette has been so generous to us over the years and I'm really excited to have our players be in the greatest locker room in the country, which will be known to all of us as The Daug House."
 
Daugette, a 1974 JSU graduate himself, is a member of the JSU Board of Trustees but comes from a family whose roots run deep at JSU. His grandfather, Dr. Clarence William Daugette, was president of JSU (then named State Normal School and then Jacksonville State Teachers College) from 1899-1942, and his father, Col. Clarence William Daugette, Jr., was both a graduate and trustee of JSU.
 
"We can't thank Mr. Daugette enough for this generous donation to our new football project," JSU Athletics Director Greg Seitz said. "This facility is a huge next step in taking our tradition-rich football program to the FBS level, and we are so thankful to have such tremendous support from our board members. We can't wait until our student-athletes have the opportunity to utilize this new building and put on that Gamecock uniform in The Daug House."