Men's Basketball Headed to NCAA Tournament
03/10/2022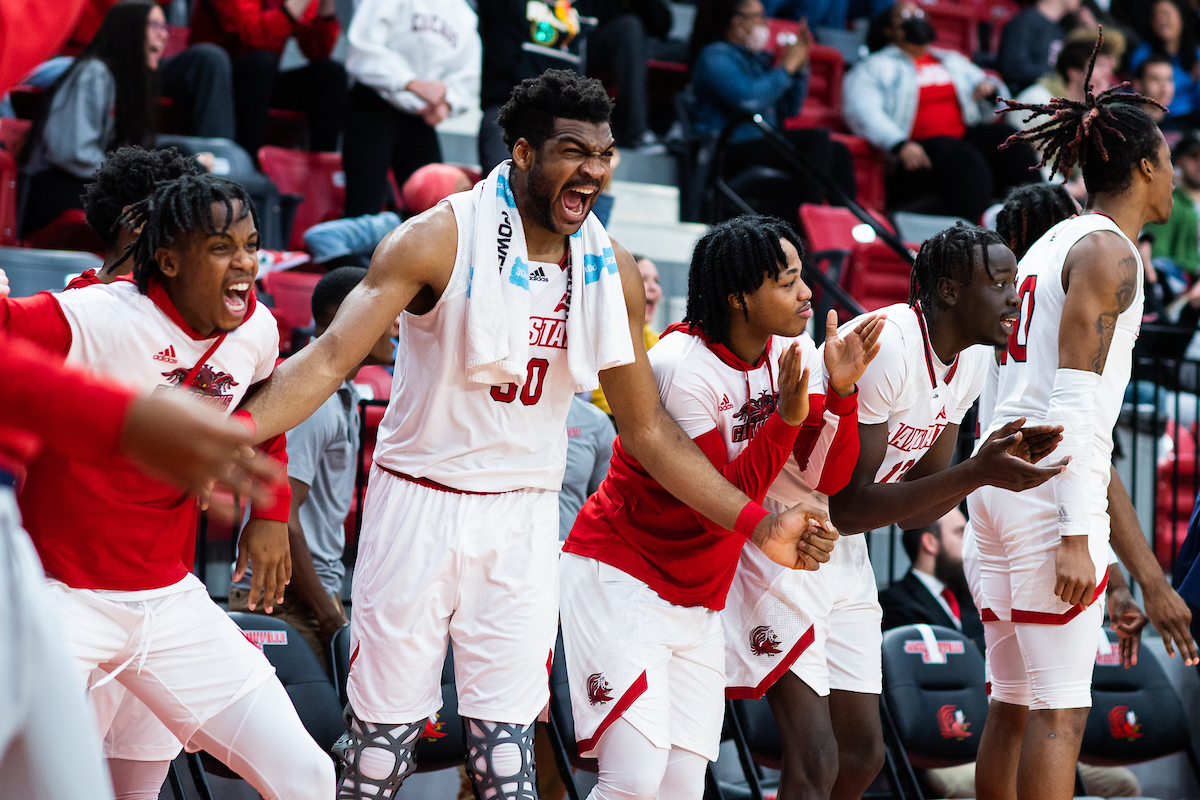 The Gamecocks celebrating a win against Lipscomb earlier in the season. Photo by Matt Reynolds.
from JSU Sports Information
The Jacksonville State men's basketball team is heading to the 2022 NCAA Tournament following its 2022 ASUN Conference championship season.
The Gamecocks (21-10) were crowned regular-season champions with a 13-3 league record, ending Liberty's bid for a four-peat in the conference. Head coach Ray Harper was tabbed the league's ASUN Coach of the Year for his efforts in JSU's first season in the league, while senior Darian Adams was a unanimous First-Team All-ASUN selection.
JSU's ticket to the Big Dance was officially punched on March 8 with Bellarmine's 77-72 win over Florida's Jacksonville University in the title game of the ASUN tournament. With the NCAA automatic qualifier traditionally going to the conference tournament champion, the ASUN will instead send JSU, the overall top seed and regular-season champion, due to Bellarmine's ineligibility as it continues a four-year transition period from Division II to Division I.
The Gamecocks previously earned the program's first-ever berth into the NCAA Tournament in 2017, winning the Ohio Valley Conference tournament in Nashville, Tenn. JSU drew a 15-seed that year and met the Louisville Cardinals in Indianapolis, Ind., in Coach Harper's first season.
The NCAA Selection Committee announced live on CBS on March 13 that the Gamecocks will face off against in-state opponent Auburn University in the opening round of the tournament on Friday, March 18, at 11:40 a.m. Central, in Greenville, SC. It will be the first time Jax State and the Auburn Tigers have met on the hardwood since 2013. 

A limited number of tickets are available through JSU Athletics, but are not for sale online. Fans must call or visit the JSU Ticket Office inside the lobby of Pete Mathews Coliseum to purchase. The ticket office will open Monday-Wednesday, March 14-16, at 9 a.m. and can be reached by phone at 256-782-8499. Tickets my also be purchased through Ticketmaster or directly from the NCAA. The matchup will be aired on truTV (campus cable channel 73). JSU Athletics is organizing a watch party at the coliseum and will share more details when available.