Trumpet Ensemble Headed to National Competition
02/03/2022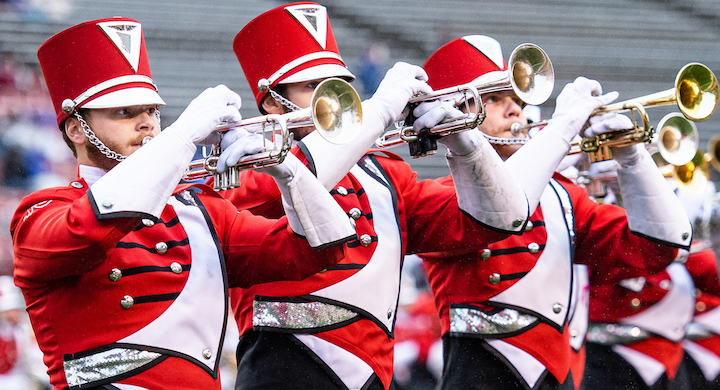 Members of the Marching Southerners trumpet line perform during a halftime show in Fall 2021.
by Buffy Lockette
The JSU Trumpet Ensemble has been selected to compete in the National Trumpet Competition at the University of Delaware. The eight-member group will travel to Newark, Delaware, on March 31 to compete against more than two dozen universities from across the US.
"I'm very proud of our students and their work ethic and initiative," said Dr. Chris Probst, associate professor of trumpet, explaining that the students organized themselves into an ensemble, prepared, and submitted a video for the preliminary round of the competition.  
Ensemble members include:
James Hiett

Devin Lentz
Kevin Lunsford
Will McCutcheon
Caleb McDonald
Alex Rodriguez
Gabriel Trotter
Caleb Williams
The ensemble will now advance to the live portion of the competition, where they will compete against universities such as UCLA, Louisiana State and the University of South Carolina. Following the quarterfinals, winning teams will advance to the finals at the same event.  
"It is truly an honor and testament to these students and their artistry to be included in the quarterfinals - and hopefully finals - of the National Trumpet Competition," Probst said. 
For 25 years, the nonprofit National Trumpet Competition has provided an educational outlet to young trumpet players from throughout the United States. With a yearly competition, masterclasses and concerts, the organization strives to provide the highest quality atmosphere to showcase up and coming artists and provide them access to some of the world's premiere trumpet artists and faculty.