Campus Dining Reopens for Spring
01/04/2022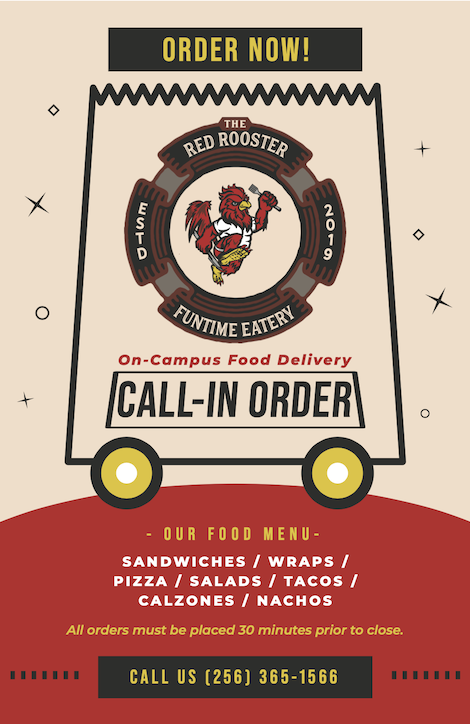 by Buffy Lockette
Student meal plans for the Spring 2022 semester will not be active  until the first day of class on Jan. 12. Students may use existing Flex Dollars rolled over from the fall semester but meal swipes and new Flex Dollars for spring will not be available until Jan. 12. 
Regular dining hours will begin on the first day of class. The following meal options are available until then: 
Jack Hopper Dining Hall will be open for lunch on Jan. 10-11, 11:30 a.m. to 1 p.m. 
Chick-fil-A in the TMB Food Court will be open for breakfast and lunch on Jan. 10-11, 8 a.m. to 1 p.m.
WOW will be open Jan. 9-11, 4-10 p.m. 
The Red Rooster will resume regular operating hours on Jan. 10: Monday-Sunday, 12-7 p.m. Additionally, the Red Rooster is offering a new delivery service. Call 256-365-1566 to order pizza, calzones, sandwiches, wraps, salads, tacos, nachos and more for on-campus delivery. Drivers will meet in front of the building to drop off your order. The delivery charge is $2.50, which serves as a driver gratuity (please consider additional tips on larger orders). 
Don't forget that students with meal plans will be defaulted into Meal Plan C for the spring - which includes 10 meals per week and $400 Flex - unless an updated Meal Plan Selection Form is submitted online by Jan. 18. Please call 256-782-7242 for assistance with meal plans.