Live Theater Returning to JSU Stage
10/15/2021
by Brett Buckner
Bring on the drama! After a nearly two-year hiatus brought on by the pandemic, JSU's Department of Theatre and Film will raise the curtain this week on a full season of live theater.
"We are extremely excited to get back on stage in front of audiences this year," said Randy Blades, head of the department.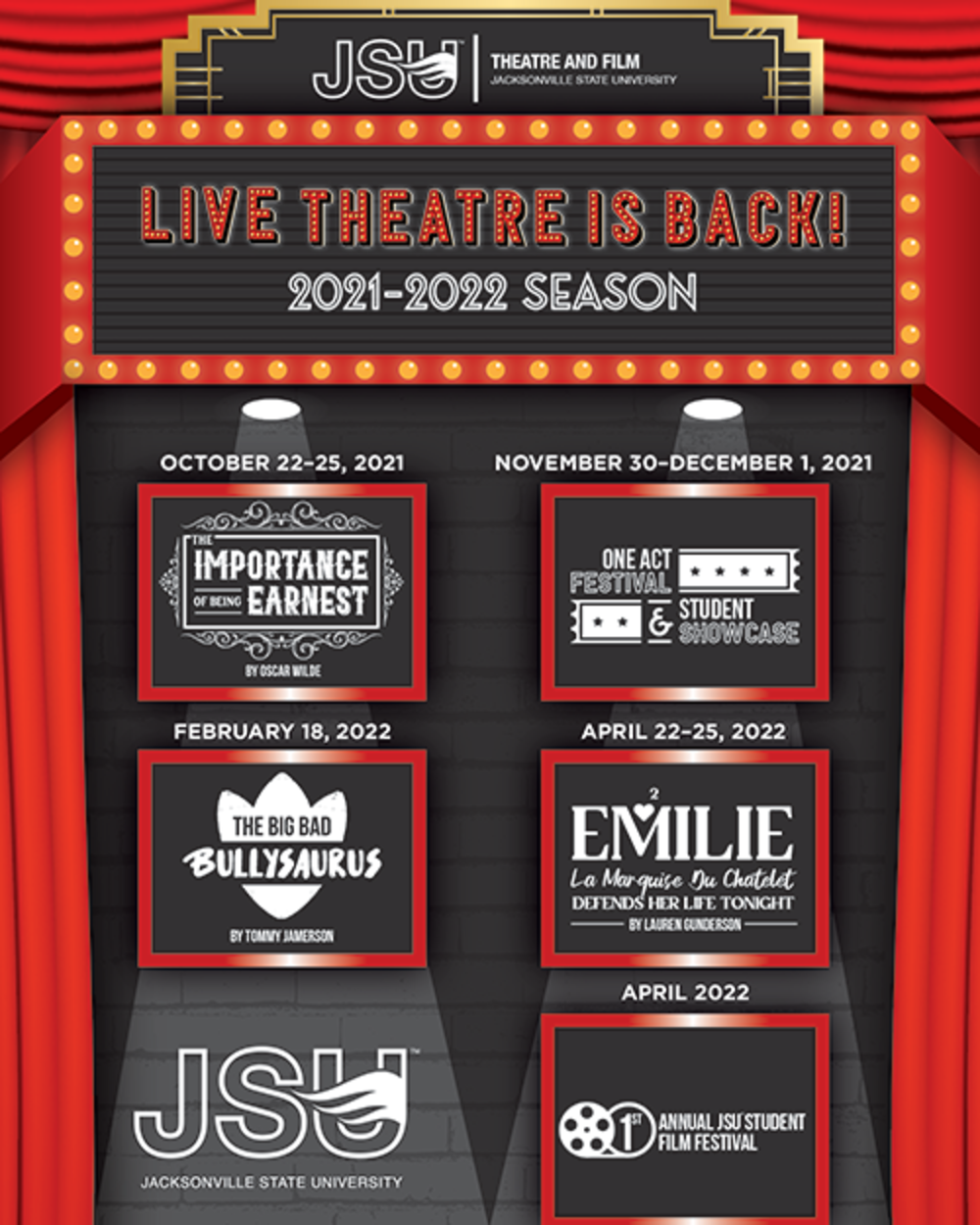 The season will open on Oct. 22 with the Oscar Wilde classic, "The Importance of Being Earnest." Set at the turn of the 20th century, the romantic comedy skewers Victorian social manners with hilarious satire involving two friends, Jack and Algernon, who are both courting young women under false identities. 
"We wanted our return to the stage to be joyous and celebratory," Blades said. "When this play was brought up last year, our students and faculty were very excited about the possibility. It is a wonderfully funny classic that has been enjoyed by audiences for over a hundred years." 
Students in the cast have been rehearsing since early September, learning the mannerisms of the period and working on their proper English accents. "We even had a vocal coach who ran a dialect master class for our students in preparation for auditions," Blades said. 
Performances will be held at the Ernest Stone Performing Arts Center on Oct. 22-25. All shows are at 7:30 p.m., except for the Sunday matinee at 2:30 p.m. 
Following "The Importance of Being Earnest," the department will host the One Act Festival Showcase on Nov. 30-Dec. 1. The 90-minute show will feature a variety of plays directed by JSU students. 
"Our annual One Act Festival and Student Showcase always holds a special place in my heart," Blades said. "Not only will there be a series of one-acts directed by students, but we also will have a display of production and design work that our students have worked on for the past year. This is always a fun celebration of the talent and hard work of our students, and we look forward to reviving it after a year off."
The season continues on Feb. 18 with a show sure to delight young audiences: "The Big Bad Bullysaurus." When Mark the paleontologist learns that his niece, Natalie, is being harassed by a local bully, he tells her the story of Ryan Rex Jr. – a little dinosaur with a big bully problem of his own. With the help of his closest companions, Terry Pterodactyl and Bronnie Brontosaurus, Ryan and Natalie both learn a lesson about friendship and the importance of forgiveness.
Produced in partnership with the drama honors fraternity, Alpha Psi Omega, "Bullysaurus" will be fully directed and designed by JSU students. It will tour local elementary schools in addition to its one public performance on campus on Feb. 18.
Next up will be "Emilie: La Marquise du Chatelet Defends Her Life Tonight." This fast, funny and sexy production focuses on one of history's most intriguing women – 18th century scientific genius, Emilie du Châtelet – who was relegated to the margins until now. The production will run April 22-25. 
The 2021-2022 season will conclude on April 30 with the inaugural JSU Student Film Festival, featuring student films created in classes throughout the year. 
Season tickets, which include all five events, are $45 for the general public and $42 for JSU faculty, staff, students, military personnel and seniors over age 60. Individual tickets are available to each show as well. Purchase online at www.jsutheatrefilm.com or call 256-782-5648.