Sophomore Honor Society Named Top Chapter in the Nation
09/24/2021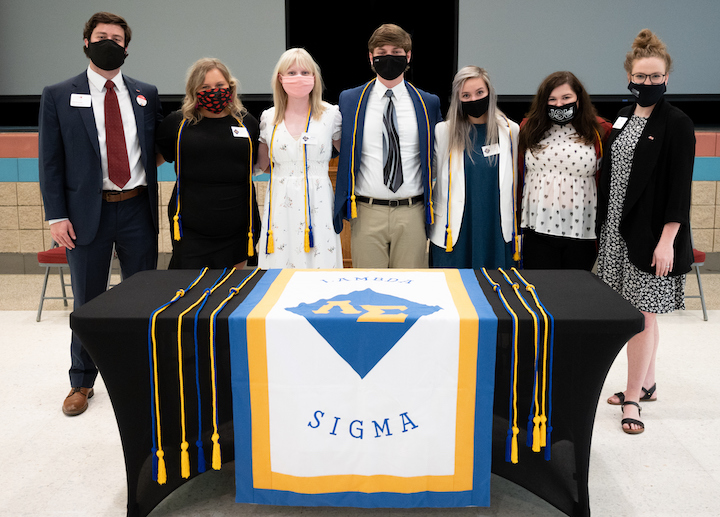 From left: Lambda Sigma co-advisor, Keaton Glass; secretary, Caroline Jones; vice president, Alexis Petty; president, Jordan Johnson; public relations specialist, Amanda Olivier; treasurer, Arcadia Lopez; and co-advisor Amy Bradford.
by Buffy Lockette
JSU's sophomore honor society, Lambda Sigma, has been named the top chapter in the US out of 39 universities, including Auburn, Alabama, Penn State, Georgia Tech and Carnegie Mellon. 
Established in 2018, JSU's Beta Pi chapter of Lambda Sigma is the youngest among its peers, yet has already established itself as a leader for its service to the community. In 2020-2021, members volunteered 500 hours for several non-profit organizations. 
Service projects included weekly visits and donations to a local dog shelter, donating more than 100 dog toys to a local animal shelter, helping clean up downtown Anniston through Anniston Changers, donating COVID Care Baskets to campus offices, and raising $3500 to build 20 beds to needy children through Sleep in Heavenly Peace. 
In honor of becoming this year's Most Outstanding Chapter, JSU has been recognized in the national newsletter, received a patch for its chapter banner, and will receive a framed certificate.
Lambda Sigma is made up of the top 35 percent of the sophomore class. Its purpose is to foster leadership, scholarship, fellowship and a spirit of service among college students. Students interested in joining apply after their first semester at JSU. Applications will be emailed to qualifying students in the spring.