University Mourns Passing of Five-Decade Faculty Member
08/20/2021
By Buffy Lockette and Sydney Jones-Wright
Friends and colleagues at Jacksonville State are mourning the loss of a university legend today, as Dr. Louise Clark - who worked on campus for more than 50 years - has passed away following a short battle with cancer. She was 77.
Dr. Clark spent the bulk of her career in the College of Business and Industry as associate dean before joining the Division of Academic Affairs as an associate vice provost last fall.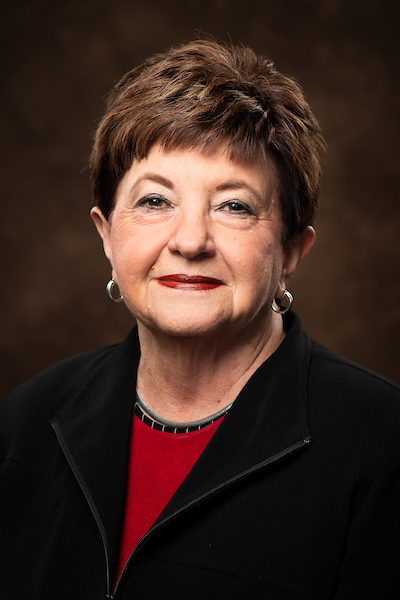 She joined the faculty at JSU in 1969 after earning a BS in marketing and MA in business statistics from the University of Alabama. She became one of the first women faculty members to earn a doctorate when she was awarded a Ph.D. in business from UA in 1984. Shortly afterwards, she was promoted to full professor and became the first woman to serve as an academic administrator when she was appointed associate dean of business. 
"She was one of the smartest women and hardest working people I have ever worked with," said Provost Emerita Rebecca Turner, who was Dr. Clark's friend and colleague for decades, even before they worked together at JSU. "She became the university's first accreditation expert and we turned to her every 10 years for her advice and opinions as we changed and progressed over the years. She always had solid input that you could count on. In my opinion, the College of Business and Industry would never have been able to survive, thrive and become AACSB accredited without her."  
During her time on campus, Dr. Clark assisted with five of the university's 10-year accreditation site visits with the Southern Association of Colleges and Schools Commission on Colleges (SACSCOC), as well as numerous self studies for reaffirmation and individual program-level accreditations. She was instrumental in the College of Business and Industry receiving and maintaining its Association to Advance Collegiate Schools of Business (AACSB) accreditation. She also chaired several accreditation teams reviewing peer institutions across the country, from California to Florida. 
Due to her numerous contributions to the university and to higher education, starting from a time when she was the only woman in the board room, Dr. Clark is regarded as a trailblazer by women on campus.  
"Dr. Clark's contributions to our institution and our college can't be overstated," said Dr. Dana Ingalsbe, head of the Department of Applied Engineering. "She was a mentor, a friend, and a leader who worked tirelessly to make Jacksonville State University a better institution for everyone."
Provost Christie Shelton said, "Dr. Clark was a legend at JSU, plain and simple. Her contributions to this university are endless. Recently, she had assumed the role of associate vice provost in my area and proved invaluable in assisting with numerous tasks associated with accreditation. She was a superb leader and mentor of many. My prayers continue to be with the family during this time." 
University President Don Killingsworth, who regarded Dr. Clark as an advisor and friend, said, "Dr. Clark dedicated her entire career and most of her life to Jacksonville State. She was valued for her wisdom, her encyclopedic knowledge of the university and its accreditation, and her honesty and her humor. She will never be replaced."
A celebration of Dr. Clark's life is being planned for next month. More details will be announced in coming weeks.