Alpha Omicron Pi Named the Top Chapter in the US and Canada
08/18/2021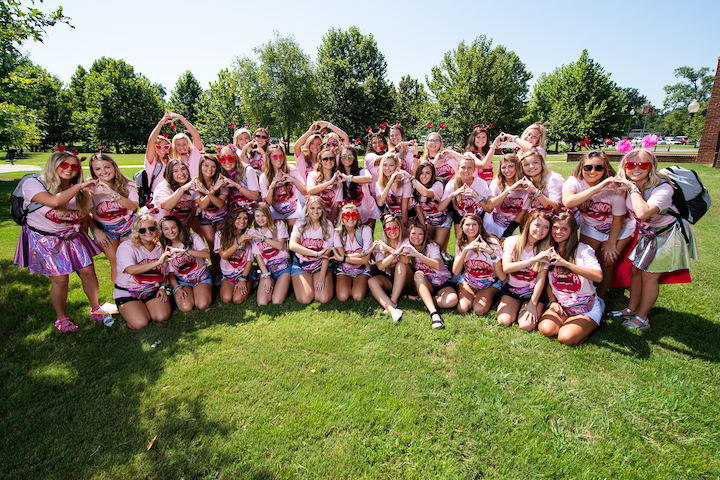 Members of JSU's Alpha Omicron Pi pose on campus on Bid Day in 2019. Photo by Matt Reynolds.
By Claire Bowman, JSU Alumna and Chapter Advisor
"Dedicated to Excellence. Devoted to Each Other." The sub-motto for the Delta Epsilon chapter of Alpha Omicron Pi at JSU ran through the minds of chapter members on June 26. After more than 30 years of dedication and devotion to the AOII sisterhood, Delta Epsilon was named the recipient of the highest honor an AOII chapter can receive at the fraternity's international convention, the JWH Cup. This award, given every two years, recognizes the No. 1 AOII Chapter throughout the United States and Canada.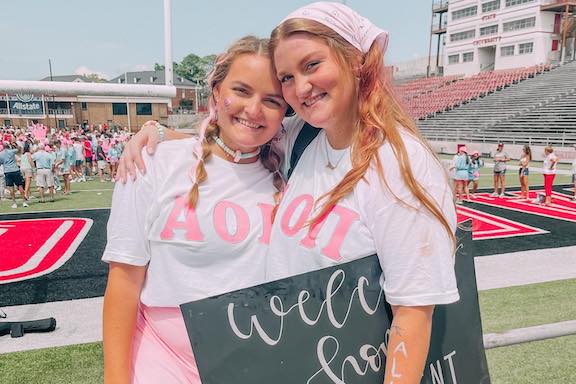 "There is truly no way to describe the emotions I felt as I heard our chapter be recognized," said Briley Trammell, chapter president. "Receiving this incredible honor meant that our headquarters was able to see what I see every day - a group of kind, compassionate, ambitious women who are dedicated to serving each other and the great community of Jacksonville. "
In addition to the JWH Cup, which is named after AOII founder Jessie Wallace Hughan, Delta Epsilon was awarded the Collegiate Chapter of Excellence Award as a top performing chapter. Additionally, the chapter was also awarded 13 Chapter of Excellence awards highlighting its incredible performance in areas including, but not limited to, alumnae relations, campus involvement and communications. The chapter also received the Collegiate Philos Award for excellence in panhellenic relations and the AOII Foundation's Excellence in Fundraising Award for having the highest total giving to AOII's Loyalty Fund, Ruby Fund, foundation scholarships, and its international philanthropy - arthritis research.
Winning the JWH Cup has been a goal of the Delta Epsilon chapter since it was chartered at JSU in 1990, and the chapter recognizes that it could not have accomplished this alone. It credits much of this recognition to the chapter's alumnae, whose commitment to AOII has gone beyond their collegiate years. Delta Epsilon also acknowledges the impact the JSU Panhellenic community has had on the chapter.
"There is truly no way that our chapter would have reached this goal without the help of Panhellenic," Trammell said. "JSU Panhellenic and the Dean of Students Office have always encouraged excellence and have equipped our chapter with the tools we have needed to succeed. I am looking forward to seeing what the JSU fraternity and sorority community continues to accomplish, not only on our campus, but also on a national scale."