University Expands First Day Book Program
07/28/2021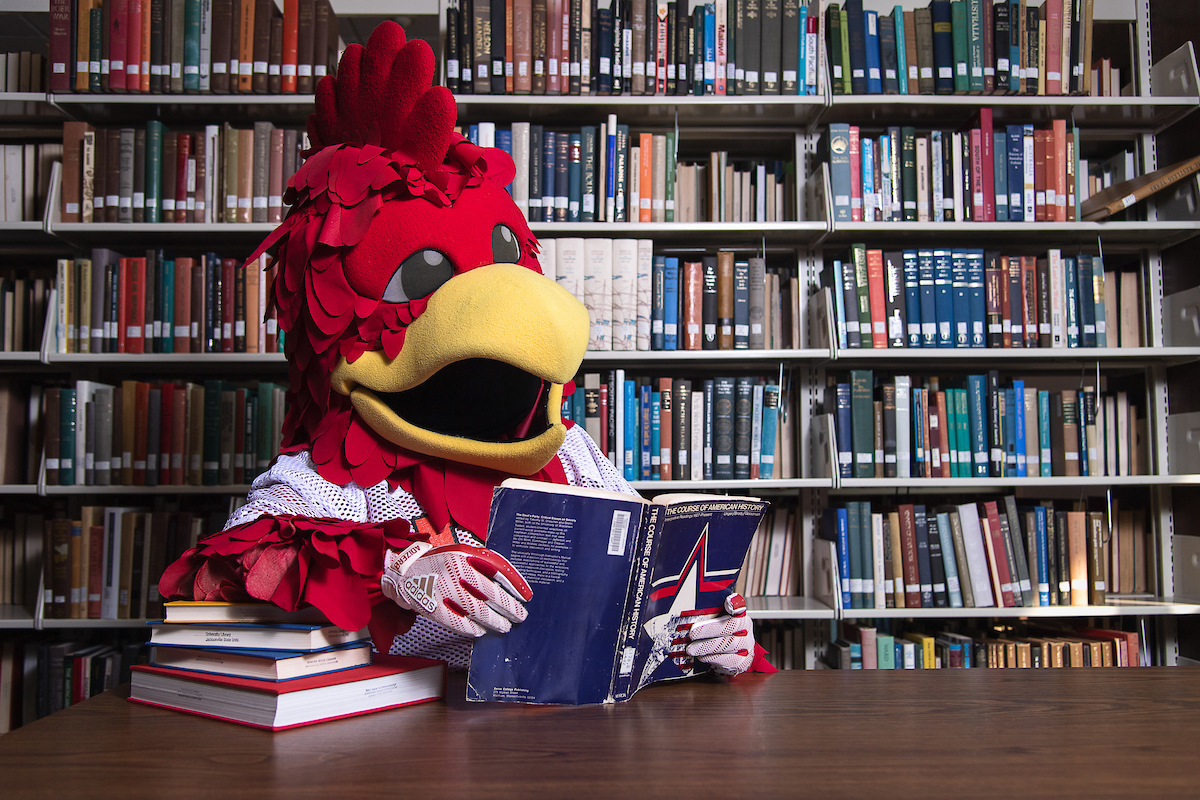 JSU's mascot, Cocky, studying in the library. Through the First Day program, he can access his textbooks on Canvas from his computer, tablet or cellphone. Photo by Matt Reynolds.
by Buffy Lockette
Imagine, if you're a student, opening up Canvas on the first day of class and finding not just your course materials uploaded by your professor, but your textbooks as well – preloaded and packaged in the same place as your lecture materials, assignments and grades. No waiting in line at the Bookstore. No digital access codes to keep up with. 
The First Day Access program, offered through Barnes & Noble College and administered through the Campus Bookstore, does just that. With a few clicks of the mouse, students gain instant access to their textbooks in Canvas and save an average of 20-50 percent off the national retail price. 
"The First Day program has taken all the stress out of buying textbooks, access codes, and even scantrons," said Kassidy Nance, a senior majoring in communications. "It conveniently links my homework to my Canvas homepage, so I only have to check one website to see all my due dates. It's honestly a huge mental and financial relief, and has noticeably impacted my success in these First Day courses."
First piloted on JSU's campus in 2019, the First Day Access program is expanding each semester. Approximately 382 courses are participating this fall, including most core courses and business classes. Students are able to access their textbooks anywhere they log in to Canvas – a computer, tablet or even cellphone – and can search within the text and highlight key passages. 
A major incentive of the First Day program, in addition to ease of access, is the significant cost savings it offers versus traditional textbook purchases. For example, the printed textbook for English 101 is $167.20 compared to $35.75 in the First Day program. The printed textbook for Physics 201 is $172.85 versus $70.82 in First Day. Additionally, since First Day courses appear on the student account as a fee, students may bundle their text fees into a university payment plan (which is not possible with traditional bookstore purchases). 
"The number one priority for the Campus Bookstore is to service our students," said Annaleigh Harris, Bookstore manager. "To us, this includes saving them money. As a JSU alum, I personally could not be more excited to expand the First Day program on our campus. I see great things for JSU in the future."
Students registered in courses participating in the First Day program will be automatically opted-in and see a fee listed on their student account coded as "First Day Delivery." Students may opt out of the program within the first 14 days of class in Canvas by clicking on "Course Materials" within the course shell. They are still responsible for purchasing printed materials if not using the digital option provided through First Day. 
Faculty interested in adopting the First Day program in future semesters should contact Kristi Webster, the textbook manager for the Campus Bookstore, at kwebster@bncollege.com. The deadline for spring is Sept. 15 and, for summer, March 1. 
In addition to First Day Access, the Bookstore still offers a number of textbook options, including purchasing and renting both digital and physical textbooks. More than 80 percent of titles are typically available in rental format, which cost approximately 90 percent less than new printed textbooks. 
Learn more about JSU First Day on the program's website or by viewing the overview video on Youtube.