Battle for the Title of "Grand Champion Cocky Grill Master"
07/16/2021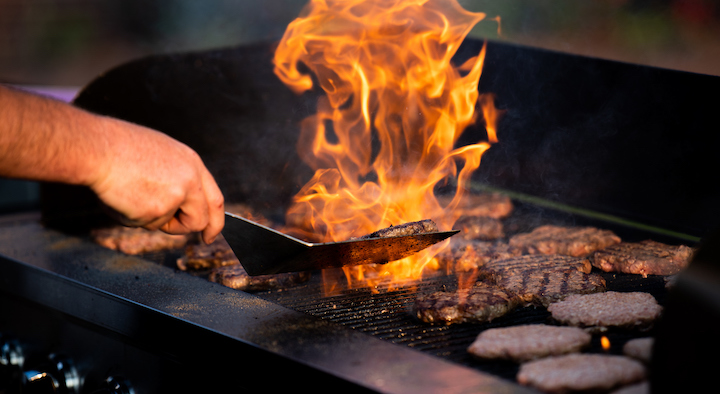 Hamburgers sizzle on the grill during a barbeque President Don and Mrs. Kristi Killingsworth hosted for students at their house on April 6. Funds from the Cocky Cook-off will support student scholarships and other university needs. Photo by Grace Cockrell.
by Brett Buckner 
Grilling teams worth their weight in pulled pork – as well as beef brisket, chicken and ribs – will converge on the RV Lot next to JSU Stadium on Aug. 20-21 for the Cocky Cook-off BBQ Competition. Experts and novices alike will battle for the title of Grand Champion Cocky Grill Master, as well as $1,700 in cash and prizes.
"This is the first of what will become an annual event to engage with alumni while supporting the JSU Annual Fund," said Amy Schavey, assistant director of the Annual Fund. "Through the challenges of 2020 and 2021, we realized that our alumni and friends needed more fun event opportunities to spend time together in a safe and friendly environment."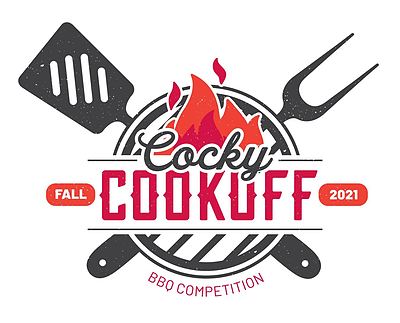 Festivities will begin on Friday, Aug. 20, at a Pit Party featuring a performance by the Chris Posey Band. Gates open at 7 p.m. and the show starts at 8 p.m. General admission tickets are $10 and VIP Pit Passes are $40. JSU students will be admitted free with JSU ID
The competition will heat up the following day, Saturday, Aug. 21, when judging for the BBQ competition begins. A cornhole tournament will also be held. Teams hoping to vie for the title must register by Aug. 13. There is room to accommodate about 24 competition grilling teams in a full RV slot, and space for an additional 12 Cook's Choice teams, explained Schavey. 
In addition to ticket sales and competition registration fees, there are a variety of sponsorship opportunities, ranging from $7,500 Grand Champion Sponsor to the $150 Partner Sponsor. All proceeds from the Cocky Cook-off will benefit JSU's Annual Fund.
Donations made through the JSU Foundation during the calendar year make up the JSU Annual Fund, which creates support opportunities for students, programs and services. Many Annual Fund events and fundraising initiatives allow donors to decide where their money is applied.
"Many programs find that there is a gap between state funding and the realistic needs of our growing university," Schavey said. "Donations through the JSU Annual Fund help to support those needs and fund scholarships that ensure all JSU students have the opportunity to receive a quality, world-class education." 
In addition to the Pit Party and Cook-off, the Annual Fund Board is petitioning JSU leadership for a full pardon of Penny the Chicken from this year's Cocky Cookoff BBQ Competition. To save Penny the Chicken, donate to the JSU college, program or scholarship of your choice between now and Aug. 21 through the event website. Then, join Penny on Aug. 21 at around 11 a.m. as she awaits her pardon from President Don Killingsworth. 
Text COCKYBBQ to 91999 or visit jsu.edu/givejsu to register and buy tickets. For complete details, visit Cocky Cookoff BBQ Competition and Pit Party.