Former Department Head Remembered by JSU Family
06/16/2021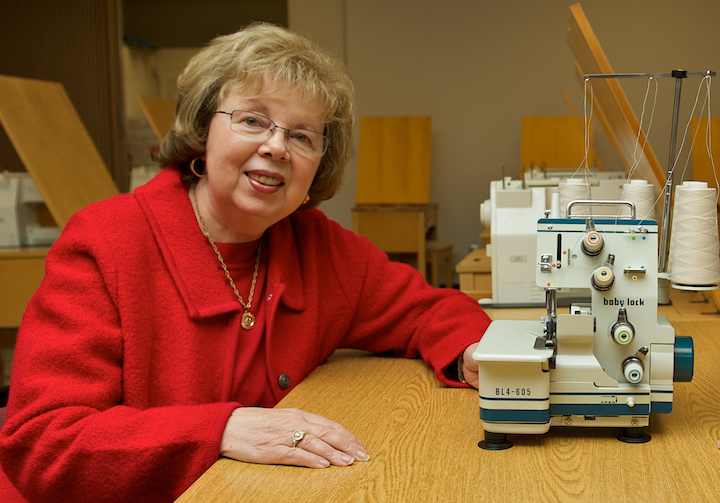 Dr. Virginia Yocum poses with a Baby Lock Serger she donated to the Department of Family and Consumer Sciences in 2009 to help merchandising students learn to produce quality garments. Photo by Steve Latham.
The university community is mourning the loss of Dr. Virginia Yocum, retired head of the Department of Family and Consumer Sciences (FCS), who passed on June 10 at age 81. She is remembered by former students and colleagues as an outstanding role model, mentor and leader.  
"There are people who come into our lives who are instrumental in changing the course of it," said Kimberly Mitchell, a former student of Dr. Yocum's who now serves as career technical education specialist in FCS. "Her mentorship and care for me helped me not just finish college but helped shape my life. She was the perfect picture of professionalism and she instilled the motto of, 'Do honor to your profession' in her students and she pushed us to be better versions of ourselves. She truly cared for her students and those she worked with. The depth and breadth of her influence will be felt for generations to come."
Native to Heflin, Dr. Yocum enrolled at JSU after graduating from high school in 1958, earning a bachelor's degree in vocational home economics in 1962. She went on to receive master's and doctoral degrees from the University of Alabama in 1964 and 1978, respectively. 
Dr. Yocum taught in secondary education from 1962-1969 and served as an agent for the Alabama Cooperative Extension Service in 1970-1971 before beginning her career at JSU in 1971 as a food and nutrition instructor. In 1983, she was promoted to FCS department head, a role in which she served until retiring in 1997. She was a leader in the Alabama Home Economics Association, serving as president in 1991-1992, and was a Registered Dietician. The JSU Alumni Association honored her as the Outstanding Faculty/Staff Member of the Year in 1997. 
"Dr. Virginia Yocum was the perfect example of a strong Southern lady," said Dr. Debra Goodwin, another of Dr. Yocum's former students, who served as department head from 2006 until retirement in 2020. "She could be soft as a whisper but tough as nails when the situation dictated. She was the type of person and professional everyone hopes to be. She loved her family, her friends and JSU. She helped to create the strong foundation on which the Family and Consumer Science Department stands and left a great legacy for generations to come. She was a great lady and will be greatly missed."
Dr. Yocum was preceded in death by her husband of 59 years, Harry, and is survived by son Chris, daughter-in-law Christy and grandsons Cy and Colby. The university exceeds its deepest sympathies to the Yocum family during this difficult time. Funeral Services were held on June 14. In lieu of flowers, the family has requested donations be made to the Dr. Virginia Yocum Scholarship for FCS students through the JSU Foundation.