Board Chairman Raising Millions for Cancer Research
06/16/2021
Cancer is something one never wants anyone they love to face, let alone multiple members of the same family. Just a few short weeks ago, Randy Jones - JSU alumnus and chair of the Board of Trustees - lost his younger sister, Paulette, to sarcoma cancer.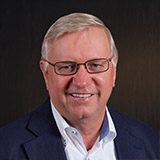 Though a difficult loss for him and his three remaining siblings, this was not the first time Jones had watched a sister or brother wage war against cancer. His older brother, John Paul, was treated for kidney cancer while his younger sister, Remona, recently completed breast cancer treatment.
"It's never easy to see people you care for deeply, in my case my sisters and brother, go through something as difficult as cancer," Jones said. "It puts so many things into perspective but also compels you to do whatever you can to help other families who are and who will go through the same."
And help he will. Jones has been selected as the Radiation Oncology Accelerated Research (ROAR) Honoree for the 10th annual James Bond Gala "Never Say Cancer Again" on Saturday, June 26, at 6 p.m., at The Club in Birmingham. Past honorees for the gala include former Coach Pat Sullivan (1950- 2019), Dr. Larry Lemak, former Jefferson County Sheriff Mike Hale, and Jefferson County Manager Tony Petelos, among others.
ROAR – a non-profit organization whose membership is 100 percent volunteer based – was founded in 2009 to support the University of Alabama at Birmingham (UAB) Radiation Oncology Department. As UAB's cancer research directly affects patient treatment throughout the Marshall County Medical Center network, ROAR's decision to honor someone locally was a fitting one.
"Our mission is to raise funds for UAB-led cancer research, and this annual event is a unique way for individuals and corporate sponsors to fund treatments that will improve the quality of life for cancer patients, eliminate chemotherapy and cure cancer once and for all," said Julie Kim, ROAR gala chair. "Randy's compelling family history with fighting cancer, coupled with his contributions to his local community, makes him an ideal honoree for this year's gala and for our overall mission."
Every dollar raised in honor of this event will be matched by UAB Radiology Oncology Department physicians. And with additional grant dollars provided on top of matched physician contributions, what begins as a $1,000 donation could potentially represent as much as $28,000 or more – all going directly to cancer research.
"I am humbled and honored to participate in the upcoming gala, especially one that has the ability to generate millions in matching donations," Jones said. "Paulette's nine extra years with us following her original diagnosis were possible because of cancer research. No family in America has gone unaffected by cancer, so it is my hope that I can use our family's experience to encourage others to fund research and extend lives."
In addition to donations and event ticket sales, the gala will include an auction which has been supported by people and businesses across Alabama. Highlighted auction items include a private dinner at Fleming's Prime Steakhouse with Jones' personal friend, Rick Bragg, as well as a Mentone weekend cabin getaway and private dinner onsite alongside Randy and Kelly Owen.
"People have really come together to ensure the gala nets results that make an impact in Alabama and beyond," Jones added. "I am proud to be affiliated with such a worthy cause and the money we generate for research makes a difference in the lives of other families like mine moving forward."
While tickets to the June 26 event are sold out, charitable contributions for ROAR can be made at roar2021.givesmart.com.