International House Honors Outstanding Students
04/28/2021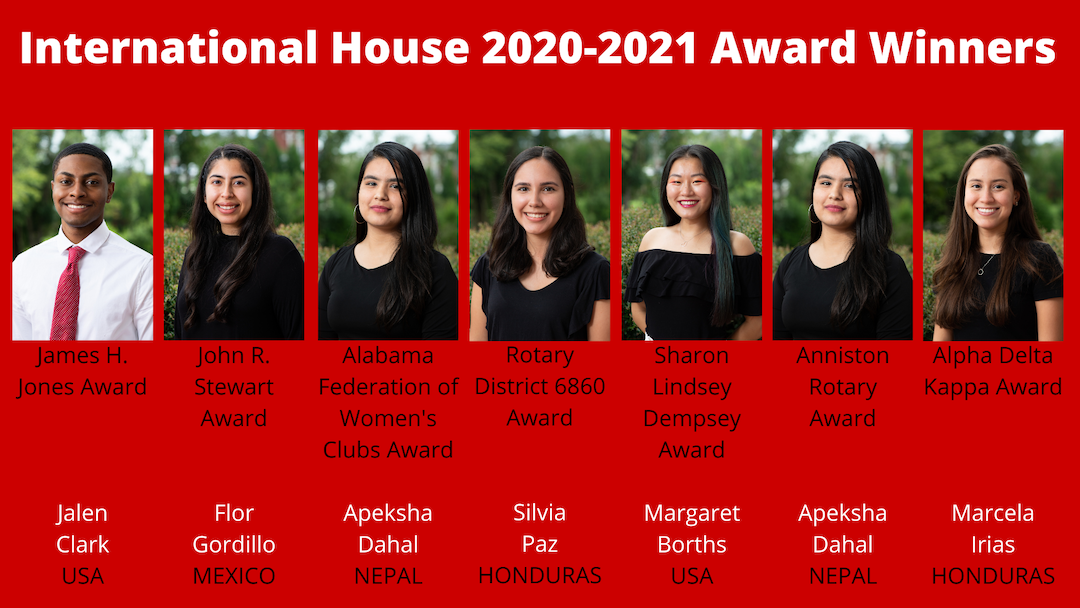 The 2020-2021 International House and Programs award winners.
The JSU International House and Programs recognized the outstanding achievements of its students during an annual awards banquet on April 16, sponsored by the International Endowment Foundation (IEF). The honorees included:
The Sharon Lindsey Dempsey Award: Margaret Borths, Decatur, Ala.
The James H. Jones Award: Jalen Clark, Rome, Ga.
Alabama Federation of Women's Club: Apeksha Dahal, Nepal
Anniston Rotary Award: Apeksha Dahal, Nepal 
District Rotary Scholar (Spain-Hickman Estess): Silvia Paz, Honduras 
Alpha Delta Kappa Award: Marcela Irias, Honduras 
The John R. Stewart Award: Flor Gordillo, Mexico 
William P. Acker, III was presented the Clay and Betty Award for his 44 years of service to the IEF as a board member, vice chair, and now emeritus officer.
The International House is a global learning and living community that strives to contribute towards the globalization of the JSU campus and community. Currently, 13 different countries are represented in the house, including the US.