Wallace Hall to be Restored and Renovated
03/08/2021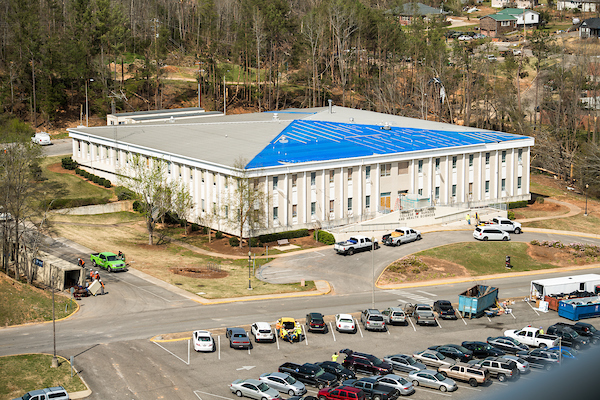 Wallace Hall, as seen just two weeks after the 2018 tornado. Photo by Matt Reynolds.
Plans are underway to renovate Wallace Hall, which was all but destroyed by the tornado that tore through campus three years ago this month.
The $6 million project will transform the former nursing building into a shared space that will house classes for the School of Science and the School of Arts and Humanities, which provide the bulk of JSU's required classes for undergraduates. The vision is for this new facility to serve as a general education building, according to Dr. Tim Lindblom, dean of the School of Science, who is supervising the building's design. 
"What we hope is that it will serve the core curriculum," Lindblom said. "We'll be offering classes – like English, biology and history – that every student takes rather than the more specific, upper-level classes. I like to call it the freshman and sophomore building." 
While plans are progressing steadily, given the extensive damage caused by the 2018 tornado, there's a lot of work ahead.
"We are in the design phase right now," Lindblom said. "The building is essentially – for all practical purposes – gutted, other than the walls for the auditorium and some bathrooms. It's basically a blank shell."
If all goes according to schedule, construction will begin near the end of this year with an official opening set for the spring of 2023. The new and improved Wallace Hall will provide much-needed classroom space for the School of Arts and Humanities, as well as additional general labs for the School of Science and other departments.
"We're hoping for between two and three general course labs that won't be discipline-specific," Lindblom said. "The idea being that we can teach any kind of lab there during any semester."
In addition to the extra lab and classroom space, Lindblom says the new design will provide what he calls Student Collaborative Spaces. 
"We'll be offering enhanced classrooms that will facilitate collaborative learning," he said. "We wanted to incorporate smaller rooms for student groups to meet where they can work on team projects."