Early Campus Closure for March 17
03/17/2021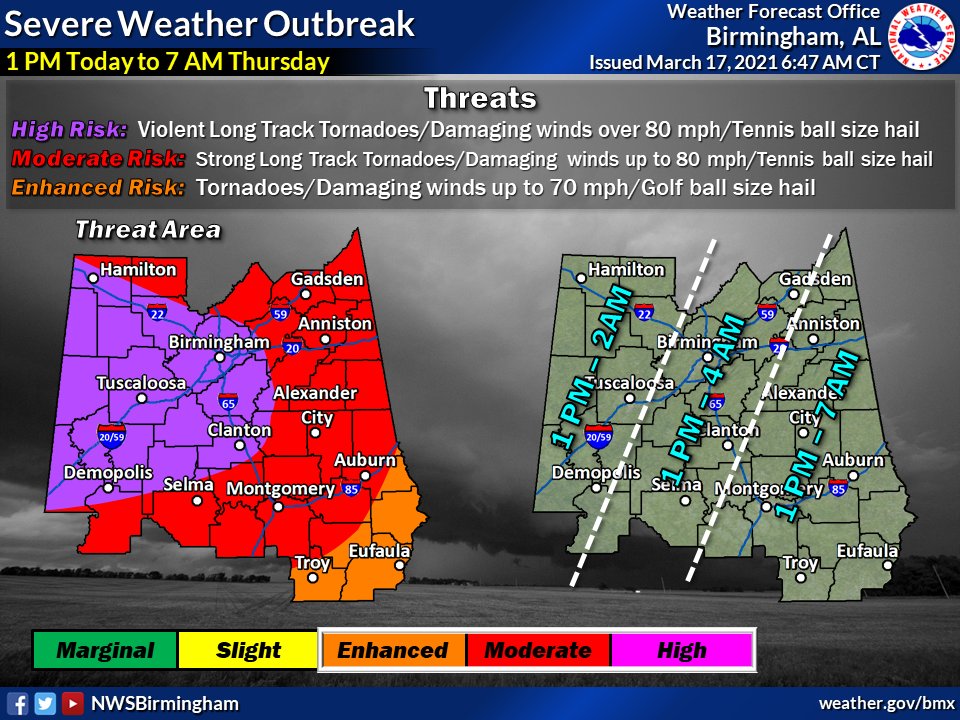 This National Weather Service graphic forecasts the storm system moving into the JSU area beginning at around 1 p.m. on March 17.
The National Weather Service is forecasting a significant severe weather event for Central Alabama on March 17. In Calhoun County, strong, long-track tornadoes, damaging winds of up to 80 miles per hour, and tennis ball-size hail are possible.
Due to this severe weather threat, the JSU campus will close at 12:30 p.m. on March 17, including classes, offices, and campus activities. Sodexo will close all food operations at 12:30 p.m. except Jack Hopper Dining Hall, which will maintain normal hours as long as possible. Houston Cole Library, transportation services, the campus bookstore and the Rec Center will close at 12:30 p.m. 

Please remain weather aware and use a weather radio or weather app to alert you to watches and warnings. Do not depend upon outdoor weather sirens! Campus police will send out a JSU Alert if the area is placed under a tornado watch or warning. Sign up or modify information on JSU Alerts by following the instructions on the UPD website. You may also sign up for EMA text alerts by texting "CalhounEMA" to 888-777.

If there is a tornado warning, go to the lowest floor of your building, away from windows, exterior doors or walls. The decision to seek shelter at a community shelter is certainly made more difficult by COVID-19; however, the Alabama Department of Public Health recommends that your first priority be protecting yourself from a potential tornado. If a warning is issued for your area, the tornado poses a greater threat to your safety than the virus. 

If a tornado watch is issued, Leone Cole Auditorium, Stone Center, Salls Hall, Self Hall and the Theron Montgomery Building will be opened to provide cover. Pets are welcomed but must be leashed/crated and controlled by the owner. Police vehicles will be located at accessible entrances to each of these buildings. The nearest storm shelter to campus is at the Jacksonville Public Safety Complex, located at 911 Public Safety Dr SW (behind Walmart). It will also be open once a tornado watch is issued. If possible, please continue to practice social distancing while sheltering with others, covering your cough or sneeze, refraining from touching your face, and washing your hands. Anyone taking shelter in a JSU building should bring their own face covering.