Ventures into the Unknown: Emergency Management Instructor Recounts Pandemic Deployments
02/26/2021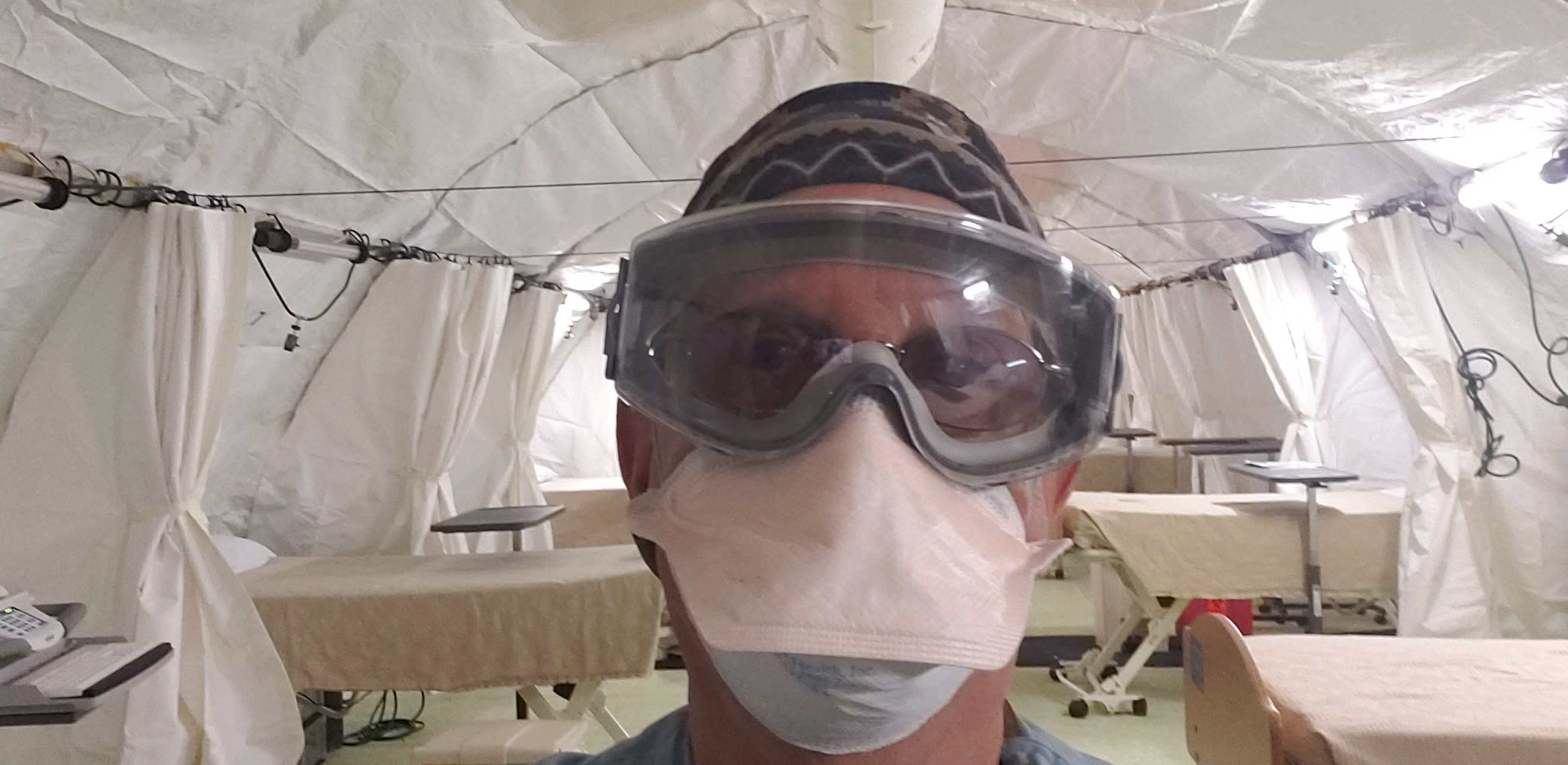 Eugene Rothman at a hospital in El Centro, Calif. during a hospital augmentation mission in December 2020.
It was spring of 2013, and Eugene Rothman was supposed to be taking a final exam. 
Rothman was completing his master's degree in emergency management at JSU and was required to pass an oral exam given by a panel of JSU professors. Because he lived in Natick, Mass., the test was given over the phone. Before Rothman could answer (or even be asked) any exam questions, the conversation was steered toward a disaster that had taken place a world away – the 7.0 magnitude earthquake in Haiti that killed more than 200,000 people, devastating the poorest country in the Western Hemisphere.
"They wanted to know all about Haiti," he said, "so 45 minutes later, I'm still talking about Haiti, and they had to stop to ask the actual test questions."
Rothman's knowledge didn't come from Internet research, though he wrote about the earthquake for a paper. It came from firsthand experience. He was there.  
Since 1992, Rothman, who is now an adjunct instructor in emergency management at JSU, has been a been the senior paramedic and team leader for the Boston Disaster Medical Assistance Team, which is an arm of the National Disaster Medical System (NDMS). When there's a need for large-scale disaster assistance, one of the NDMS teams from across the nation is deployed to help fill in the gaps, supplementing health and medical systems and response capabilities. Team members must be ready to leave at a moment's notice, much like the National Guard.
"We have to always have our bags packed because you just never know when the federal government is going to make the call," he said. "It takes a lot of support and understanding – from family and friends and employers. I have to admit that it can be anxiety-inducing. And we can say, 'No, I'm not ready for this one,' but our team prides itself on always being ready to go."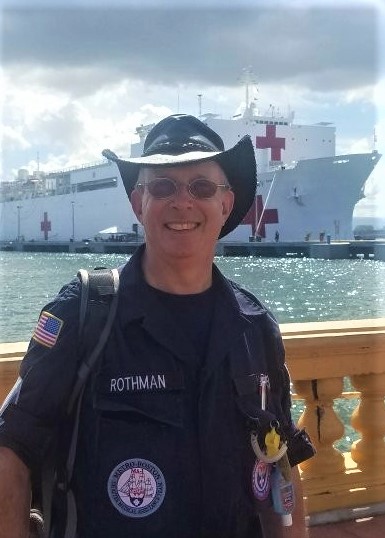 That's how he was deployed to Port-au-Prince Haiti after the 2010 earthquake. His team was one of the first to be out in the field, where they remained for 21 days, working adjacent to a "tent city" filled with more than 6,000 injured and displaced disaster victims.
"Its main purpose was for orthopedic surgery," Rothman said. "But we also helped to deliver nine babies. In fact, our first patient came in at 6:30 in the morning in labor." 
Rothman has responded to hurricanes in Florida and the Gulf Coast, as well as floods in North Dakota. 
NDMS professionals also serve behind the scenes at many large-scale national events, like the Presidential Inauguration, or Republican and Democratic National Conventions, where there is the potential need for additional trained medical professionals. 
Rothman's team was in Washington, DC for former President Donald Trump's State of the Union address last February and the funeral for Rep. Elijah Cummings in 2019. 
In March of 2020, Rothman and his team were deployed to a federal quarantine in Marietta, Ga. to assist passengers of the Princess Grand cruise ship, some of whom had contracted what news reports called a "mysterious respiratory illness." It was unlike anything they had ever faced.
"We've never been deployed to a 'mysterious virus' before," he said, "but most of our deployments are ventures into the unknown. We often do not know exactly where we are going or precisely what our mission will be when we arrive, especially as missions change without warning."
The team was placed in contact with roughly 250 people who weren't so much patients as guests, Rothman explained. The team basically served as the concierge, delivering fresh towels and food, taking temperatures and sending some to the hospital. 
"We were essentially running a hotel combined with a novel infectious disease," he said. "Luckily, we in disaster response have been talking about these diseases for years – not about this particular organism, but in general." 
Having participated in federal training for Highly Infectious Diseases and Isolation, Simulation and Quarantine, among others, the team was familiar with the process of donning and doffing the PPE necessary to protect themselves.
"As in any life-hazard situation – fires, infectious diseases, law enforcement," he said, "our reliance on our training and experience prepares us to respond with concern and caution, as opposed to fear. It was an interesting experience."
Rothman would be deployed twice more to COVID-related destinations. At the end of July, he was in Lake Charles, La., for what he called a "hospital augmentation mission," where the team goes to support hospital staff. The team of about 30 people was split in half and helped turn the hospital ICU into COVID and non-COVID units.
"Even in a pandemic, people still have strokes and heart attacks," he said, "but we had to deal with everything with COVID in mind. That was a very interesting deployment."
In December, Rothman was sent to in El Centro, Calif., where his team staffed a non-COVID med-surg unit for people waiting for rehab or just out of surgery. All the patients were COVID-negative.
"We looked after them in what was basically a tent," Rothman said. "They kept us busy, very busy."