Michael Barton Named Chief of Police and Director of Public Safety
01/19/2021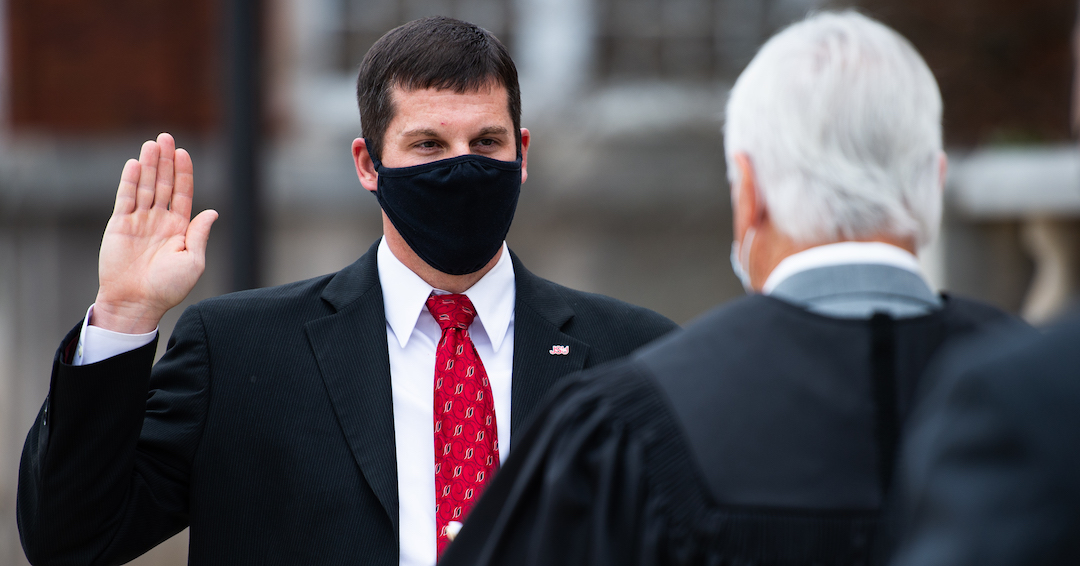 Chief Barton was sworn in on the front steps of Bibb Graves Hall on Jan. 19. Photo by Matt Reynolds.
Michael Barton was sworn in as JSU's new Chief of Police and Director of Public Safety on the front steps of Bibb Graves Hall on Jan. 19. He will be responsible for leading the university's law enforcement, emergency management, safety and security functions.
Barton replaces Chief Rob Schaffer, who retired in October after 25 years in law enforcement. Elizabeth Morrow, the department's Emergency Management and Clery Coordinator, served as acting chief in the interim. 
Barton brings to his new role 20 years of experience in public safety, most recently serving as Director of Emergency Management and Homeland Security Coordinator for Calhoun County, Ala. In addition to his experience in emergency management, he has been a sworn law enforcement professional since 2005. He also has diverse experience serving in fire service, emergency medical service, emergency 911 communications and disaster relief non-profit organizations. 
Throughout his career, Barton has led the agencies he has served in the roles of commander, assistant chief, chief, chief deputy sheriff, director, board member and chairman of the board. He has also worked as a member of the FBI's Joint Terrorism Task Force and was appointed Special Deputy US Marshal in the Northern District of Alabama. In his youth, he earned the rank of Eagle Scout in Boy Scouts of America. 
Barton earned an associate's degree from Gadsden State Community College in emergency medical tech and a bachelor's degree from JSU in emergency management. He also holds a graduate certificate in criminal justice education and leadership from the University of Virginia. Additionally, he is a graduate of the FBI National Academy, US Department of Homeland Security Leadership Academy, Alabama Fire College Personnel and Standards Commission, Alabama Peace Officers Standards and Training Commission and the Alabama County Government Education Institute.  
Barton is married to his high school sweetheart, Natalie Geer Barton, who is also a proud graduate of JSU and a Marching Southerners alumna. Together, they are the proud parents of son, Sheppard, and daughter, Faith.