Board of Trustees Approves Naming of Several Spaces on Campus
01/27/2021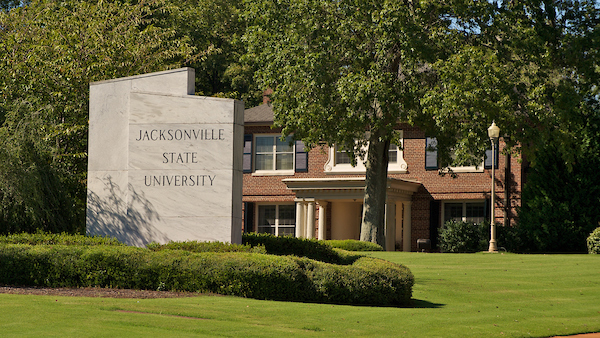 The JSU monolith on the lawn of the newly named Angle Hall.
In addition to the newly renamed Angle Hall, the JSU Board of Trustees passed resolutions on Jan. 26 honoring several alumni and faculty for their contributions to the university.  
JSU's newly renovated and rededicated Mason Hall – home of the David L. Walters Department of Music – features four newly named rooms.  
The Leslie and Faye Cotney Vocal Studio – Late alumnus Maj. Gen. William Russell Cotney and his wife, Deborah, paid tribute to his parents' love of music by naming the Mason Hall vocal studio in their honor through a generous gift to the music department. 
The Dr. Patricia Corbin Faculty Lounge – The new faculty lounge in Mason Hall will bear the name of longtime music faculty member Dr. Patricia Corbin, who served nearly 20 years as director of choral activities until her death in 2018. Her sister, Dr. Pamela Corbin, bestowed a generous gift to the university in her honor. 
The Dr. Susie Francis Dempsey Piano Studio – The piano studio in Mason Hall will be named for retired faculty member Dr. Susie Francis Dempsey, who donated a 1924 Steinway Grand Piano to the Department of Music for use by music students and faculty. 
The Jimmy Hixon Clarinet Studio – The clarinet studio in Mason Hall will be named for JSU alumnus Jimmy Hixon, who played clarinet in the Marching Southerners and remains a loyal and committed supporter of the university. 
"We are excited to recognize valued faculty and alumni who continue to support our excellent music program and the students who choose to study music at JSU," said Dr. Staci Stone, dean of the School of Arts and Humanities. "In the past year, we have named about eight spaces in Mason Hall and at the Marching Southerners' practice field to honor our donors. The funds raised directly impact our students."
The Board of Trustees also recognized alumnus Ken Howell and his wife Jenny for serving as co-chairs of the "Deeply Rooted, Future Driven" capital campaign recently completed. It brought in $56.6 million in donations to the university over the past seven years, vastly exceeding its initial goal of $35.1 million. The new auditorium in the School of Business and Industry building to be opened this fall will be named The Kenneth and Jenny Howell Auditorium in honor of their numerous contributions to the university. 
For more information on naming opportunities on campus, contact University Development at 256-782-5003.