Winter Break Hours and Information
12/18/2020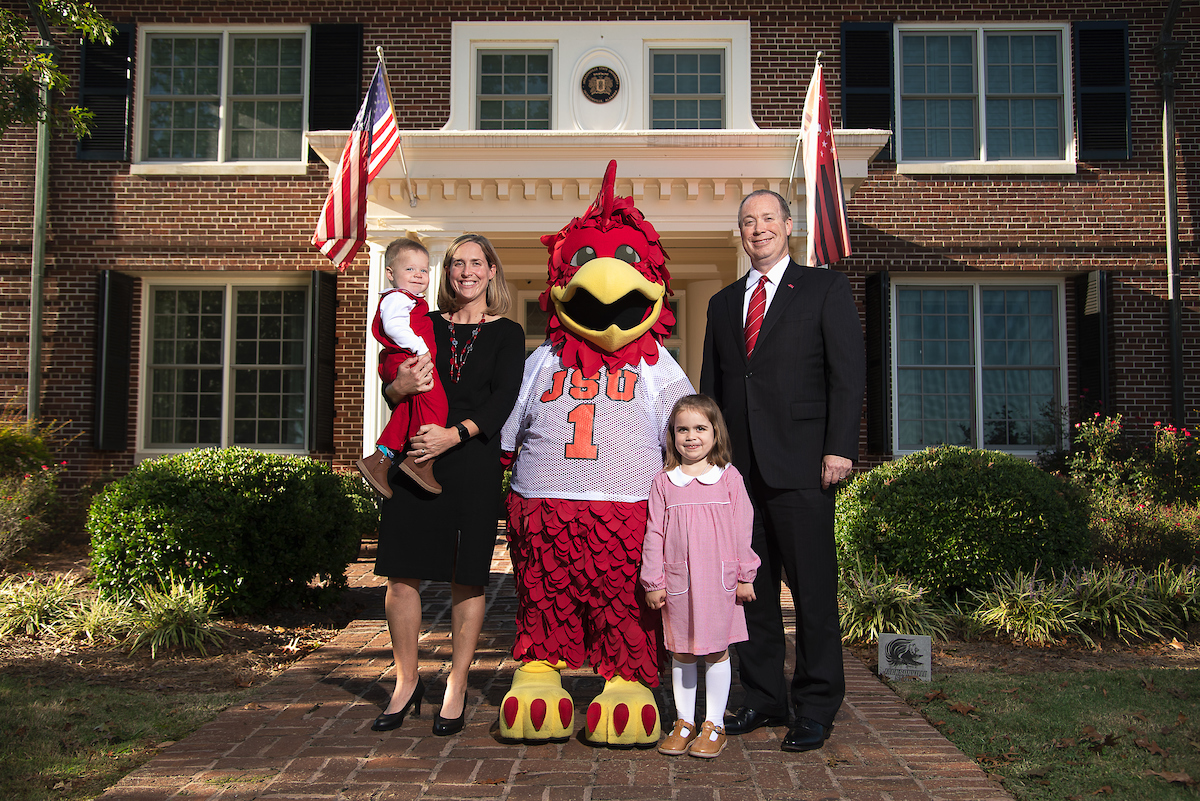 President Don and First Lady Kristi Killingsworth and their family wish the entire JSU family a safe and happy winter break. Photo by Matt Reynolds.
Jacksonville State University will be closed for winter break from Dec. 19 to Jan. 3, with offices reopening on Jan. 4. The spring semester will start as scheduled on Jan. 12 and registration is open through Jan. 20. Other academic dates and deadlines are available on the Academic Calendar. 
The followling winter break hours will be observed for campus services: 
Campus Police
Police assistance will continue to be available 24/7 at 256-782-5050. 
Mental Health 
As always, students experiencing a mental health emergency after-hours should contact campus police at 256-782-5050 to be placed in contact with an on-call counselor. 
RMC-JSU Health Center
The health center will be open during the holiday break, with the exception of closing for the afternoon of Christmas Eve and all Christmas Day and New Year's Day. Faculty, staff and students are welcome to visit the center during the following holiday hours: 
Monday-Thursday
8-11 a.m. - Walk-Ins
12-1 p.m. - Lunch
1-4 p.m. - Appointments
4:30 p.m. - Closed
Friday
8-11 a.m. - Walk-Ins
12-1 p.m. - Lunch
1-2 p.m. - Appointments
2:30 pm - Closed
Recreation and Fitness Center
The RFC will be open daily through winter break, except for Dec. 24-27 and Dec. 31-Jan. 1. Hours are Monday-Friday, 6 a.m. to 7 p.m.; Saturday, 9 a.m. to 7 p.m.; and Sunday, 12-7 p.m. The full schedule, including hours for the indoor pool, climbing wall and Adventure Rec, are available online. 
Dining
The Red Rooster will close at 7 p.m. on Dec. 18 for the holidays and will re-open on Dec. 28 with the following hours:
Monday-Saturday, 12 p.m. to 7 p.m.
Sunday, 12-4 p.m.
All other dining locations are now closed for winter break. Jack Hopper Dining Hall will reopen on Jan. 11 at dinner for the spring semester and spring meal plans will begin at that time.
Bookstore
The campus bookstore will be open the following hours:
Dec. 21 and 22, 8 a.m. to 4:30 p.m.
Dec. 23, 8 a.m. to 12 p.m.
Dec. 24-27, Closed
Dec. 28-30, 8 a.m. to 4:30 p.m.
Dec. 31-Jan. 3, Closed
For the spring semester, students may use Financial Aid to purchase books and supplies in-store and online. To purchase online, simply select "Financial Aid" as the payment method and enter your student ID number. Ship items directly to your home or arrange for an in-store pickup.
Library
Houston Cole Library will be closed for winter break Dec. 19-Jan. 3. From Jan. 4 to Jan. 10, the library will be open Monday-Friday, 7:30 a.m. to 4:30 p.m. Regular operating hours (including weekends) will resume Jan. 11.
Gamecock Express
The transportation system will not run again until the start of the spring semester.
HAPPY HOLIDAYS FROM JSU!