President's Office Named in Honor of Longest-Serving President
12/18/2020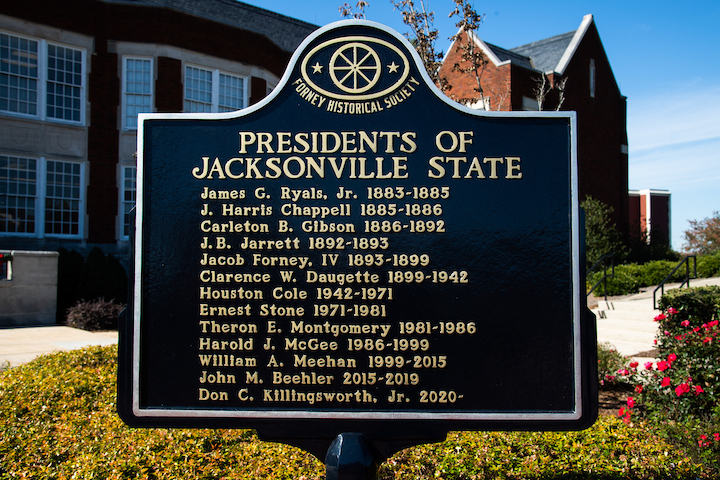 The names of JSU's 13 presidents are engraved on a sign outside Bibb Graves Hall. Photo by Matt Reynolds.
The Jacksonville State University Board of Trustees voted unanimously on Dec. 18 to name the President's Office in honor of the university's longest serving president, Dr. Clarence W. Daugette, Sr. 
The multi-room office suite, located at the front entrance of the Bibb Graves Hall administration building, will now be referred to as "The Dr. Clarence William Daugette, Sr. Presidential Suite." 
Born on October 14, 1873 in Monroe County, Dr. Daugette attended school in Monroeville during his formative years. He later went to Auburn, where he earned a Bachelor of Science in 1893 and a Master of Science in 1894. During that same year, he came to the Normal School in Jacksonville to teach science. Shortly thereafter, he met Annie Rowan Forney, President Jacob Forney's sister, and the couple was married on December 22, 1897. 
Dr. Daugette continued as a science instructor at the future JSU until 1899, when he assumed the presidency following his brother-in-law's resignation. Though he held the highest position at the Normal School, he continued his own education, attending the University of Chicago and receiving an honorary Doctor of Laws degree from the University of Alabama.
Dr. Daugette's son, Col. Clarence W. Daugette, Jr., was a JSU alumnus and member of the Board of Trustees. Col. Daugette's son, Mr. Clarence William Daugette, III, earned a BS in business from JSU in 1974 and is a current member of the Board of Trustees. He recently made a $66,000 gift to the University Foundation's "Deeply Rooted. Future Driven" campaign to secure the naming rights of the President's Office in honor of his grandfather. 
"We truly appreciate the Daugette family and what they mean to this institution," JSU President Don Killingsworth said.
In addition to the President's Suite, Daugette Hall and a scholarship are also named in Dr. Daugette's honor.