JSU and Gadsden State Partner to Support Ultrasound Technicians
12/14/2020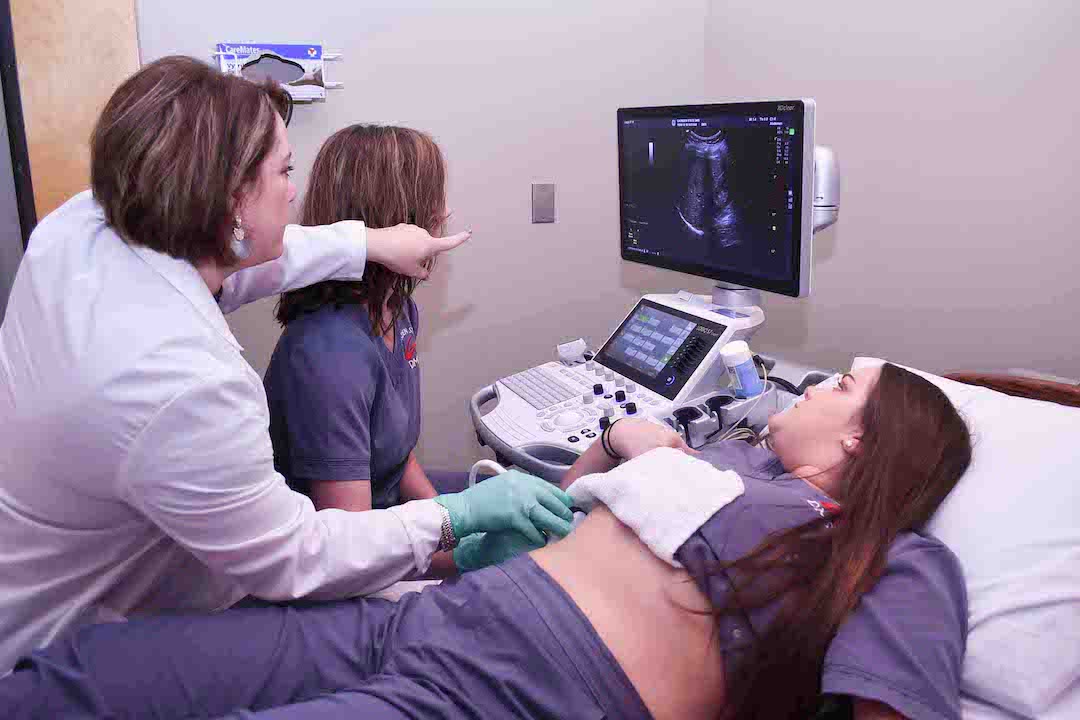 Rebecca Southern, DMS program director at Gadsden State, working with students.
Jacksonville State University and Gadsden State Community College are partnering to support the education and training of sonographers, or ultrasound technicians.  
Thanks to a new articulation agreement recently signed between the two institutions, Gadsden State alumni who have earned an Associate of Applied Science degree in Diagnostic Medical Sonography (DMS) may now seamlessly transfer into JSU's Bachelor of Arts in Integrated Studies (INS) program to earn an advanced degree, so that they are eligible for additional professional positions. 
"Gadsden State thoroughly prepares students for a career in diagnostic medical sonography," said Dr. Deborah Curry, dean of Health Sciences at Gadsden State. "Following our program, Gadsden State students gain direct-entry into the workforce or they can transfer to JSU. Earning the additional credential at JSU gives students an opportunity to take on leadership or management roles in the healthcare industry. Traditionally, we have a good partnership with JSU so that our students can seamlessly continue their education and earn a baccalaureate degree."
The DMS program at Gadsden State provides students with the knowledge and training needed to succeed in the sonography industry – including abdomen, small parts, obstetrics-gynecology and vascular sonography. Meanwhile, JSU's Integrated Studies degree program allows students to design and personalize their academic path based on interests and professional goals not available through traditional majors. 
Through this new partnership, GSCC alumni may be awarded up to 21 hours of technical credit for their DMS courses, to be applied as Integrated Studies electives at JSU. Eligible students may transfer a total of 60 credit hours from Gadsden State, including general education courses and electives. Students then work with the INS advisor to design a degree program to provide a pathway to help them achieve their professional goals.
"Often, experienced sonographers have the opportunity to move into sales, educational and leadership positions," said Dr. Staci Stone, dean of JSU's School of Arts and Humanities. "These positions usually require a bachelor's degree as a minimum qualification. The INS program provides this credential while allowing students to take health, science, marketing, leadership and/or education courses. Students tailor the major to their needs and aspirations."
For more information or assistance, contact Michelle Green, JSU Director of Integrated Studies, at amgreen@jsu.edu.