University Mourns Passing of Dean Emeritus
11/24/2020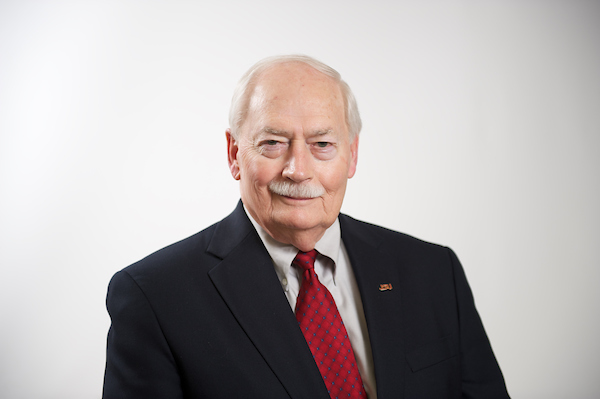 Dr. William Carr retired from JSU in 2012. Photo taken in 2010 by Steve Latham.
Jacksonville State is mourning the passing of Dean Emeritus William D. Carr who died on Nov. 21 following a long illness. He was 84. 
Born in Oklahoma in 1936, Carr earned a BA in political science from the University of Oklahoma, an MBA from the University of Texas at Austin and a PhD in higher education from Florida State University. He served as assistant dean of students at the University of Texas at Austin and taught at Texas State University, San Marcos, before moving to Alabama in 1977 to serve as associate executive director for academic affairs for the Alabama Commission on Higher Education.
Carr arrived at JSU in 1982. For 30 years, until his retirement in 2012, he was dean of the College of Graduate Studies and Continuing Education. He also served as acting vice president for academic affairs in 1988 and 2001. 
In 2003, Carr was recognized for Outstanding Contributions to Graduate Education in the Southern Region by the Conference of Southern Graduate Schools. In 2006, he was honored with the Alabama Professional Developer Award from the Alabama Staff Development Council for his outstanding contributions to professional development for teachers and administrators in Alabama.
"He loved JSU and the students benefited greatly from his knowledge of higher education and graduate education," said recently retired Dr. Jean Pugliese, who was hired by Dr. Carr to serve as associate dean 19 years ago. "He was a friend and he was the most phenomenal mentor I have ever had the opportunity to work for. Bill will always be remembered as a caring and sincere advocate for best practices in graduate education."  
Dr. Rebecca Turner, retired provost, said "Dr. Carr was the respected senior dean on the Deans Council in the Division of Academic Affairs for more than two decades. His experience with the Alabama Commission on Higher Education, the Southern Association of Colleges and Schools Commission on Colleges, and the Alabama Council of Graduate Deans made him an important resource for those of us who were learning to navigate those systems and agencies. He was our resident expert until his retirement and he taught us well. On a personal level, he was a gentleman, always. We will miss him."
Services will be held in private, but a memorial is being planned for a later date. For more information on the memorial, please email jlc10023@yahoo.com. Online condolences may be shared through Chapel Hill Funeral Home.