Thanksgiving Break Hours of Operation
11/16/2020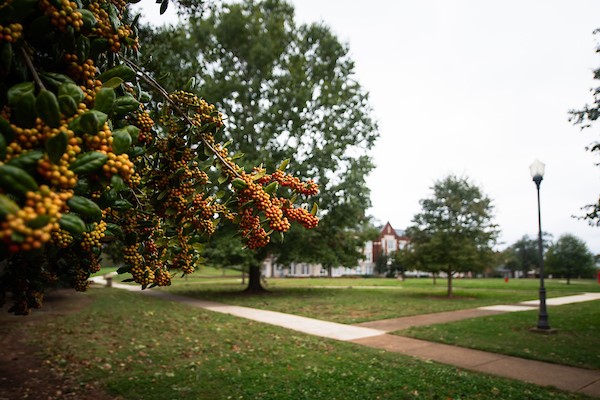 Holly berries begin to ripen on the JSU Quad, signaling that winter is on its way. Photo by Matt Reynolds.
Jacksonville State University will be closed for Thanksgiving Break the week of November 23, 2020. The following special holiday hours will be observed for auxiliary and student service areas.
DINING
The Red Rooster
Nov. 23-24 – Open 12-7 p.m.
Nov. 25-27 – Closed
Nov. 28 – Open 12-7 p.m.
Nov. 29 – Open 12-4 p.m.
Jack Hopper Dining Hall
Jack Hopper Dining Hall, or "The Caf," will be open regular hours through Nov. 19, then closed beginning at 2 p.m. on Nov. 20 through Nov. 29. From Nov. 30 to Dec. 7, it will be open for Continental Breakfast, 8-9:30 a.m.; Lunch, 11 a.m. to 2 p.m.; and Dinner, 5-7 p.m. On Dec. 8, it will close after lunch at 2 p.m. through Jan. 10 for winter break. On Jan. 11 at dinner, the dining hall will reopen for the spring semester and meal plans will begin.
The Gamecock Diner will be closed beginning Nov. 19, Jazzman's and Starbuck's will be closed beginning Nov. 20 and WOW will be closed beginning at midnight on Nov. 20. These locations are not expected to reopen until after winter break, but hours may be adjusted according to university need.
GAMECOCK EXPRESS
The Gamecock Express will not run Thanksgiving Break.
JSU/RMC HEALTH CENTER and COUNSELING CENTER
The JSU/RMC Health Center will be open its normal hours on Nov. 23-25 and will be closed on Nov. 26-27. While the Counseling Center follows the hours of the university, students experiencing a mental health emergency when campus is closed should call the University Police Department at 256-782-5050 to be connected to an on-call counselor. 
LIBRARY
Houston Cole Library will be closed Nov. 21-28, reopening on Sunday, Nov. 29. A full list of hours is available online. 
CAMPUS BOOKSTORE
The Campus Bookstore will be closed the week of Thanksgiving, but purchases will be available online. For Black Friday and Cyber Monday, Nov. 27-Dec. 1, enjoy 25 percent off purchases on the Spirit Shop and Bookstore Website. Effective Nov. 30, the store will be open Monday-Friday, 8 a.m. to 4:30 p.m. For graduation, it will be open Dec. 11-12, 8 a.m. to 5 p.m. Textbook rentals must be returned by Dec. 8 either in person or by mail postmarked by Dec. 8. Flatrate shipping is available. 
REC CENTER
The Recreation and Fitness Center will be closed Nov. 26-28. It will be open the following hours the rest of Thanksgiving week:
Nov. 21, 9 a.m. to 7 p.m.
Nov. 22, 12-7 p.m.
Nov. 23, 6 a.m. to 7 p.m.
Nov. 24, 6 a.m. to 7 p.m.
Nov. 25, 6 a.m. to 4 p.m.
A full list of hours - including hours for the indoor pool, climbing wall and Adventure Rec – are available online.
CAMPUS POLICE
As always, the University Police Department will be open 24/7 during Thanksgiving Break to keep campus safe and secure. For emergencies, call 911 or 256-782-5050. For non-emergencies, call 256-782-8888 for assistance. 
HAPPY THANKSGIVING, JSU FAMILY!