"JSU in Lights" Returns for 2020
11/03/2020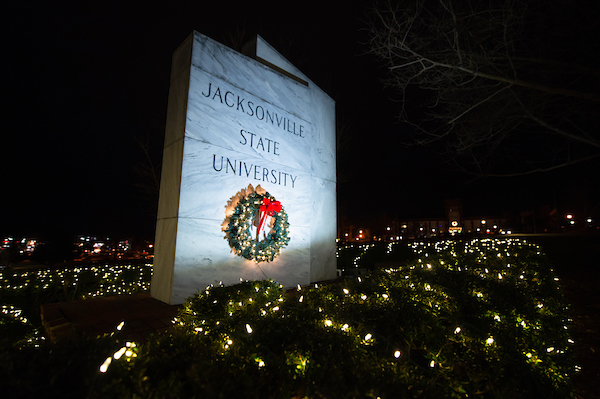 The JSU monolith on the lawn of Bibb Graves Hall decorated for the holidays in 2019. Photo by Matt Reynolds.
President Don and Mrs. Kristi Killingsworth welcome campus to the front lawn of the President's House for JSU in Lights on Nov. 17. Festivities will begin at 4:30 p.m. and the lighting will take place at 5 p.m. 
The holiday kickoff event is a JSU tradition, with the university ceremoniously lighting its outside holiday decor - including trees, wreaths and garlands - for the first night of the season. This year marks the return of the lights and stars atop the 13-story Houston Cole Library for the first time since the 2018 tornado.
Enjoy music, refreshments and the joy of the season at this free community event. Be sure to wear your goofiest holiday sweater, as the Student Government Association will be hosting a Tacky Sweater Contest for students, faculty and staff. 
While admission is free, guests are encouraged to bring a donation for the Jacksonville Christian Outreach Center (JCOC). Instead of collecting toys this year, the center requests Walmart gift cards so that families may purchase necessities for their children. They are also collecting non-perishable food items, toiletries, and cold weather gear for all ages. Suggested donations include:
Walmart Gift Cards 

Macaroni and Cheese

Canned Fruit

Canned Meat

Soup (any kind)

Pasta (any kind)

Cereal (any kind)

Oatmeal Packets

Granola Bars

BBQ Sauce 

Kleenex

Shampoo

Conditioner

Lotions

Bars of Soap

Toothpaste 

Toothbrushes

Winter Hats (all ages and sizes)

Winter Gloves (all ages and sizes)

Winter Scarfs (all ages and sizes)

Winter Coats (all ages and sizes)
Guests are asked to please follow COVID-19 safety guidelines by wearing masks to this event.