JSU Anglers Named Carhartt Bassmaster Team of the Year
11/18/2020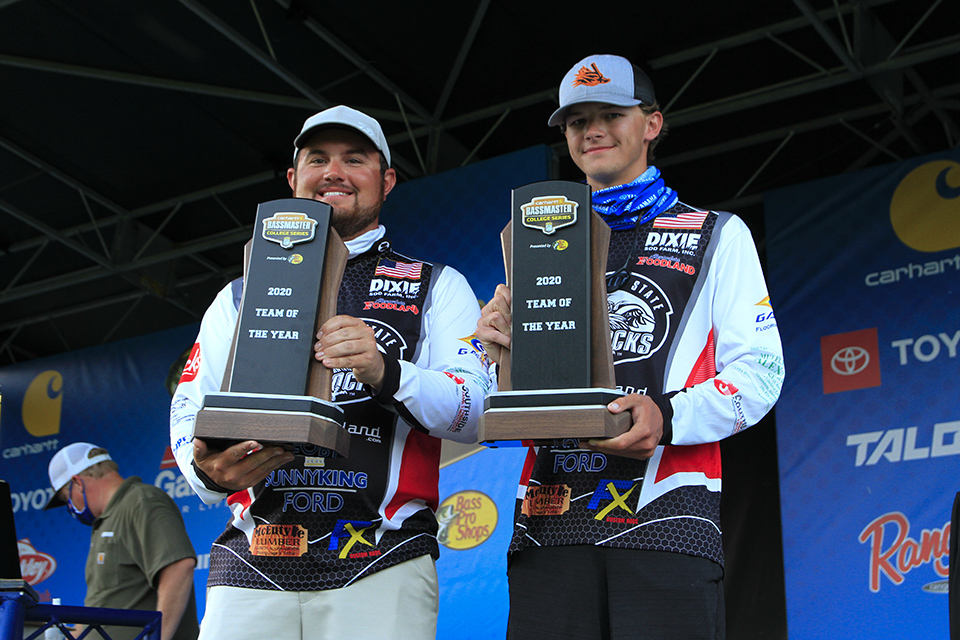 Zeke Gossett and Lucas Smith reeled in some heavy hardware at the national tournament. Photo by Kyle Jessie, Bassmaster.
The JSU Fishing Team is making a habit out of winning.
What began last year in North Carolina continued recently in Leesburg, Fla., where Zeke Gossett and Lucas Smith were named Team of the Year for the 2020 Carhartt Bassmaster College National Championship presented by Bass Pro Shops.
In addition to the two trophies, the duo also received a $2,500 check, a Minn Kota Ultrex trolling motor and a Humminbird Solix fish finder from Johnson Outdoors.
"It's very special with it being my last year for sure," Gossett, a JSU senior, told Bassmaster.com. "It's just awesome to hold the Team of the Year trophy because we worked really hard for it. There were so many stories, when I see this trophy in my room I'm going to think about every one of them."
It was certainly a trying season. Teammate Jarred Jones underwent major heart surgery to treat cancer following a tournament on Lake Hartwell in South Carolina. Then, Gossett returned home from a contest at Lake Cumberland in Kentucky to discover that his mother and father had both been hospitalized with COVID-19.
"It was terrible," Gossett said. "I just want to thank everyone for the prayers." 
But truly embodying the meaning of the word "team," the club pulled together and supported one another. Even when they're not on the water, members get together often. 
"We've all created a good bond, basically doing pretty much everything together," Jones said. 
The JSU Fishing Team was created in 2012 by students who simply loved to fish and wanted to share that passion with others. Gossett and Smith, a JSU freshman, are just the latest members of the team to reel in trophies. Last year, Will Nichols and Jamon Phillips won the three-day Carhartt Bassmaster College Series tournament on Lake Norman in Cornelius, NC.
"We're still not a really big club," Jones said of the 16-member team, "but we've been steadily growing thanks to all the support we're getting."
Recent championships are helping raise the team's profile, said Jones, who, along with teammate Logan Tate, finished sixth in the 2020 Team of the Year race. 
"Our names have been on the map before, but last year's win really set stuff off," Jones said. "We've figured out what it takes to win, growing together, and it all really came together for us this year. It's been an unreal experience, and we're going carry that on into this next season."
Travel helps strengthen that bond as the JSU team has competed in tournaments on the Canadian border, near Tampa, and in Tennessee and Oklahoma. 
"We fish anywhere and everywhere they'll let us," Jones said with a laugh. "The traveling and the time we all get to spend together, seeing the country and fishing, is the best part. We have a really good time."
Their bond isn't all that makes the JSU Fishing Team special, explained Dominic DiMauro, associate director of University Recreation.
"What I believe attracts people to join the fishing team is the commitment all members have to the team," DiMauro said. "They are a very dedicated group that is willing to put in the work to be very successful and that has led to them being in the national spotlight, which has been great for promoting the team. In addition to their dedication and success, they are very organized and are able to tell their story to potential fishing club members." 
And there's no lack of competition. Jones estimates that there are as many as 500 university and college fishing teams. "It's a huge industry that's constantly growing," he said.
To learn how you can get involved with the JSU Fishing Team, contact Dominic DiMauro at 256-782-8680 or ddimauro@jsu.edu.