The Shows Must Go On: JSU Creatives Find Innovative Ways to Continue to Inspire
10/01/2020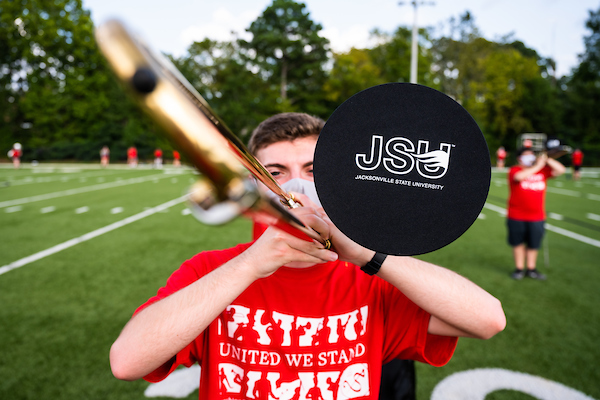 A trombone player in the Marching Southerners practices with protective equipment covering his horn. Photo by Matt Reynolds.
Last spring, COVID-19 forced the cancellation of the JSU Drama Department's final performance of the year, the highly anticipated student-led production of "The Diary of Anne Frank." Unfinished sets were abandoned, incomplete costumes were left hanging on racks and actors walked away from the roles they'd been rehearsing for weeks.  
"As faculty, we could feel the heartbreak of our seniors who had their last show taken from them," said Randal Blades, head of the Department of Drama. "But in the end, I think it reminded us how much the creation of theatre is a part of our souls. Theatre is a calling, and to have it taken away just hurts."
Five months later, the coronavirus remains a reality intruding on daily life. But students, faculty and staff in JSU's School of Arts and Humanities have found innovative ways to ensure that the show goes on.
"When people are isolated as they are due to this pandemic, the arts become even more important," said Dr. Staci Stone, dean of the School of Arts and Humanities. "I hope that the accessibility of our virtual performances, exhibits and readings provide comfort and enrichment to those staying safe at home."
The school is planning numerous events this year – both virtual and in-person – that meet university safety guidelines. For example, a new film series will project movies on the side of Houston Cole Library so that attendees may maintain physical distance. The first film, "Moonlight," was aired at sunset on Sept. 30. The university's SGA has been hosting drive-in movies this fall in the Pete Mathews Coliseum parking lot. 
"While the pandemic's safety guidelines pose new challenges for those in the arts and humanities who usually host live cultural and artistic events, JSU has adapted successfully, as our first online student art exhibit and Facebook Live recitals show," Stone said. "In fact, the virtual versions of our events are garnering a wider audience, so more people are aware of the excellent fine arts programs at JSU."
The following is an overview of some of the events planned for the remainder of the fall semester. The list isn't comprehensive, and all events are subject to change. For a full list of the school's fall semester events, visit its online calendar. 
Theatre Productions
"The Laramie Project, which is set in and around Laramie, Wyoming, in the aftermath of the murder of 21-year-old Matthew Shepard, will be exclusively streamed online from Oct. 30 through Nov. 2. Tickets will go on sale Oct. 15. 
Blades and Dr. Michael Boynton, who is directing the show, attempted to make as many steps in this process as virtual as possible. Actors auditioned by sending in videos of their monologues and most rehearsals are online. In the few rehearsals that must be held in-person, students are maintaining social distancing protocols and wearing masks. 
"Our students have impressed me in the way they have adapted to what is not our normal process," Blades said.  
The production will be filmed in the next few weeks and may have a small invited audience to help actors deliver their best performances. The pre-recorded production will be streamed on Oct. 30 and Nov. 2 at 7:30 p.m. and Oct. 31 and Nov. 1 at 2:30 p.m. Contact the JSU Box Office at 256-782-5648 or drama@jsu.edu for ticket information.
"Luckily, we live in a time where, through technology and by changing the way we do things, we can still tell stories that will inspire us and the audience experiencing them," Blades said. "We can still create a form of theatre that is powerful. And as theatre people, we are used to creating through adversity."  
Scripted Studio Series
The Scripted Studio Series is an extension of the drama department's main stage offerings and features staged readings of new plays by contemporary playwrights, as well as works from the traditional dramatic canon. Minimum production allows for a short rehearsal process and invites student actors of all years, majors and levels of experience to participate. 
"Monthly selections highlight a variety of current social issues, with particular focus on plays and characters featuring marginalized and underrepresented voices," explained Carolyn Conover, the assistant drama professor who is leading the series. "Selections for the series are curated by students under faculty mentorship. When possible, filmed and live-streamed presentations allow for wider distribution of the work, upholding theatre as a social imperative."  
Featured works may include original plays and screenplays, student-directed scenes, actor showcases, short play festivals, spoken word and poetry events, research symposiums, workshops, and student film projects – all with the goal of building a community that honors the diversity of creative voices.  
The series will offer at least one staged reading monthly, on Tuesdays at 7 p.m. 
The October offering will feature an LGBTQ play as part of Gay History Month, and the November play will feature a work by an Indigenous American playwright. Depending on scheduling and the needs of the readings, presentations will either be pre-recorded and then shared with the audience by an emailed or posted link, or will be live-streamed. 
Marching Southerners
COVID-19 has completely changed the way the famed Marching Southerners do business this fall – namely, no marching, at least during Gamecock football games. Instead, the roughly 500-member organization has been divided into three bands and will be strategically placed around the stadium for the university's sole home football game this fall, Homecoming, on Oct. 10. 
Since they aren't having to focus on marching during practice, Dr. Ken Bodiford, director of bands, said they have been adding more stand tunes to their repertoire. 
"We've added a lot of songs for the stands," he said, "more contemporary stuff that the kids like, stuff that's played on the radio, and each band will have its own unique songs to play during the football game. We hope this will create a little competition among the bands and the crowd will hear songs they've never heard performed before."
Symphonic Band and Chamber Winds 
Bodiford said that JSU's concert bands have been impacted most by COVID-19. "We simply cannot play indoors," he said. "It's just too dangerous. 
Sadly, the Symphonic Band and Chamber Winds won't be playing at all, at least for this semester. Instead, Bodiford and assistant band director, Dr. Jeremy Stovall, have created a virtual Band Literature Class to teach approximately 30 pieces of high school level music to the future band directors and teachers. 
"Normally, they're playing much more complex pieces," Bodiford said. "We miss playing, but this is the next best thing we can do in terms of planning for their careers."
Music Ensembles
"Our staff has come up with some brilliant solutions," said Dr. Thomas W. McCutchen, head of the David L. Walters Department of Music. "It's impressive all that they've done to ensure our students get to perform."
Concerts and recitals for JSU's smaller ensembles will continue with performances streaming online. In fact, virtual recitals seem to be giving students a wider audience. 
The first virtual recital took place the Saturday night before the start of the fall semester in the newly renovated recital hall in Mason Hall. The percussion recital by senior Kevin Geeter has since been viewed more than 1,400 times.
There will be allowances for small audiences so students can add a few friends and family members to see their live performances. 
"In a lot of ways, students are getting more exposure than they would normally."
Literature Readings
Being forced to go virtual has allowed the Department of English to broaden the selection of authors it hosts for campus readings.
"It's really opening up opportunities for us," said Dr. Andrea Porter, head of the department. "Since we're doing this virtually, they don't have to travel here in order to do a reading."
The department is hosting monthly readings. On Oct. 15 at 7 p.m., there will be a reading with Genevieve Hudson, author of "Boys of Alabama." There will be a student reading on Nov. 10 at 4:30 p.m. 
In addition, the department has started a new program, "Writers, On Work," during which guest speakers will show how they've used their English degrees in their profession. English alumnus Tim Lockette, a journalist for the Anniston Star and recent Young Adult novelist, is among the upcoming speakers. 
"We're trying to show that there are so many things you can do with an English major other than being a novelist or a professor," Porter said. "We're hoping to have a large virtual audience for these events."
Art Exhibits
The university art galleries, managed by the JSU Department of Art and Design, have continued to display the works of university and guest artists this fall. A rotating collection of art exhibits on display in Hammond Hall Gallery is available for viewing by appointment only, week days, 9 a.m. to 4 p.m. The Roundhouse Gallery is open without appointment; masks are required.
"In a way, it's almost better," said Morgan Worsham, gallery coordinator. "During the larger openings there are lots of people, so it's easy to lose sight of the flow of the art or if there is a specific narrative for the space. 
Upcoming exhibits include:
Oct. 1-22
Hammond Hall: 2020 Art & Design Faculty Show 
Roundhouse: The Dream Deferred Print Exchange
Oct. 29-Nov. 12 
Hammond Hall Gallery: Work Graphic Design Show 
Roundhouse: Sarah Ellis 
Nov. 19-Dec. 12 
Hammond Hall Gallery: BFA Senior Show, with a Facebook Live opening on Nov. 19 at 5 p.m. 
For more details on these and other exhibits, visit the gallery website.