Respiratory Therapy Receives Proclamation From Governor
10/23/2020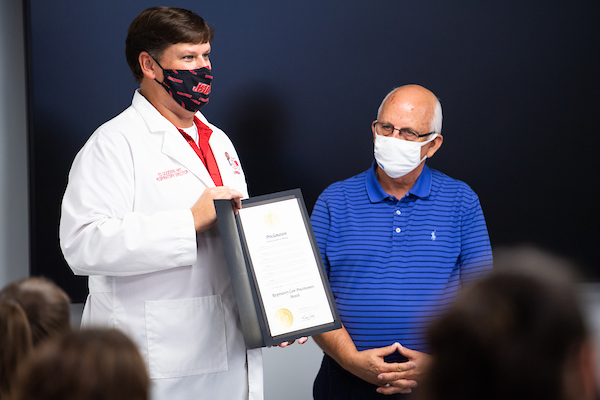 Ed Goodwin, director of JSU's Respiratory Therapy Program, was presented a governor's proclamation by Rep. KL Brown on Oct. 13. Photo by Matt Reynolds.
With COVID-19 continuing to threaten the lives of millions, there's never been a more important time to be a Registered Respiratory Therapist. As home to the state's only bachelor's degree program in respiratory therapy, JSU is placing graduates on the front lines of the pandemic – and they're ready for the fight.
"For us, it's another day on the job," said Ed Goodwin, program director. "As respiratory therapists, we train to help the sickest of the sick. So, whether it's COVID or MRSA or tuberculosis, we're trained to go in and help whoever needs assistance using proper technique and PPEs."
Enrollment has grown steadily since the program's inception in 2017. A record number of 61 applications were received for Fall 2020 – 28 of which were accepted. Only those who meet minimum qualifications are allowed to apply. Goodwin doesn't necessarily credit the rise in applicants to the coronavirus pandemic. 
"It certainly hasn't caused our numbers to decrease," Goodwin said. "Respiratory therapy has always been something of an unknown career option. When most people think of health care, they think about doctors and nurses. But given the recent need of respiratory therapists, it has definitely helped bring it to the forefront as a career option." 
To brighten the spotlight now shining on the profession, Goodwin – who also serves as president of the Alabama Society for Respiratory Care – worked with Rep. Koven L. Brown, R-Jacksonville, to draft a proclamation honoring the courageous work of respiratory therapists in Alabama this year. The proclamation declaring October as Respiratory Care Practitioners Month was recently signed by Alabama Governor Kay Ivey. National Respiratory Care Week will be observed across the country on Oct. 26-30.
"I just wanted to do something to help our respiratory therapists get the recognition they deserve," Goodwin said. 
Goodwin credits Brown with helping to bring the undergraduate program to JSU after UAB discontinued a similar program. Brown presented the proclamation to Goodwin and a class of JSU respiratory therapy students on Oct. 13. 
 "This is the first time I've had the opportunity to come out and look at the facilities," Brown said. "But it looks like they have all the equipment and a lot of hungry students, and that's a good combination."