Mason Hall Re-Dedicated
10/19/2020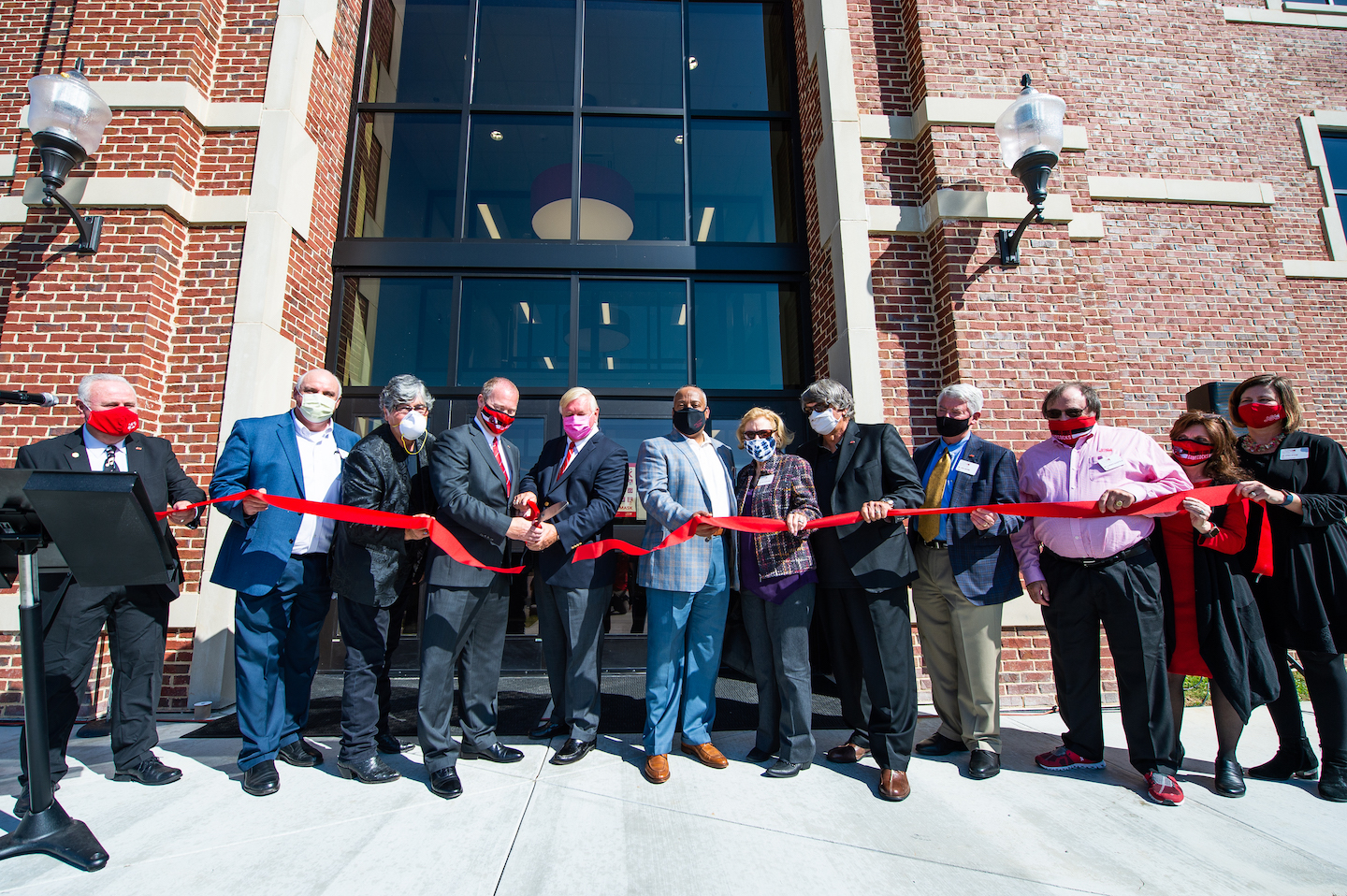 JSU President Don Killingsworth and Board Chairman Randy Jones help cut the ribbon on the new and improved Mason Hall on Oct. 19, 2020. Photo by Matt Reynolds.
More than two years after an EF-3 tornado struck Jacksonville State University, scattering music classes and activities across campus, the David L. Walters Department of Music is now back together under one roof.  
"It's good to be home," said Dr. Tony McCutchen, head of the department. 
The 57-year-old building withstood major damage when the campus took a direct hit by a tornado on March 19, 2018. Following nearly $12 million in repairs and renovations, the building reopened to faculty, staff and students for the Fall 2020 semester. 
"As awful as it was – and it was awful – the tornado was a blessing in disguise," McCutchen said. "Because of the tornado, they had to do a complete HVAC overhaul, which meant basically gutting the whole system just to bring it back up to code with new electrical wiring, cameras, a sprinkler system. That allowed us to completely reconfigure our space, and what we ended up with was a new building on the inside." 
In addition to repairs, improvements include:
A new addition of roughly 10,000-square-feet, which includes the new University Bands office suite plus a Student Lounge and Faculty Lounge.
The music department office suite is brand new, including a state-of-the-art conference room.
The building's 40 student practice rooms have been completely renovated, including acoustic treatments and sound isolation.
The performance center, which is now called the Recital Hall, has permanent theater-style seating, new LED lighting and a new sound system and recording booth for audio and video. The stage is elevated, with increased resonance. Special soundproof doors have been installed, connecting the stage with the Band Room. There are also new fire exits that service both the Recital Hall and the Band Room.
All faculty studios have acoustic treatments and improvements.
A Choral Rehearsal Classroom with permanent risers and generous rehearsal space has been installed.
All classrooms have been equipped with Smart Room technology.
A dedicated recording studio has been added, with a control room, isolation room, and an additional larger room that can produce professional-quality recordings.
"I'm so glad that we finally have a facility that matches the excellent faculty and student programs that we offer here at JSU," said Dr. Staci Stone, dean of the School of Arts and Humanities which houses the music department. 
Originally opened on Sept. 27, 1963, Mason Hall is named in honor of Walter A. Mason, former head of the Department of Fine Arts. A ribbon cutting was held on Oct. 19 re-dedicating the facility, which was streamed on the JSU Facebook Page. Plans are in the works for a full slate of grand opening events, including guided tours and virtual concerts and recitals.
"It's certainly challenging to host a grand opening amid a pandemic," Stone said, "but we are adjusting, so that we can still show off our new building."