JSU Grieves Biology Professor Who Always Put Others First
10/22/2020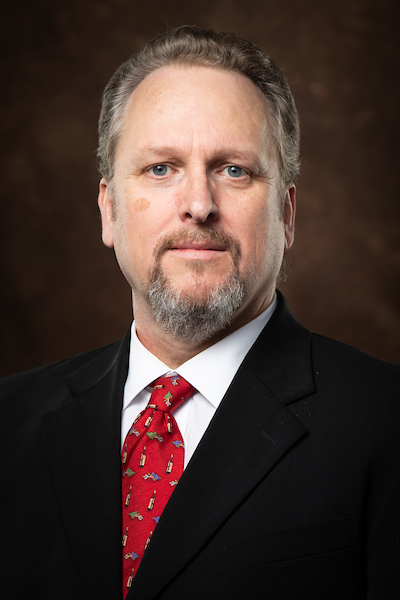 Dr. Benjie Blair served as a JSU biology professor for 21 years.
Biology Instructor Richard Watkins has taken on the daunting task of cleaning out the office of longtime colleague Dr. Benjie Blair, a biology professor who died from cancer on Tuesday.
After 22 years of friendship, Watkins is still learning about the man he considered his greatest mentor, closest colleague and honorary big brother. While going through his belongings, he comes across the paperwork for a patent Dr. Blair apparently filed at some point in his career and shakes his head.
"That was Benjie," Watkins said, laughing through tears. "I am finding stuff I didn't know about him because he wasn't the type of person who felt the need to let everyone know about all his accomplishments. We would go to a conference and he would say 'hey, I've got to run to a board meeting, I'll see you for dinner afterwards' and only then would you realize he was a leader in the organization hosting the conference."
Watkins – who first met Dr. Blair while taking one of his classes as an undergraduate – is one of the many students, alumni, faculty and staff grieving the loss of the popular professor. Dr. Tim Lindblom, dean of the School of Science, said he will be remembered most on campus for his dedication to students.
"He was a really active and engaged instructor who truly cared about mentoring his students," Lindblom said. "He was the kind of professor who inspired his students. I feel like that is his legacy – tons of students became microbiologists or went to medical school because of him."
A JSU alumnus, Dr. Blair became an assistant professor at his alma mater in 1999 after earning bachelor's and master's degrees in biology from the university in 1989 and 1992, respectively, and a PhD in microbiology from Mississippi State University in 1999. He was promoted to associate professor in 2001 and full professor in 2011. In 2012, he served as president of the Faculty Senate.
Dr. Blair taught a variety of subjects, including General Microbiology, Immunology, Medical Microbiology, Symbiotic Associations and Microbial Ecology. His research centered on microbes – bacteria and viruses – and how they impact human health. In 2018, he led students on a study abroad trip to Costa Rica to explore its biological diversity, life, culture and natural history.
"He was never greedy with his time," Watkins said. "My office was next to his. If a student had a question, they could go to him. It didn't matter how busy he was. I believe he served on at least 100 thesis committees for graduate students, which is unheard of."
Dr. Blair chaired the biology department's Pre-Health Professional Committee for students planning to attend post-graduate programs such as medical school. He also enjoyed teaching in the JSU Honors Program.
"Dr. Blair was a fundamental component of our JSU Honors Program," said Dr. Lori Owen, program director. "Always the team player, he jumped in wherever needed to help us reach our goals. Even in the final week of his illness, Dr. Blair was still writing letters of recommendation and support for students and for colleagues applying for tenure or promotion."
Watkins said Dr. Blair also continued to innovate in the lab through his final days as well.
"He emailed me a paper just last week," Watkins said. "And he told me an idea he had for an AB toxin that he wanted me to share with other researchers. He said he didn't want the idea to die with him."
Dr. Lori Hensley, head of the biology department, said, "Benjie was a true innovator. He loved science and was always looking for new avenues to explore. He most recently learned about bioinformatics, establishing a relationship for our students with HudsonAlpha Institute for Biotechnology and mentoring a new faculty member in this important field. He was a true believer in life-long learning and demonstrated and exemplified that for both his peers and his students."
Outside of JSU, Dr. Blair enjoyed spending time with his family, especially traveling to Walt Disney World. He was married to longtime biology adjunct instructor Stacy Blair, and they share two daughters who both attend JSU, Raven and Savannah.
"Family was everything to Dr. Blair," Owens said. "He and Stacy raised two exceptional daughters. We will continue to remember Dr. Blair's family and lift them up in prayer."
Watkins said that Dr. Blair was as selfless in personal relationships as he was in professional ones – the kind of man who would drive an old car so his wife and daughters could have a newer model.
"I am sure everyone is a saint when you write their obituaries," Watkins said, "but I am not pulling out the good stuff and forgetting the bad. He was the real deal."
At Dr. Blair's request, no public funeral services have been arranged.