Halloween Safety Tips
10/27/2020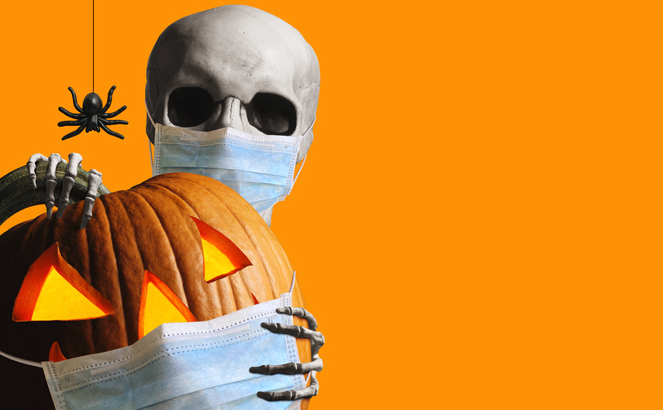 Celebrating Halloween may feel scarier than ever this year, with COVID-19 posing a more realistic threat to trick-or-treaters and partygoers than the holiday's traditional ghosts and goblins. But experts say the global pandemic doesn't have to ruin the fun if we each resolve to celebrate responsibly.
Jacksonville State University's COVID-19 Taskforce offers the following tips to keep Halloween safe.  
Wear a mask that covers your nose and mouth UNDER your costume mask. 

Wash your hands. 

Maintain at least six feet of distance from others. 

If you are sick, stay home and don't prepare or distribute treats. Older adults, especially those with underlying health conditions or who are at a higher risk for COVID-19, should consider not participating in activities.
Additional Health Department recommendations include: 
Keep groups of trick-or-treaters to eight or less. 

Use hand sanitizer while out and wash hands when you return home. 

Don't eat candy while trick-or-treating.  
Wash hands before touching treats. 

If possible, put treats in prepackaged bags. 

Don't allow children to reach into the treat bowl. 

Be creative with physical distancing. Stay on the porch and line-up treat bags or use plastic or cardboard pipe to make a six-foot-long chute. 
Use tape or chalk to mark six-foot lines on sidewalks in front of homes and leading to doorsteps. 
Trunk-or-Treat Events 
Consider a drive through-style event. 

Consider a timed ticketed event that promotes correct distancing. 

Don't eat candy during the event. 
Use hand sanitizer and wash your hands when you return home. 

Neighborhood Halloween Celebrations and Parties 
Toss candy from six feet away to children who remain on the sidewalks. 

Set up curbside/drive-thru treat pickup sites. 

Try a reverse trick-or-treat that lets children stand in front of their houses as treat bags are distributed to them. 
Host a costume parade with a predetermined route marked to maintain safe distances between participants. Incorporate sanitizing stations, yellow caution tape, and tape or chalk on the sidewalks. 

Keep gatherings outdoors and limit participation to eight guests or less. 
Visiting the Pumpkin Patch 
Sanitize hands before and after touching pumpkins. 
Avoid hayrides with people outside of your household. 

Avoid indoor haunted houses and Halloween characters that scream or yell. 

Maintain at least six-foot distancing 
 Haunted Houses 
Due to distancing and ventilation issues, we encourage that indoor haunted houses be avoided this year. 
For more information on how you can protect yourself and others during Halloween, please review the Centers for Disease Control and Prevention's guidelines on Halloween Activities.