Recent MFA Graduate Wins National ADDY for Thesis Project
09/16/2020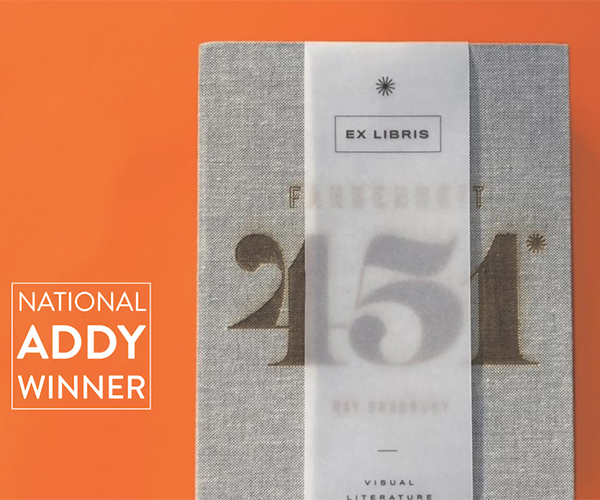 Stefanie Cobb's national award-winning thesis project features created and curated objects inspired by the classic novel, "Fahrenheit 451."
Stefanie Cobb has become the first JSU student to win a national ADDY Award from the American Advertising Federation. The recent graduate was awarded a Silver ADDY for her MFA thesis project, "Ex Libris: Reimagining the Literary Experience Through Artifactual Storytelling and Ray Bradbury's 'Fahrenheit 451'." 
"I'm confident that it will be the first of many for the department, and I will be in good company soon enough," Cobb said. "It is a great program that gets stronger every year."
For her project, Cobb created and curated objects inspired by the classic novel, "Fahrenheit 451," presenting to readers a new way of interacting with stories through design to promote a greater depth of understanding and meaning.
"I've loved books and film for as long as I can remember, so I knew I wanted to focus on storytelling as a form of communication," Cobb said. "Designers have to have a keen understanding of people and empathy in order to effectively communicate a message, and I've always thought that the perspectives I've gained from reading a book or even watching a great movie helped me understand people."
The decision to choose Ray Bradbury's "Fahrenheit 451," a favorite of Cobb's since high school, was an easy one. 
"The core theme of the novel – which focuses on the perils of a society that lacks the capacity to think not because books are illegal, but because nobody was interested in reading them – fit perfectly with my thesis," she said.
Seth Johnson, head of the JSU Department of Art and Design, said Cobb's approach to promoting literacy among young readers was innovative.
"If you asked a dozen designers to create a campaign, any campaign, to promote reading to younger generations, the majority would have settled at print ads or posters or a website," Johnson said. "Her approach was unique and refreshing."
Johnson also believes that ADDY judges appreciated her gifts for design.
"She is an incredibly talented designer, and her aesthetic considerations in the typography, design and crafting of her prototype were nothing short of perfect," he said. "Combining a clever concept and a well-executed prototype is what she has always been very good at doing."
Cobb recently accepted a position as an assistant professor of graphic design at Middle Tennessee State University.
"My time at JSU, specifically in the art department, strengthened my belief that community can make or break your experience or success," Cobb said. "I was very fortunate to have a team of peers and faculty that were, and still are, truly supportive and 100 percent there to help you succeed."
A collection of images from Cobb's project are available on the JSU Art Blog. Learn more about JSU's Master of Fine Arts (MFA) in Visual Communication Design on the art department's website. 
The American Advertising Awards is the nation's largest and most regarded awards program in the advertising industry. The annual competition is a three-tier system, attracting almost 35,000 entries at the local level every year. From there, the local ADDY winners move on to compete with the winners within their district. The winners from these 15 districts are then placed into the third tier, the national competition for the American Advertising Awards. The awards were presented to 56 national student winners this year from universities across the US.