Honoring Civil Rights Leader Bill Harbour
09/03/2020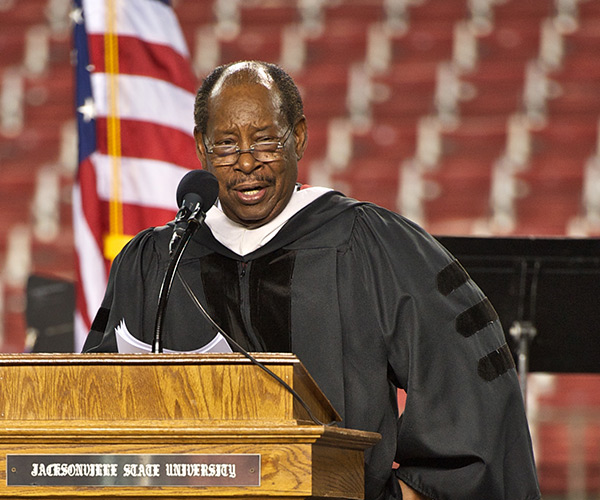 Dr. Bill Harbour speaks to the JSU Class of 2011 during commencement ceremonies.
Bill Harbour's story began in Piedmont, Ala., where he grew up as the son of a cotton mill worker. Although he was expected to run the family barbershop after high school, he chose to pursue higher education so he applied, nearby, to Jacksonville State University. It was 1960, he was black, and he was denied admission.
So Harbour applied to Tennessee State University, an HBCU, where he was accepted and became a member of the Student Central Committee of the Nashville Christian Leadership Council. He participated in actions resulting in the integration of lunch counters and theatres in Nashville.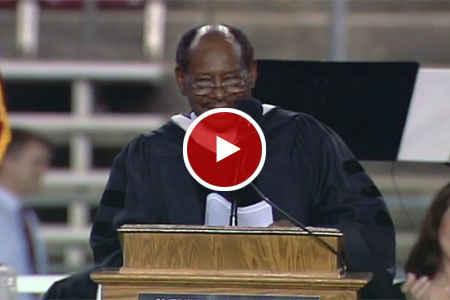 Around the same time, Freedom Riders had made their way from Washington, to Atlanta and then Anniston, where the infamous troubles ensued. They were attacked at the Greyhound Bus Station and again at the Forsythe Store, five miles west of Anniston, on the Old Birmingham Highway. The incidents made national news and just three days later, inspired by the Anniston incident, nine Nashville students, including Harbour, joined the Freedom Rides and were on another bus headed toward Birmingham. They were all trained and committed to non-violent demonstration techniques but were confronted by many who were not.
Harbour experienced violence, threats and ultimately jail time, including Parchment Prison in Mississippi, where he shared his cell with the recently deceased US Congressman John Lewis.
Over the years and among his many attributes, Harbour was committed to education. He spoke to countless school groups, conducted interviews and joined many efforts that promoted social justice.
"It is my hope that you will keep the pressure on because the Freedom Ride is not over."
— Dr. Bill Harbour
In 2012, Harbour was solicited to join forces with a small group assembled by Alabama State Representative Barbara Boyd. It was called the Freedom Riders Park Board of Anniston and he agreed to serve as its co-chairman, along with JSU's Pete Conroy. Together, the group promoted the significance of the Freedom Rides and ultimately caught the attention of US Congress and the National Park Service. Harbour and Conroy held countless meetings and took many trips, including one to the White House to solicit support for the concept of establishing the Anniston area sites as a unit of the National Park Service.
As support and enthusiasm for a Freedom Riders National Park unit evolved, JSU reacquainted itself with Dr. Harbour. Shortly thereafter, as an act of reconciliation and support for his esteemed career, he was invited to keynote the first graduation ceremony ever held in the new JSU Stadium.
On August 5, 2011, Harbour addressed the summer commencement audience, attended by countless students, parents and honored guests. The crowd was riveted by his presentation, which was oddly punctuated by the threat of severe weather. As his dramatic story led towards the recollection of his disappointing experience at JSU, dark clouds, high winds and the threat of lightening grew worrisome. Then, just as officials were planning to cancel the event, Harbour turned his attention to the progress that had been made on campus. As he concluded his remarks, praising JSU for inviting him back, the audience rose to its feet, cheering. Then something amazing happened: the dark skies literally began to part. Sun beams broke though the clouds and a palpable weight had been lifted from all. It was a memorable occasion, and to some a turning point for the university.
Harbour helped JSU recognize opportunities to become more inclusive. The Freedom Riders National Monument was established, with leadership and support from JSU.
From being denied admission to being honored for his leadership, JSU and Dr. Bill Harbour prove that, in the words of Dr. Martin Luther King Jr., "the arc of the moral universe is long, but it bends towards justice."
On August 27, Harbour passed away in Atlanta following a long illness. Jacksonville State University is thankful for Dr. Harbour's contributions and offers its condolences and support to the Harbour family.