English Department to Offer Microcredentials in College Teaching
09/10/2020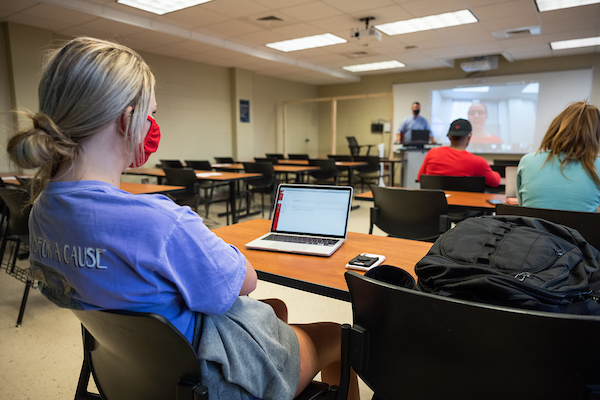 Are you interested in teaching college English? The JSU Department of English is now offering College Literature and College Writing graduate certificates, or microcredentials, to prepare students for the classroom.  
"A microcredential is a set of classes on a specific topic," said Dr. Andrea Porter, head of the English department, "But it actually goes a step further than just gaining knowledge in a specific field. It also assesses competency. A microcredential certifies that you know the subject, and you're ready to go to work, now."
The program is the first of its kind on campus, spearheaded by Dr. Porter who became interested in establishing microcredential options at JSU in her previous role as director of Graduate Studies.  
"It's a practical approach," Porter said. "We want to see our students succeed in the job market. In today's job market, our graduates want specific skills and competencies that will be attractive to employers."
There are two microcredential options: 
Teaching College Literature: a nine-hour microcredential that provides students with the knowledge and skills to teach the American and English survey course sequences at any college or university. Students take coursework on teaching the American and English college literature survey courses, as well as a course on literary criticism.
Teaching College Writing: a nine-hour microcredential that provides students with the knowledge and skills to teach first-year college writing courses at any college or university. Students take coursework on strategies for teaching Composition I and Composition II, as well as an introductory course in Rhetoric and Composition.
A student who completes either of these certificates (or both) may apply the nine credit hours earned toward JSU's master's degree programs in English or Integrated Studies. 
Porter said JSU sees a lot of students returning to the English department having decided they want to teach English on the college level or in high school dual enrollment programs, which have the same requirements – an earned master's degree and at least 18 hours in of graduate credit in English. 
"We started thinking, 'why don't we create these microcredentials that would really train someone to be ready to step right into the English college classroom?'," Porter said.
Upon completion of either microcredential, students will have a teaching portfolio that includes sample syllabi, teaching units with everything they would assign a class, and sample assignments and grading rubrics. They will also be familiar with current scholarship in the field, how to write a teaching philosophy, how to perform a teaching presentation and how to navigate the job market.
"When students apply for an adjunct or permanent English instructor position at a two- or four-year college or university, these are the things they're going to be asked to submit and perform during that job application and interview process," Porter said. "Earning our microcredentials will put them far ahead in that process."
Dr. Porter said, when she is hiring English faculty, a microcredential helps candidates - especially new instructors - stand out.  
"If there's a job interview where all things are equal, I'm hiring the person who has the microcredentials because I know that they're going be able to get a departmental syllabus and textbook and hit the ground running on day one," Porter said. "They know how to do this. Having microcredentials will allow our graduates to stand out against other applicants."
The microcredentials program also fits within JSU's overarching philosophy.
"It's skills based. It's concrete. It's practical," Porter said. "We've tried to provide our students in English with career paths, and this furthers that goal. If you want to teach English on a college level, and if you complete these courses as part of your larger degree, you will absolutely have the knowledge and skills to do that."
The deadline to apply for admission for the spring semester is Nov. 1. For more information and requirements, access the catalog or call 256-782-5411.