New GIS Master's Degree Begins This Fall
08/14/2020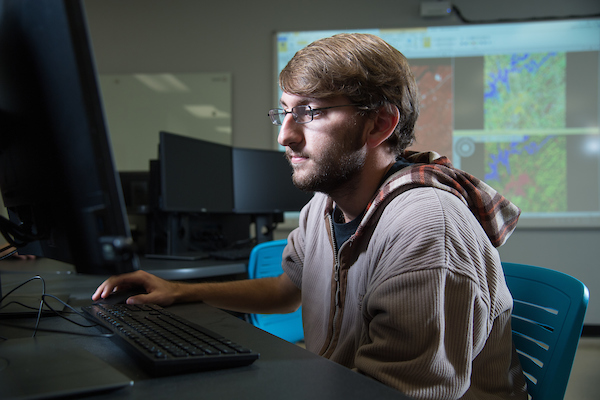 Beginning this fall, JSU students will have the opportunity to pursue a master's degree in Geographic Information Science and Technology, placing them on the front lines of a booming career field that has transformed the way we do science, government, and business.
Housed in the Department of Chemistry and Geosciences within the JSU School of Science, the new master's degree will put graduates on the cutting edge of GIS technology and provide countless career opportunities.
"There is a big demand for it out there," said Dr. L. Joe Morgan, head of the department. "The need for GIS skills is growing every day – of all the research I've seen, we're looking at continuous job growth of 15 to 20 percent over the next 20 years."
GIS is a framework for gathering, managing and analyzing data. Rooted in the science of geography, GIS integrates geospatial and tabular data. It analyzes spatial location and organizes layers of information into visualizations using maps and 3D scenes. With this unique capability, GIS reveals deeper insights into data, such as patterns, relationships and situations, helping users make more informed decisions.
GIS and geospatial technology are used in science, government, and in the private sector. These technologies are changing rapidly. They will continue to grow and develop. So, too, will the need for professionals with a working knowledge and application of its landscape.
Job opportunities include the following:

• Geospatial Intelligence
• Precision Farming
• Environmental and Resource Management
• Energy and Mining Exploration
• Wildlife Conservation
• Urban and Regional Planning
• Criminal Justice
• Climate Change Monitoring and Analysis
• Transportation Planning and Logistics
• Surveying and Digital Assets Management
• Remote Sensing Image Processing, Analysis and Interpretation
• Unmanned Aerial Systems
"I think it's one of the most important steps we can take," Morgan said. "This master's program will put our students in the position to be able to take the higher-level positions. It will open the door for tremendous opportunities for our graduates."
Classes will start in Fall 2020. Online classes will be simulcast with the traditional class, giving students an option to either participate remotely or in the classroom. The program is designed to draw students from across the disciplines, ranging from criminal justice, political science, emergency management, biology, engineering and business.
Having worked for years to bring this program to fruition, Morgan's goal is simple. "We want to be one of the top geospatial technology schools in the region," he said, "And to produce top tier geo-technology project and program managers."