JSU to Offer Master's in Athletic Training
07/29/2020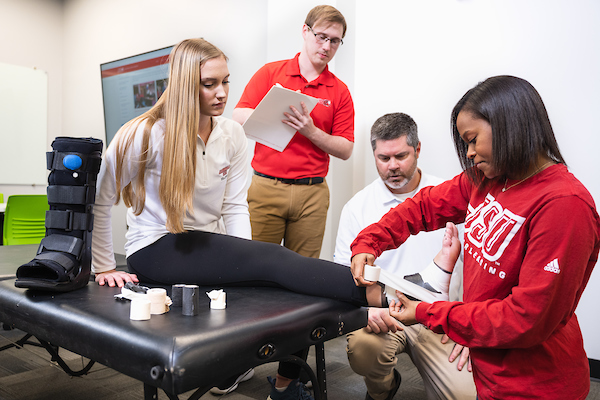 After four years of planning, JSU's new Master's in Athletic Training (MAT) program will launch this fall for students aspiring to become certified athletic trainers. 
Housed in the Department of Kinesiology, the program is expected to attract those interested in preventing and treating sports injuries, but will also appeal more broadly to those planning to pursue a health care profession.
"The traditional athletic trainer works in settings such as at the university and college level, clinical and hospital, and secondary schools – treating athletes and patients who are rehabilitating," said Dr. Gina Mabrey, head of the Department of Kinesiology.
The demand for athletic trainers is expected to rise over the next decade as people become more aware of the dangers of sports-related injuries, and as the middle-aged and older populations remain active. According to the US Bureau of Labor Statistics, employment for athletic trainers is projected to increase 19 percent from 2018 to 2028.
"Once a graduate of a MAT program, you are eligible to sit for the National Athletic Training Board of Certification," Mabrey said. "After successfully completing this exam, you can become a certified athletic trainer and can work in numerous settings – such as professional, collegiate, high school, youth and recreational sports, as well as military, NASCAR, hospitals, NASA, industrial areas, and other rehabilitation facilities."
The two-year program is offered primarily through traditional, in-person instruction, but includes online courses and clinical experiences. "Our goal is to utilize both classroom knowledge and clinical experiences to expose students to the holistic management of patients in a variety of settings and opportunities," said Mabrey.
The program consists of 59 hours, organized into six consecutive semesters, including summers. Classes include: 
Foundations of Athletic Training
Emergency Management and Athletic Training 
Evidence-Based Practice in Athletic Training  
Research in Athletic Training 
Therapeutic Interventions 1-3
Physical Exams 1-3
Clinicals 1-5
While an undergraduate degree in exercise science and wellness, kinesiology or physical education is recommended, applicants with bachelor's degrees in any field may apply for admission. Mabrey said undergraduate degrees in education, marketing, public relations, communications and business can make students uniquely qualified to enhance their professional opportunities after completing the MAT program. 
For more information, including admissions requirements, visit the MAT website.