International House Director to Celebrate July 4 as a New US Citizen
07/02/2020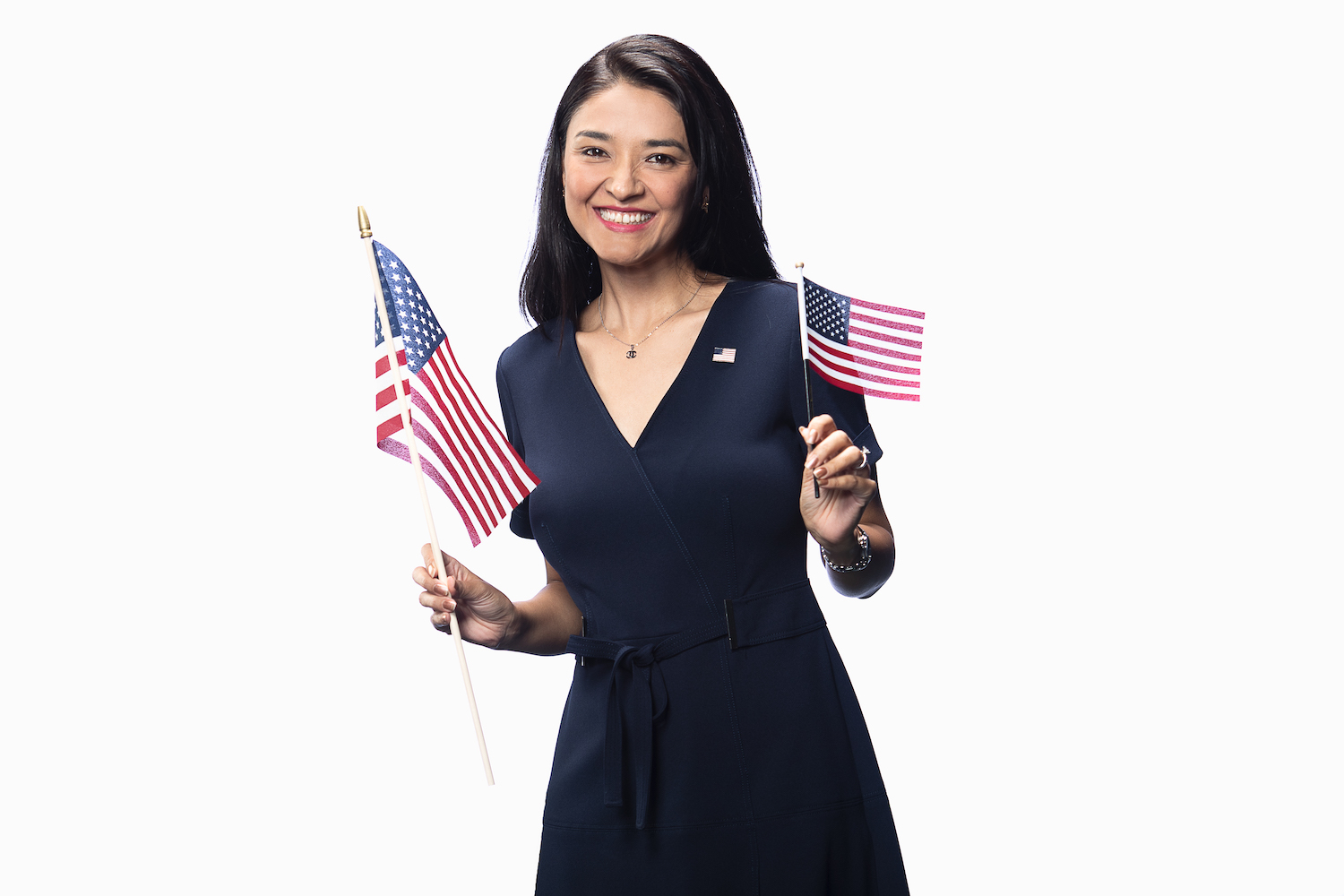 Chandni Khadka-Walsh was sworn in as a citizen on June 19, 2020.
Dreams do come true, even if a pandemic demands those dreams be fulfilled via drive-thru.
Chandni Khadka-Walsh, director of JSU's International House and Programs, began the process of becoming a US citizen more than a year ago. She successfully passed all the tests – naturalization, speaking, reading, writing, civics – and completed the interview.
"It's been a very long journey since coming to the United States 16 years ago," said Khadka-Walsh, a native of Kathmandu, Nepal. "But it was very much worth it." 
All that remained was the Naturalization Oath Ceremony. "Until you take that oath and go to the ceremony, even if you've passed the tests," she said, "you're still not a US citizen."
Khadka-Walsh received notice back in February that she was scheduled in Birmingham for the final step in the process. Then COVID-19 struck and everything shut down, including all the naturalization offices.  "All I could do was wait," she said. "It was frustrating, being so close."
The wait ended on June 19, when she and her husband traveled to the US Citizenship and Immigration Services field office in Montgomery. Normally, the swearing-in ceremony is a celebration filled with joyful tears and applause. Friends and family watch as applicants, waving tiny American flags, sing the "Star Spangled Banner" before swearing their allegiance to the United States of America. But in the age of COVID-19, none of that was possible. 
Khadka-Walsh arrived to discover that all celebrations had effectively been cancelled. "I had no idea what was going on," she said.
A security guard directed them to the other side of the lot. They parked. Eventually, an immigration officer came out, motioned for her to roll down her window, and swore her in as a US citizen – all while sitting in the comfort of her car. No cheering friends and family. No national anthem. No video-taped message from President Donald Trump. Khadka-Walsh was given a small packet with a pocket-sized copy of the US Constitution and her certificate of citizenship.
"I read over the certificate to make sure everything was correct," she said. "I signed it. The officer said, 'Congratulations,' and that was it. To make it worse, I was all dressed up. Had I known I'd just have to roll down my window, I would've worn pajamas. It wasn't at all what I was hoping for."
At least she got the tiny American flag to twirl on the way back to Jacksonville. But before heading home, she went to the state capitol building and took some pictures commemorating a momentous occasion somewhat dulled by the reality of a global pandemic.
"I was disappointed, but it was already hard because I couldn't have all my friends and family with me," she said. "Without that support system, it felt like something was missing." 
Khadka-Walsh has been living, studying and working in the United States for 16 years. Born into poverty in Nepal, she and her brother and sister watched as their father – who was progressive in contrast to Nepalese culture and its strict view of a daughter's role in society – worked hard every day so that his children could get a proper education. Khadka-Walsh had long set her sights on one day traveling to America.
"I don't know why, but I always wanted to come to America," she said. "I just wanted to be away. We were so protected growing up. I wanted to be independent, to be on my own, to find out just what I was capable of."
After graduating from high school, she expressed her desire to leave, but her father refused, believing she was too young. "I made a pact with dad, that when I finished my bachelor's degree, I'm going," she said. 
Khadka-Walsh received her Bachelor of Business Administration in marketing from Nepal College of Management, in her hometown of Kathmandu. She then received a Visa allowing her to travel to Alabama, where she completed a Master of Business Administration in management from the University of North Alabama. It was there that she discovered a career in international education.
"It just offered so many options for learning," Khadka-Walsh said. "I enjoyed helping students like myself learn what it means to be a student in the US. I was in a happy place by doing what I was doing."
She initially hesitated about declaring US Citizenship because Nepal doesn't recognize dual citizenship, meaning she'd have to choose. It was difficult, due to the strong connection she has with her family.
"I'm like a son to my father," said Khadka-Walsh, who also has a younger sister living in the US. "We are a very paternal society. Sons are expected to take care of their family and a daughter is expected to get married off. But my father considers me a son because I'm helping to take care of my family."
Ultimately, the draw to the Land of Opportunity was too enticing. 
"There are so many things I love about this country," Khadka-Walsh said. "Feeling safe is a big one. If I am ever wronged, I have the right to seek justice, which is a great thing. It's something people don't always understand." 
She has used this personal perspective to aid others on their journey to study abroad in the US. After earning her MBA from the University of North Alabama, she became director of International Student Services at Arkansas State University. 
In 2016, she was named director of the JSU International House and Programs, where she provides leadership for the International House, acting as an advisor for international students. She's also responsible for International Programs at JSU, providing campus-wide support and activities to promote cultural diversity, assessing program needs, implementing and administering appropriate services for students and managing staff.
The motto for the International House is "Know one another, and you will love one another," a mantra that speaks volumes to Khadka-Walsh and the students she advises who aspire to carry a message of inclusion beyond campus with speaking engagements in churches and community organizations.
"We want to teach future generations to open their minds to learning from each other," she said. "The more you understand about different backgrounds, different cultures, different languages and different perspective, the more you learn to respect those differences while finding common ground."
Khadka-Walsh is the first International House director to be an immigrant, which provides her unique insight into the struggles international students face. "Because I was an international student and have been through the process," she said, "I think I bring an understanding that most simply wouldn't have."
International students have to follow special rules and regulations that American students do not. "Not only are they far away from family and friends, have to learn this new education system and have the pressure of understanding instructors in the classroom," she said. "They also have to remember all these extra rules other students don't. That's a lot of pressure."
For her service to students and the positive example she sets on campus, Khadka-Walsh was name JSU Woman of the Year during Women's History Month in March.