The Downside of Paradise: Alumni Couple Reflects on Hurricane Irma as 2020 Season Begins
06/09/2020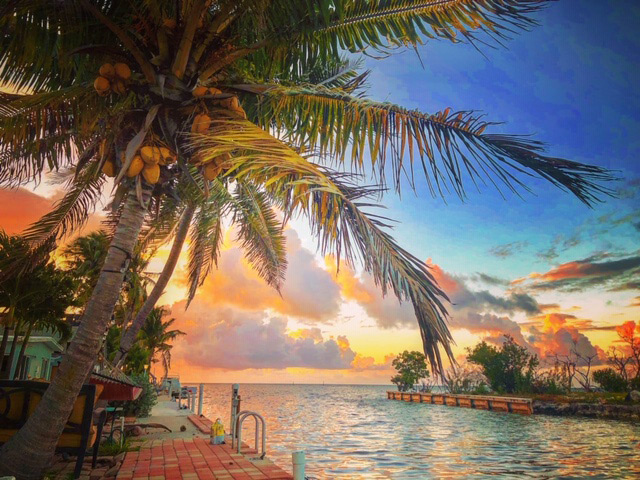 JSU Alumni Webb Dillard and his wife, Brandi, have called the Florida Keys home since 2016. (photo courtesy of the Dillard family)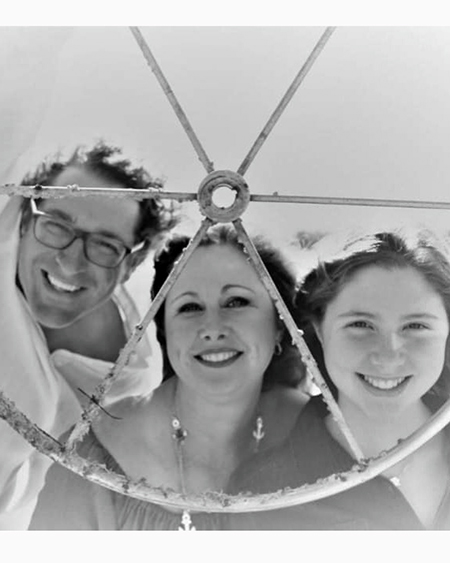 Webb, Brandi, and Emmy Dillard.
"Be wary of your dreams, they just might come true."
While this sounds like a prophesy worthy of the Three Witches from Macbeth, JSU graduates Webb ('09) and Brandi Thompson Dillard ('01) can attest to its accuracy.
The couple, who met at a karaoke bar in 1998, were living in Boca Raton, Fla., when they decided that the pace of the place just didn't suit their personalities. So Brandi, a nursing graduate, transferred to a hospital in South Florida, about 45 miles from Key West. The move allowed Brandi and Webb, who received his degree in communications and owns a video production company, to pursue an interest in sailing.
"The Keys just felt like home," Brandi said.
One afternoon, while lounging in the pool, the conversation turned to retirement. Webb had been jealously reading blog posts and news stories about couples who sold everything, bought a catamaran and sailed around the Bahamas. An idea was born.
"We started reading books and watching YouTube videos," Webb said, "but it was really just a pipe dream. It wasn't something we ever thought we'd get to do.
"The move from Boca Raton to the Keys essentially left the couple and their daughter, Emmy, houseless. "We decided to buy the boat," Webb said, "and figure the rest out as we went along."
"It was my idea," Brandi adds. "But it was something we both really wanted."
In May of 2016, they moved into a 36-foot sailboat christened HoosierBama in honor of their roots. Webb hails from Indiana and Brandi is native to Ashville, Ala. But living their dream took some getting used to.
"It was an adjustment," Brandi said. "Cooking was a challenge. Being a Southern woman, I had to get all my pots and pans out. Going from that to a tiny stove was hard. The first time I cooked Thanksgiving dinner, I think it took about eight hours."
Webb said, "Change was never something that bothered or intimidated me. I don't think we were ever uncomfortable, but you had different worries. In a home, you worry about the A/C breaking. When you live on a sailboat, you're always worried about things that are out of your control."
To be clear, they weren't just floating out in the Atlantic. The boat was docked at a yacht club that provided power and Internet. But they knew to be prepared. "We've never watched the Weather Channel more in our lives." Brandi said. "James Spann was a rookie compared to us," Webb said.
In late August 2017, while the Dillards were housesitting for some friends, stories of a gathering storm were first reported.
"About eight days before it hit," Webb said, "I got a really bad feeling about just how bad it could be."
On Sept. 4, Florida Gov. Rick Scott declared a state of emergency, as Irma – now a Category 4 hurricane – was headed straight for the Keys with winds exceeding 140 miles per hour. More than 6.5 million Florida residents evacuated, making it the largest evacuation in the state's history. Webb, Brandi and Emmy were among them. Having put their boat – their home – in storage at the harbor, they fled to Brandi's mother's house in Alabama.
"We were in the dark in Alabama for a couple of days," Webb said. "We just didn't know what was going on."
It was a couple of days before the waters receded enough for news crews to assess the damage.
"When those first pictures started to come out," Brandi said, "we knew it was going to be bad."
Hurricane Irma was the most powerful Atlantic hurricane in recorded history. The storm and its aftermath killed at least 38 in the Caribbean and 34 in Florida. Irma is the fifth-costliest hurricane to hit the mainland United States, causing an estimated $50 billion in damage, according to the National Hurricane Center.
The HoosierBama was a total loss, a fact Brandi and Webb learned via Facebook. Of the 260 boats stored with it in the harbor, only 60 remained.
"We were homeless," Webb said. "We probably lost 70 percent of everything we owned. We were able to take a lot of family heirlooms and pictures with us, but everything else was just gone." Webb.
Yet, they never considered leaving, though a new sailboat would have to be put on hold. Instead, they were able to purchase half of a duplex. "We upgraded," Brandi said. "Now we're homeowners."
But like everything else in the area, the building had severe damage, which they have been steadily rebuilding. "There was literally seaweed inside the toilet," Brandi said. "It was just muck and seaweed everywhere."
But Brandi and Webb's dream of once again owning a sailboat endures.
"It's absolute torture to be able to look at the Atlantic Ocean outside your back door and not have a boat," Webb said. "We'll have a boat again someday."
Hurricane season began June 1 and forecasters are predicting a busy season. Learn more on the NOAA website.