Spotlight on JSU Center for Best Practices in Law Enforcement
06/08/2020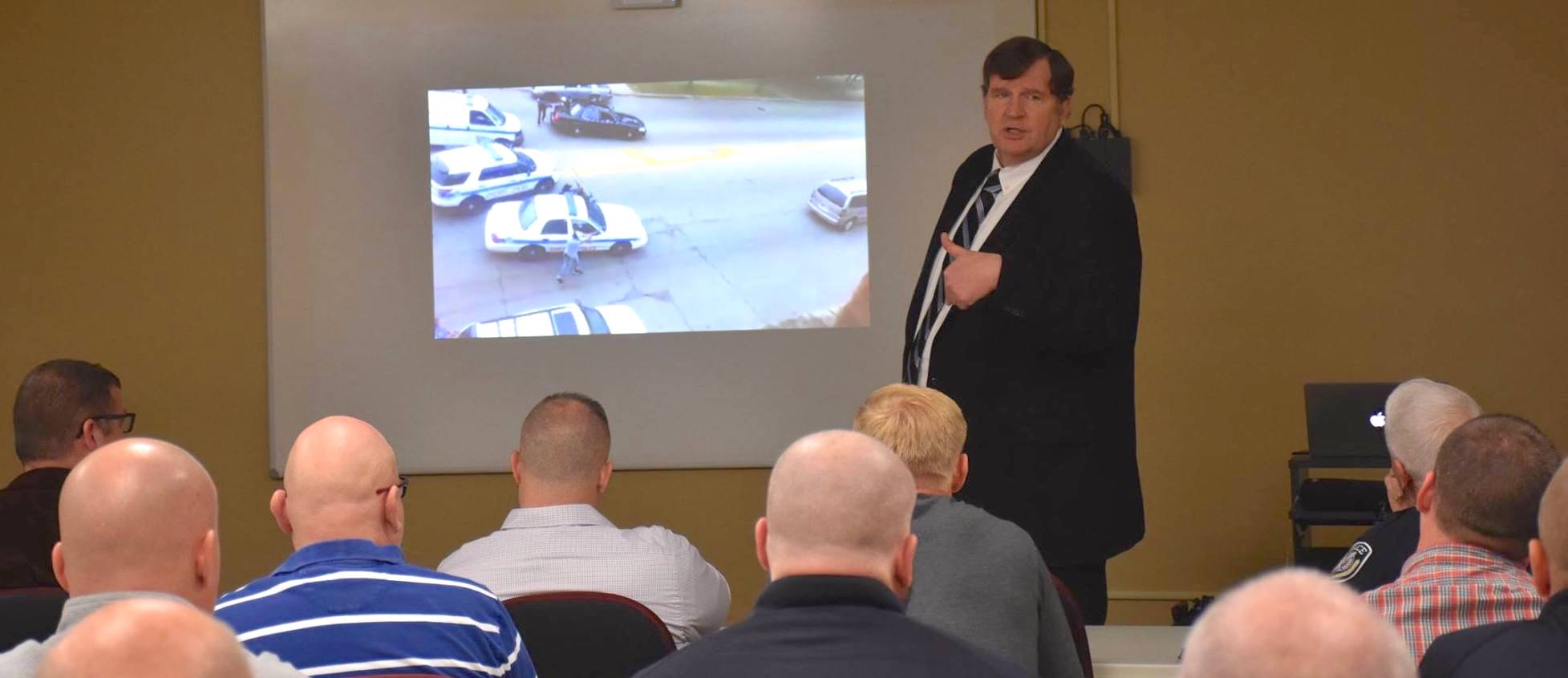 Retired North Carolina police chief Harry P. Dolan leads a recent training for the center.
As the world continues to mourn the death of George Floyd, who died at the hands of Minneapolis police on May 25, people across the US are beginning to ask questions about the preparedness of the officers serving their communities. 
In 2017, Jacksonville State University established the Center for Best Practices in Law Enforcement to supplement the education and training of police officers. Funded by the State of Alabama, the center provides free training to police officers statewide, offering 6-7 multi-day courses per year led by national experts.  
"We have run numerous classes over the past three years on community policing and police leadership," said Dr. Rick Davis, criminal justice professor and center director. "We look at the training that is out there and bring in training that others aren't doing." 
So far this year, the center has offered courses focused on mental health for officers, frontline supervisor training for street sergeants, and interviewing strategies. This summer, the center will offer a course on working with the deaf community. A popular course that ran twice last year, that relates to current events, is Winning Back Your Community.  
"We want to prevent this from happening," Davis said regarding the killing of Floyd, "as well as help departments respond appropriately should it occur."
The center also brings in prominent speakers to share their experiences with the general public as well as law enforcement. For example, Steve Murphy and Javier Pena – the retired DEA special agents responsible for the capture of infamous drug cartel leader Pablo Escobar - were brought to campus in November. In 2017, police from Aurora, Colorado provided a detailed debrief on the 2012 theater shooting at Century 16. 
In addition to providing education and training, the center also has an academic research component, providing data analysis to police departments. Currently, the center is working with the Anniston Police Department on a project funded by the Bureau of Justice Administration to use technology to help address property crime. 
"While running the center is only part of what me and my colleagues do on campus," Davis said, "we are fully dedicated to improving the knowledge and skills of police officers across the state."
Officers interested in signing up for training should visit the JSU Continuing Education website or follow the Center for Best Practices in Law Enforcement on Facebook.