JSU to Offer Free Pandemic Course to Students and Alumni
06/04/2020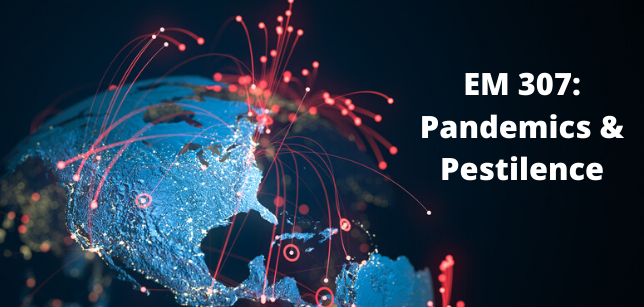 To help students and alumni better understand the COVID-19 pandemic, Jacksonville State is offering a free, 3-credit undergraduate course for Summer II and Fall 2020 taught by its Coronavirus Taskforce leader, Dr. Jeff Ryan, an emergency management professor and renowned biosecurity expert.
By enrolling in Pandemics and Pestilence, EM 307, students will learn how significant the burden of infectious diseases is on human populations and how pandemics occur. The course will cover pandemic preparedness, response, recovery, and mitigation strategies. In addition, the economic impacts associated with pandemic events will be covered. 
"The course is intended to enable students to cope with the stress of the pandemic, remain healthy and contribute to their community's efforts," said Dr. Ryan. 
The course will be offered as a Pass/No Credit grade. Students will be required to complete six online lessons to successfully pass, as follows:
The Burden of Infectious Diseases 
Origins and Dynamics of Pandemics 
Pandemic Preparedness and Mitigation 
Pandemic Response and Fatality Management
Mass Prophylaxis and Medical Surge
Economic Impact and Recovery Strategies for Pandemic Events
In addition to providing three hours of elective course credit at no cost, participants will also not be required to purchase a textbook. Enrollment is unlimited and open to all current and former students and alumni. Registration is now open for Summer II, which begins June 22, and Fall, which begins August 18.
Directions for alumni and former students: To re-enroll at JSU, alumni and former students must do the following:
Submit a free Undergraduate Re-Admission Application. If you do not have a recent Admissions account, you will need to click "Create an Account."
After creating an Admissions account, select which term you plan to take the course - Summer II or Fall - and choose "Transient or Non-degree Seeking Undergraduate" as the major (unless you plan to return to complete a degree, in which case you should select their intended major).
In order to have your application prioritized for this course, please select that you plan to take the EM 307 course on the application. This question will be displayed after the selection of your term, returning type, status, and program. 
Returning students will be notified via email and mail of their admissions decision. 
Contact Amanda Kughn for questions about admission.
Alumni will be automatically registered by the Registrar's Office.
Former students (not alumni) who are not seeking a degree should contact Michelle Green for registration.

Former students and alumni who are seeking a degree should contact the department of their major for formal advisement. 
For questions about EM 307, contact Dr. Ryan at jryan@jsu.edu.