JSU Announces 2020 Recipients of Prestigious Honors Scholarship
06/17/2020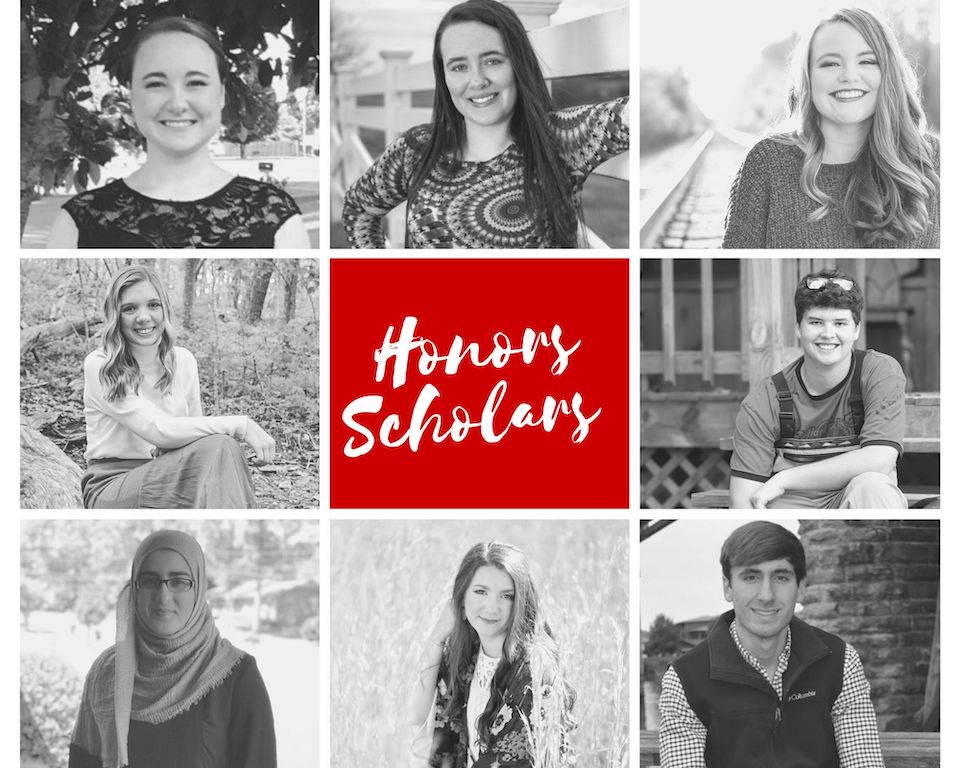 From upper left: Abigail Seale, Ashlynn Abernathy, Brianna Bailey, Celia Calhoun, John Russell Reeves, Laila Hamdan, Millie Hall, Wyatt Ingram.
Jacksonville State University has selected the recipients of its top award for incoming students, the JSU Honors Scholarship. 
Only eight high school seniors are selected each year for the highly competitive scholarship. To qualify, students must have, at minimum, an ACT score of 30 or higher, a 3.75 GPA, and demonstrated leadership and service in their schools and communities. Those selected are provided tuition, housing, meal plan and books. 
The 2020 honorees include: 
Abigail Seale: A graduate of Mortimer Jordan High School in Kimberly, Ala., she was a member of the Math Team, Science Olympiad, National Honor Society, National Technical Honor Society and National Spanish Honor Society. She received the AP US History Award and Outstanding Art Student Award. She was also involved in marching band, serving as captain of color guard and a member of winter guard. In the community, she served her church by volunteering with Vacation Bible School, Sunday School and Children's Church. She also worked as a student observer at ATI Physical Therapy in Gardendale, Ala. She plans to major in nursing with a minor in art.  
Ashlynn Abernathy: A graduate of Oxford High School in Oxford, Ala., she was involved in Health Occupations Students of America, National Honor Society, JSU Tech Fair, Alabama State Tech Fair, Spanish Club, Fellowship of Christian Students and Mu Alpha Theta. She was also active in archery. She completed many volunteer activities in her local church and community, including volunteering as a buddy to disabled students in A League of Our Own. She has a special love for animals and plans to work in the field of veterinary medicine after earning a degree in biology from JSU. 
Brianna Bailey: A graduate of Ohatchee High School in Ohatchee, Ala., she was active in marching band, jazz band and pep band, receiving awards for Outstanding Woodwind and Outstanding Band Member and serving as Northeast Alabama Marching Invitational Drum Major. She was a member of Future Business Leaders of America, Student Government Association, Key Club, Ohatchee's "30 Club," Principal's Club and National Honors Society. Her awards include first place in graphic design in the Calhoun County Digital Art Competition and first place in the Calhoun County Scholar's Bowl. Academically, she won Student of the Year in Physical Science, Spanish and Pre-Calculus, as well as the Director's Award in General Biology and the World History Award. She also attended JSU's Leadership Conference and received the OHS Citizenship Award. She was active in Writer's Bowl and served as editor of her school yearbook. She plans to major in graphic design. 
Celia Calhoun: A graduate of Alexandria High School in Alexandria, Ala., she participated in the Student Services and Support Club, Christian Club, National Honor Society, Key Club, Spanish Club, Senior Robed Choir and Chamber Choir. She received several honors including the Principal's Club, Outstanding AP US History Student Award, Outstanding Overall Math Student Award, and was a first place Talent Show winner. She was also selected for the JSU Emerging Leaders Day. In the community, she volunteered with Anniston Kiwanis Pancake Day, Alexandria High School Red Cross Blood Drive and Meals of Mercy, as well as providing services for special needs girls on prom day. She plans to major in integrated studies. 
John Russell Reaves: A graduate of Cleburne County High School in Heflin, Ala., he was a member of Beta Club, president of Math Club and was a section leader in Cleburne County High School Band. He was a Congress of Future Medical Leaders Delegate nominee, a George Mason University Washington Youth Summit on the Environment nominee and a National Youth Leadership Forum Medicine nominee. He received the 100 Club Pre-AP Chemistry Award, was in Senior Who's Who, and graduated as salutatorian of his class. In the community, he volunteered at the Anniston Veterinary Clinic, CCHS Beta Club Breakfast with Santa, Classroom in the Forest at Penny Creek Farm, City of Heflin Summer School Program and Father's Day Fishing with the Veterans from Legacy Village. He plans to major in pre-health professional biology. 
Laila Hamdan: A graduate of Iqra Math and Science Academy in Anniston, Ala., she was involved in the Journalism Club and Computer Club and received many awards including Highest Class Academic Excellence, Student of the Month, second place National Scholastic Press Association and first place School Science Fair. She serves as a teacher assistant and teacher substitute at Anniston Islamic Center Sunday School and assists with Meals on Wheels and Interfaith Events. She also tutors at the Middle School Math Tutoring Service and completed a job shadowing Program at Kazi Ophthalmology. She plans to major in pre-health professional biology. 
Millie Hall: A graduate of Plainview High School in Rainsville, Ala., she was selected as the school's Girl's State representative, where she was appointed a member of the Governor's Cabinet. She was a member of the ACT Club, National Beta Club, Phi Theta Kappa, Mu Alpha Theta, Junior Civitan, yearbook staff, Fellowship of Christian Athletes and Future Business Leaders of America. She was also selected for Teens for the Future. She contributed 80 hours of community service at Ponderosa Bible Camp, served as a student aid for kindergarten and second grade, provided childcare for her church, served as worship leader for her church's youth group, served food at her school's fall festival, worked events for the Science Club and attended summer mission trips to Mobile, Ala. and Indianapolis, Ind. She plans to major in English secondary education.
Wyatt Ingram: A graduate of Pleasant Valley High School in Jacksonville, Ala., he participated in the National Beta Club, junior/varsity basketball, Scholars Bowl, Quiz Bowl, Math Team, Algebra Team, Geometry Team and the Dual Enrollment Math Team. He is the recipient of a number of awards in the areas of chemistry, Dual Enrollment English, math, algebra II/trigonometry, Freshman biology and world history. He has been involved in many school and church volunteer activities, including serving as a member of the leadership team for First Priority Bible Study and ministering to children at Camp Happy Days in Talladega, Ala. He also volunteered for tornado cleanup and worked move-in day at JSU, serves as an usher at his church and volunteered at Steven Huddleston Basketball Camp. He plans to major in computer science.